1st pregnancies are pretty magical aren't they? Everyone squealing with delight around you and so much wonder and questions about what the next 8 or 9 months will bring. By the time the second pregnancy hits, many moms (myself included) feel like it is a race just to make it to the end of the day with a toddler in tow, and that pregnancy is just plain harder thanks to the lack of rest and time to really even remember you are pregnant sometimes!
But it is still completely special, so I wanted to share 5 things I'm currently loving about a second pregnancy.
*This post contains affiliate links.*
Sharing this season with my toddler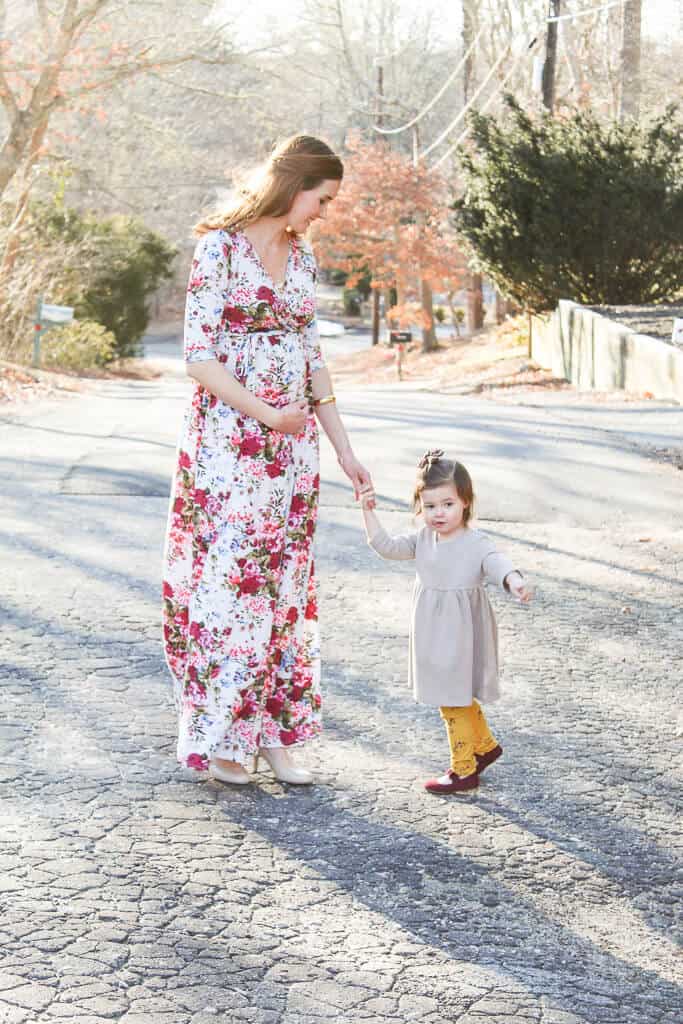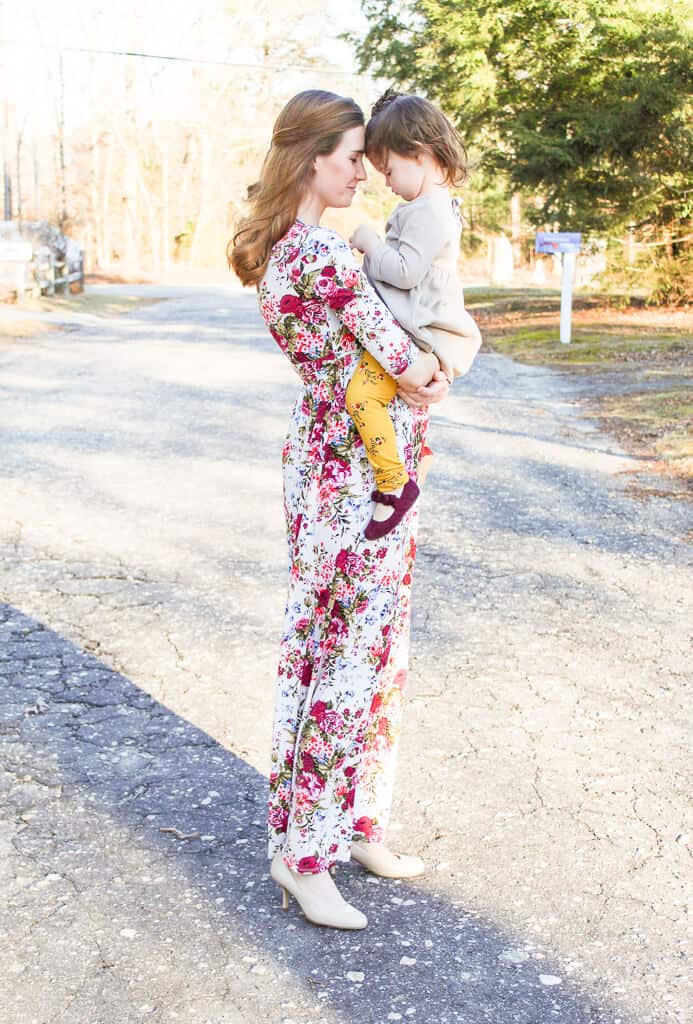 My absolute favorite part of being pregnant a second time is watching Charlie interact with"her baby" and think about the bond the two with have in the future. Charlie is baby obsessed—she loves taking care of them and plays with her dolls constantly. And the baby in my belly is no different!
She is constantly lifting up my shirt to see her baby and giving it kisses and "huggies". She feeds it food from her play kitchen, and brings it toys to play with. I'm pretty confident she will be involved with everything with the baby—and that I'll have to buy a wider glider so we can all fit!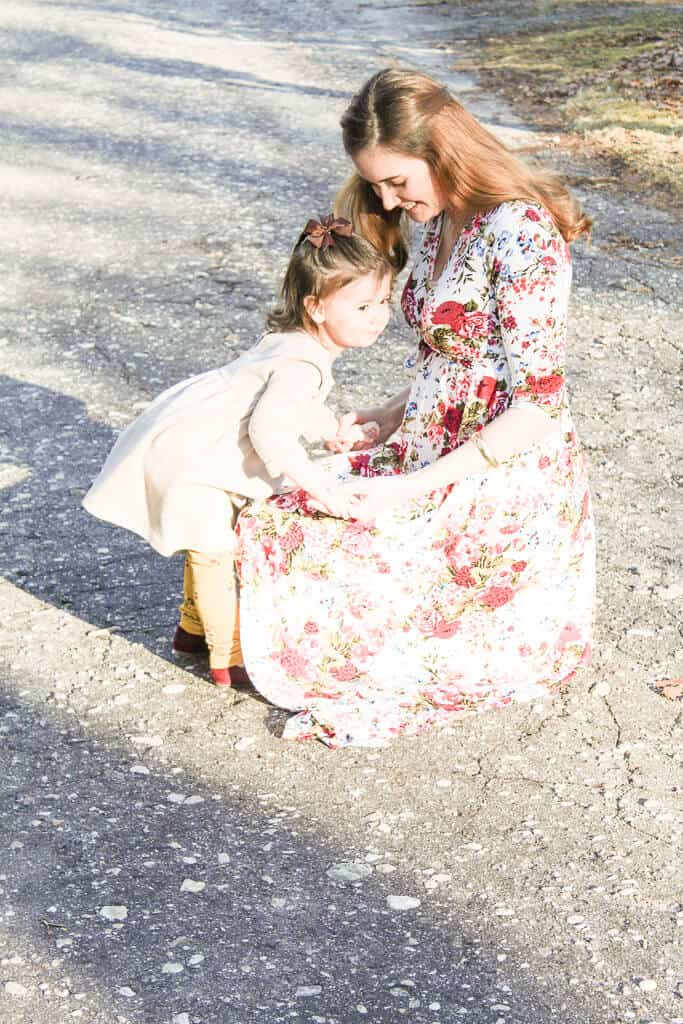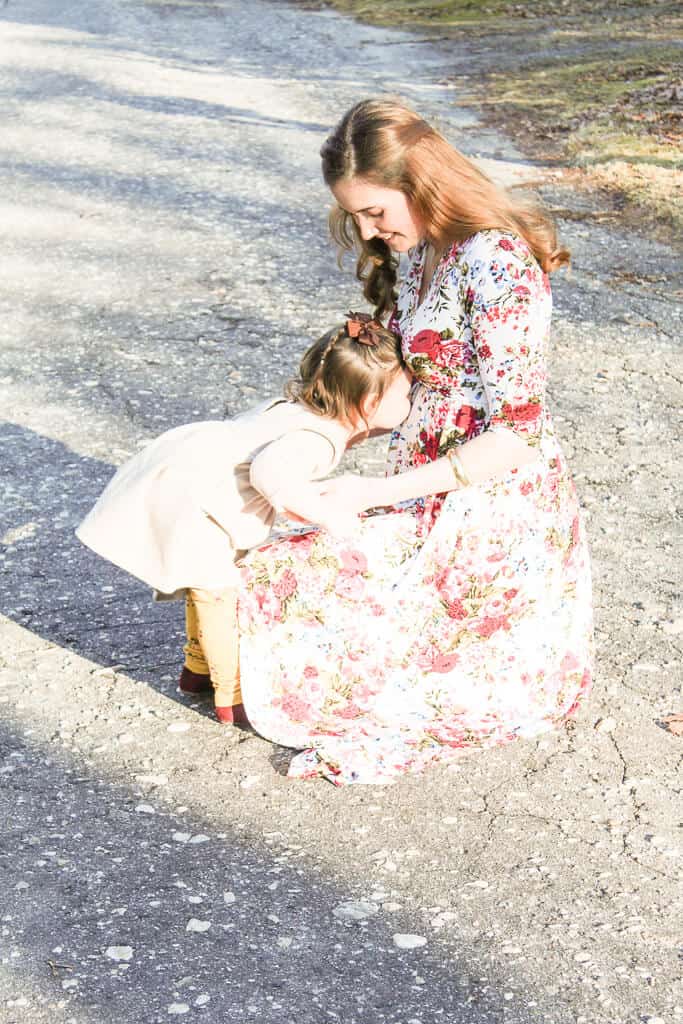 Not getting hung up on the smallest detail out of fear
I was definitely that mom-to-be the first time around who read up on everything I should and more importantly, should not use, during pregnancy. I distinctly remember spending a huge amount of time comparing vitamin percentages and even checking labels on shampoo and conditioner.
Seriously. I feel like I'm not the first mom to do that, either.
This time around, I honestly don't have the time or the energy to do all of that. I'm still aware of the major things to stay away from things, and what to make sure I add into my diet, but this time around I am not consumed with stress about making all of the right choices out of paralyzing fear that I will cause something to go wrong.
And it is actually a bit of a relief. Not only am I more confident in my decision making, but I'm also more realistic and have to prioritize my time and efforts to taking care of Charlie and myself/the new baby all at the same time.
Embracing maternity clothes (and finding cute maternity maxi dresses for spring!)
The first time around, I avoided maternity clothes for as long as possible. I'm not really sure why, but for some reason I thought maternity equaled less stylish somehow. This time around I started showing right away at 6 weeks, and maternity clothes became a necessity early on.
And I'm totally ok with that!
I'm loving try new styles and sharing them with you guys. I'm also really excited to be pregnant in different seasons this time, and am looking forward to all of the cute maternity dresses for spring I'll get to rock all the way through summer.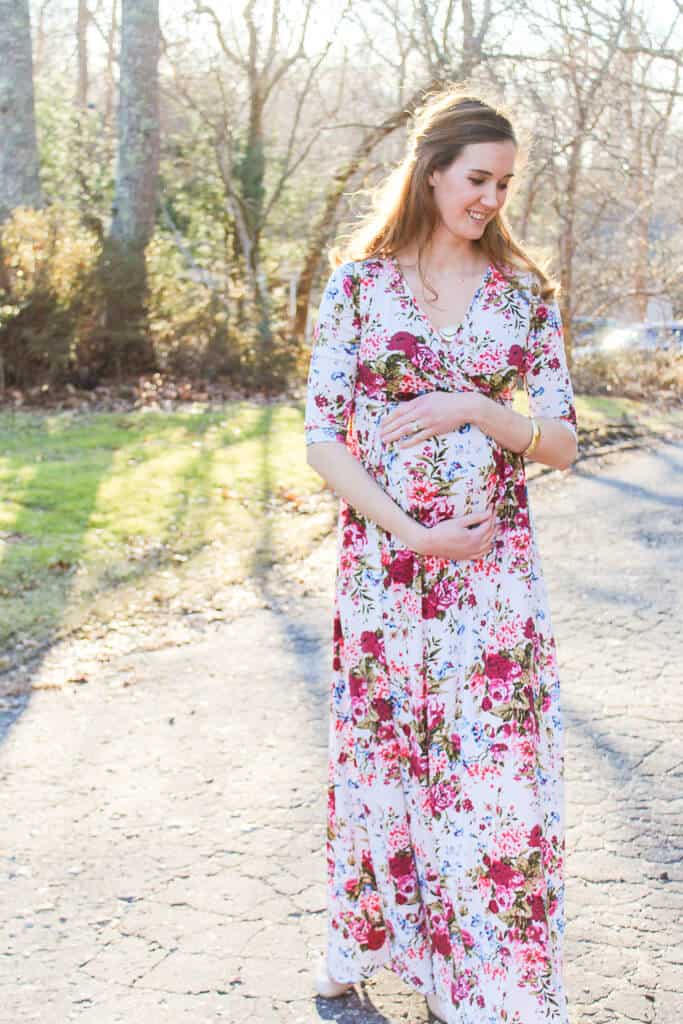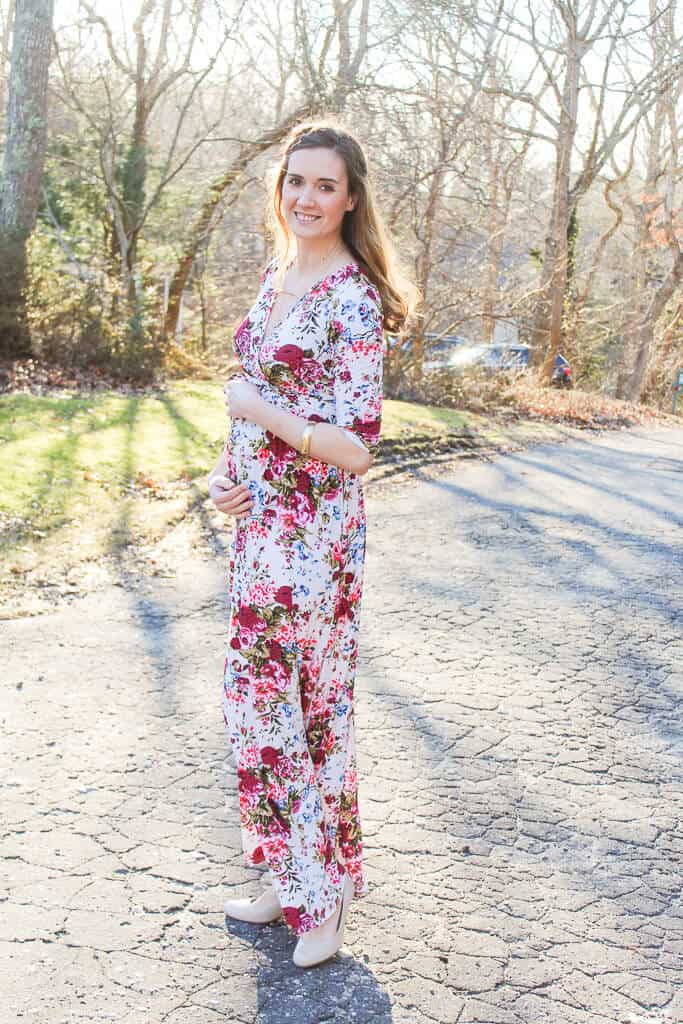 This gorgeous floral maternity dress I received from PinkBlush to style is perfect for spring and summer, and will be great for nursing after the baby is born too! Being 5'11, I love that they offer some tall choices as well (this comes in regular and tall). They have a bunch of other cute maternity clothes too!
It would be great for a baby shower too!
Picturing how a new baby will fit into our family
As I sit with Charlie pretty much permanently attached to my hip, it is fun to think how another baby will fit in. And ok, sometimes it is overwhelming too. But rather than having to guess at how life with a baby will be in general, I get to remember back on how it was with Charlie, and think about how fun it will be to see her take care of her new baby, and how I'll fall in love watching my hubby with another one all over again.
Will it be stressful? You bet. But this time I know what to expect, and am able to focus more on how to juggle and enjoy two. We even have our first family vacation planned!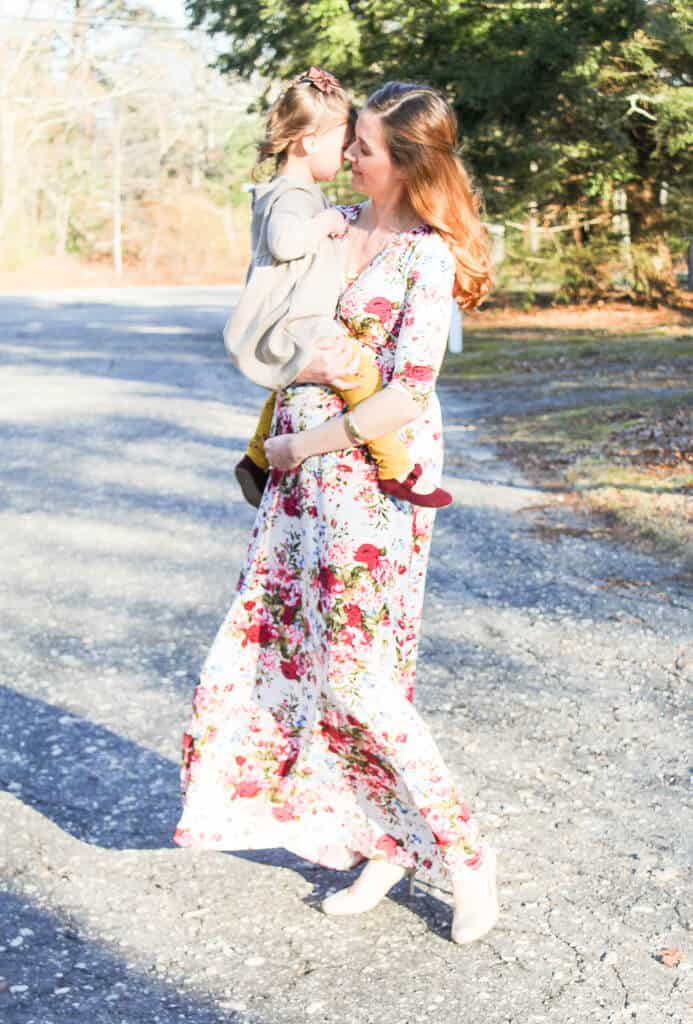 Having other 2nd time mamas going through pregnancy at the same time
As a first time mom-to-be, I wasn't friends with many other moms yet, and wasn't pregnant at the same time as anyone else I was close to.
This time I know a few other mamas who are on round two at the same time, and knowing how this pregnancy is different due to having a toddler, it is nice to be able to talk shop and to commiserate with one another about the lack of sleep and time to get anything done!
Having a mom tribe is so important, and is one of the main reasons I started The Mom Friend. We all need someone to help us get through and share the fun with!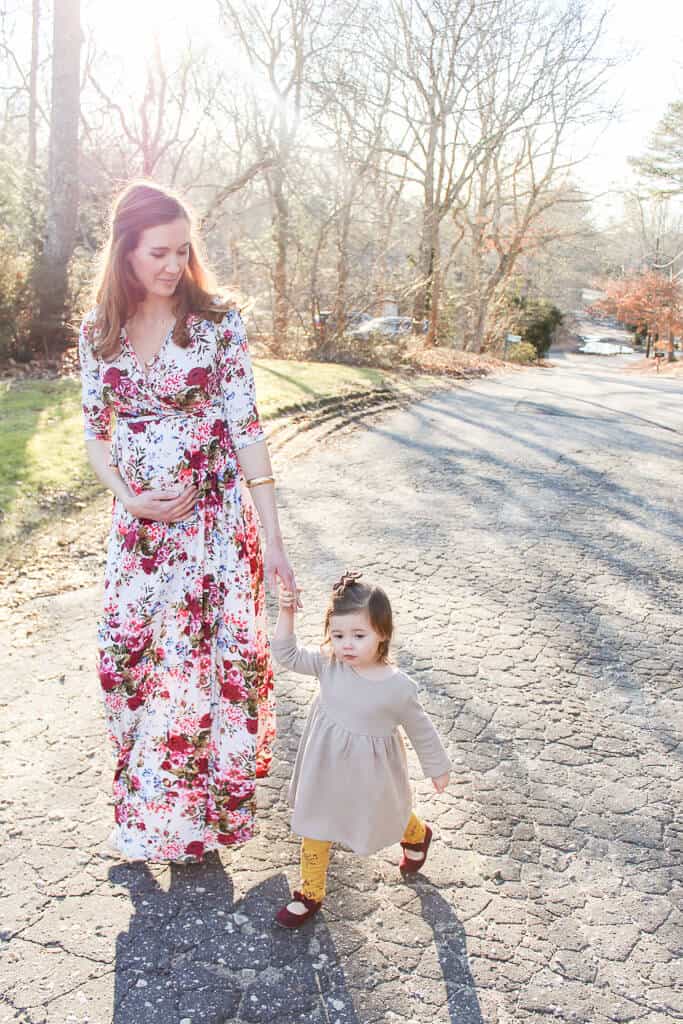 Floral Maxi Dress | Necklace | Charlie's outfit
Are you pregnant for the second time? What are your favorite things about it?