It's that time of the year. Everyone in the family is going to be piling into the car and headed out for a great adventure or fun family vacation. But what about the hours and hours that you and your children are going to be spending in the car? This is where a Road Trip Scavenger Hunt is the perfect traveling game to play!
This free Road Trip printable will have your kiddos active and engaged during the trip and showing just how many things on their list they can spot. And who knows, you just might find out that they're got a little bit of a competitive side to them as well!
Be sure to scroll down to the bottom of the post to get your free scavenger hunt printable.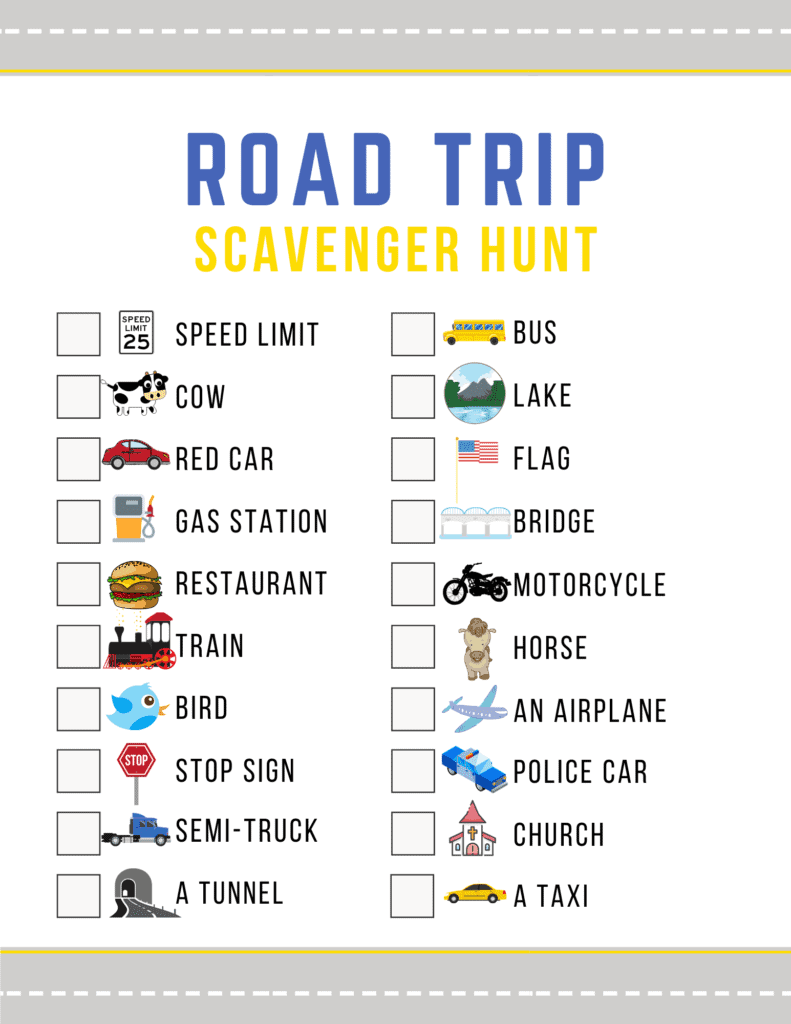 This post contains affiliate links. As an Amazon Associate, I earn from qualifying purchases.

What is a Road Trip Scavenger Hunt?
It's pretty much like it sounds. When you and your family are heading out the door for an adventure, this printable scavenger hunt will have pictures of items for the kids to see and spot along the way.
Some items are simple while others may take a little bit more effort. Regardless, scavenger hunts are a great way to have the family talking and conversation and fun flowing inside the car.
How long should a scavenger hunt last?
That's the great thing about scavenger hunts. They aren't timed at all and this lets the kids go at their own pace. If you're doing this hunt with just one child, it can last quite some time – possibly even the entire duration of your travels.
When you have multiple kids joining in on the fun, there's a chance that it will go more quickly since there are more eyes looking around to find the items.
Above everything else, don't rush the fun! Just let the kids have a blast trying to find all the items on the list. And who knows, they might even want to add a few items of their own as well.
How many items should be on a scavenger hunt?
Your scavenger hunt can have as many or as little as you want, but typically somewhere between 15-25 items are good. This isn't too long that they lost interest and it's just long enough to keep giving them those wins of finding a few things here and there on the list.
What age group is this Road Trip Scavenger Hunt geared towards?
As with anything on this site, we want to make sure that younger kids are being able to join in on the fun. This is why you'll see pictures and words so even those kiddos that can't quite read yet can still look for the items as well.
However, if you have older kids who want to play, they can get a little reading practice along the way. You could even turn this into a spelling game as well if you get bored (which on a road trip is likely to happen at some point!)
We love (and by we I, of course, mean the kids love) playing I SPY in the car, and this takes it up a notch and puts more of the task of finding items on them.
Our family has actually had a ton of fun with this Road Trip printable playing this together as a team!
Road Trip Scavenger Hunt Printable
To download your free Road Trip Scavenger Hunt page, just click here or on the picture below.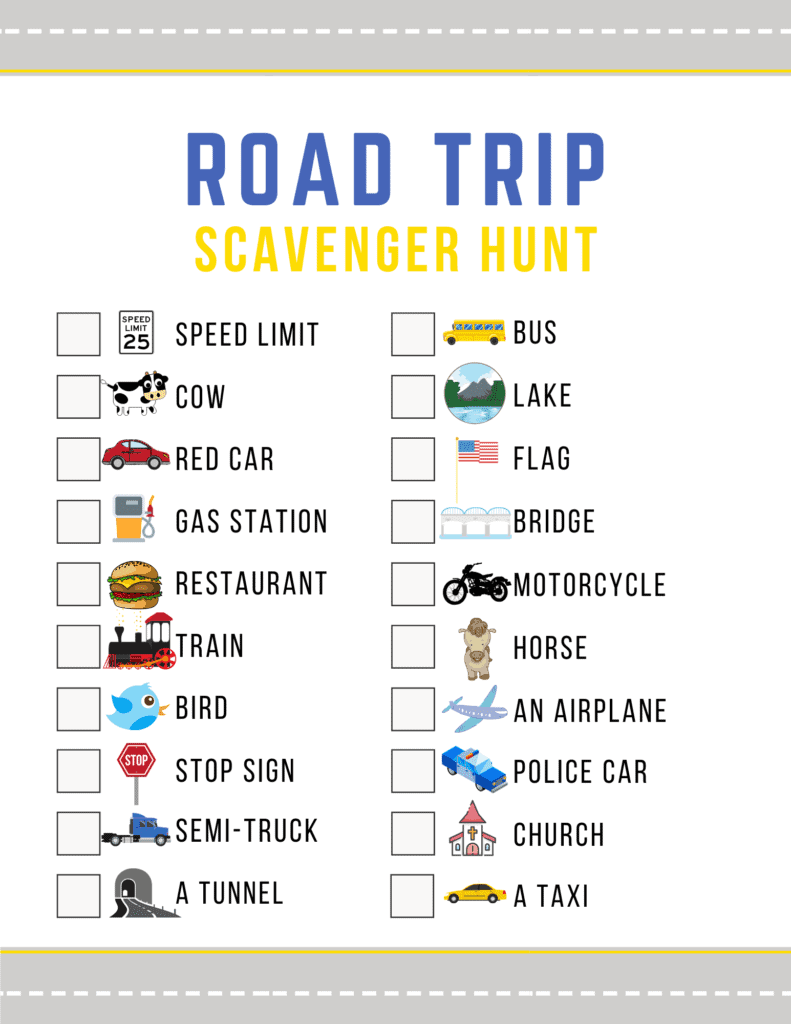 If you're the one driving, you might want to take a "backseat" on actually filling this out. While you might be tempted to join in on the fun when you're driving, be safe, and keep your focus on the road. Leave the finding of the items up to the kids!
Or just keep a silent tally in your head and smirk over your secret winning streak—either way is fine with me.
Thanks so much for stopping by! If you think your friends and community would enjoy using this fun scavenger hunt, please share it on Facebook or Pinterest to help other parents entertain their children when traveling.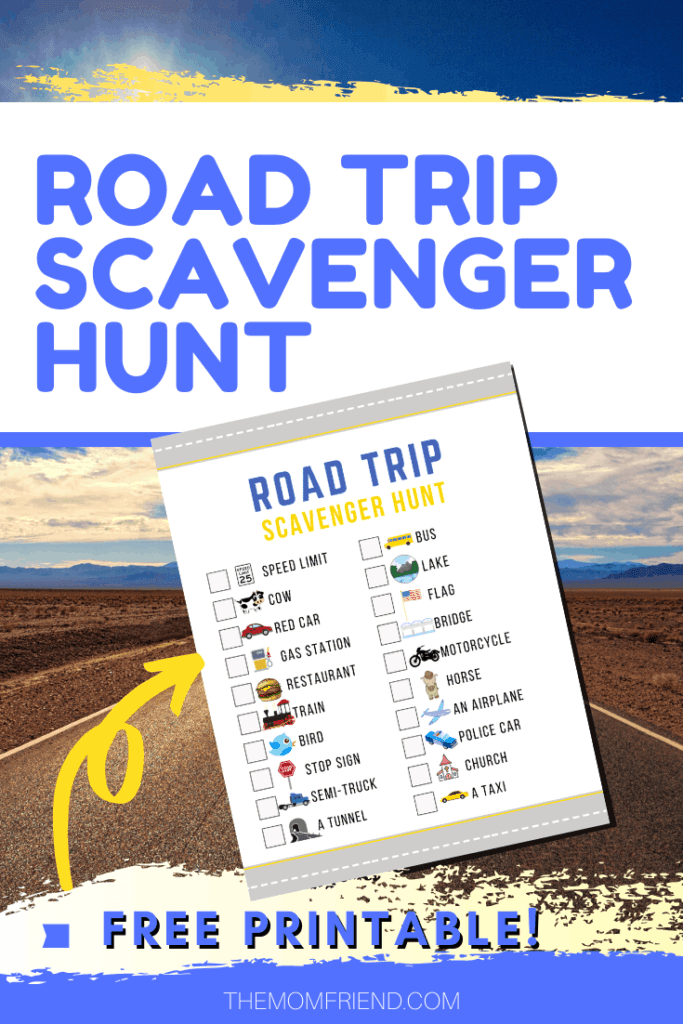 Like this fun printable? Be sure to check out these other great freebies as well!
OTHER TRENDING POSTS