Pumping on the go does not have to be a hassle! Check out these tips + 11 essentials for pumping on the go that are affordable, reliable, and high quality.
Have you ever skipped an outing or get together because you thought pumping would be a hassle? I get it! You're not at home, you don't have the privacy, it can be inconvenient, you can't wash the parts when done pumping… and what do you do with your baby's milk?
The good new is, it's actually way more feasible to pump on the go than you might think!
Below, you'll find a list of essentials for pumping on the go that makes pumping in public surprisingly easy and effective.
RELATED: Pump It Up! Pumping Class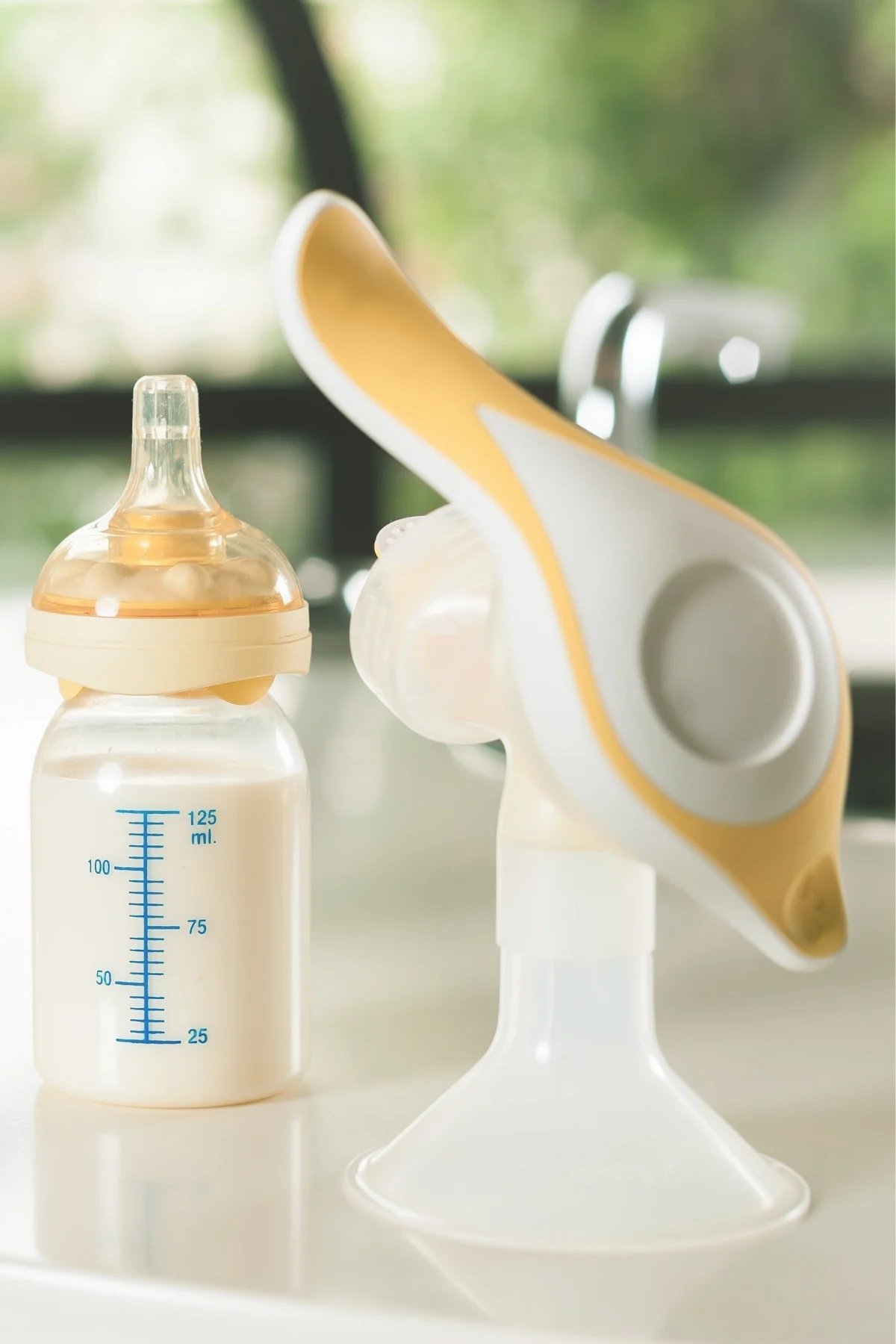 RELATED: 30+ Breastfeeding Hacks & Tips for Breastfeeding Moms
Pumping on the go tips
Portable Breast Pump
A small, easily portable breast pump is the number one item that is going to make pumping on the go easier. One of my favorite breast pumps for on the go is the Bellababy. The Bellababy has a large capacity battery, so no need for a plugin when your Bellababy is charged! It also comes with a USB or adapter power supply!
Or if you prefer a manual pump, my favorite is the Medela. The Elvie wearable breast pump is another great option, as you can just slip it into your bra and pump anytime, anywhere! Although it does tend to be a bit pricy compared to the other options.
RELATED: Exclusive Pumping Class (Pump like a pro in 90 minutes)
Pumping Bra
If you're going to be pumping at all, a hands free pumping bra is a must! It makes pumping a million times easier and more convenient! As a new mother, you'll learn the value of having free hands very quickly!
Pump Bag
A nice pump bag will prevent your breast pump parts from being scattered everywhere. I high recommend adding this to your list of must-haves. If your pump did not come with a bag, I love the mommore. It is actually very nice looking, and it not only holds your pump, but it can also be used as your diaper bag.
RELATED: The Ultimate Back to Work Pumping Class
Portable Drying Rack With Brushes
If you're out and about and able to clean your pump with soap and water, a portable cleaning kit can help to quickly dry the equipment. This kit comes with a cleaning brush, as well as tines that allow for easy drying. It easily fits in a diaper bag and it's the perfect solution for cleaning your parts when away from home!
RELATED: Pumping Necessities: Must-Haves for Moms Who Pump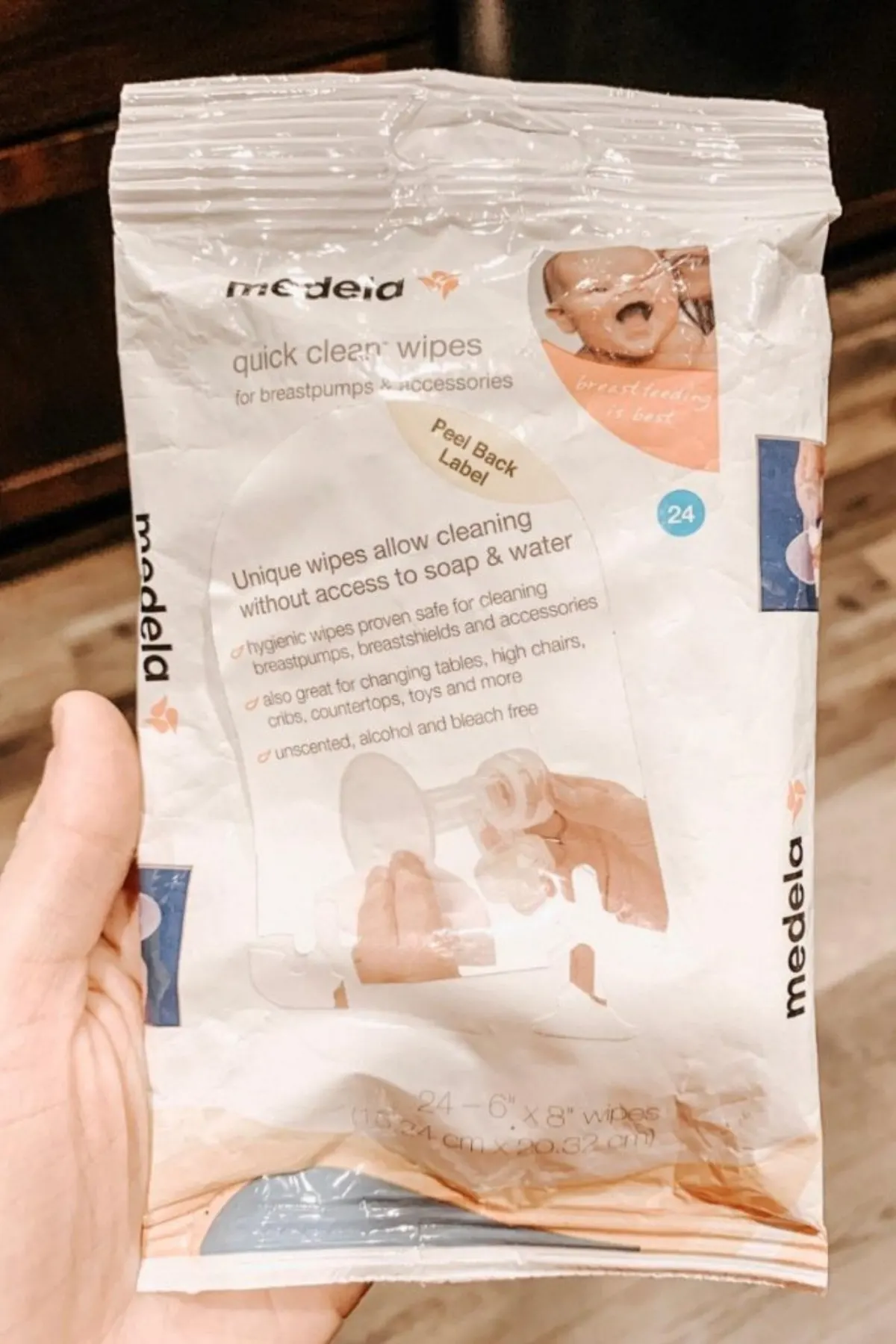 Breast Pump Wipes/Spray
If you're not able to clean your pump with soap and water, the next best thing are breast pump wipes/spray! They are proven to be safe for cleaning breast pumps, breast shields, and accessories and will kill any germs or bacteria.
If these wipes aren't already an essential in your diaper bag, I highly recommend making them one. I use these wipes anytime we're on the go. They're not only great at cleaning breast pump equipment. They can also be used to wipe down teething toys, pacifiers, bottle nipples, changing tables, high chairs, etc.
I have not personally used the spray yet, although it is the same concept as the wipes and made by Medela as well. It sanitizes in less than 60 seconds and kills 99.9% of bacteria.
Cooler
If you're planning to travel long distance with breast milk, you will definitely need a cooler with some ice packs. This is my favorite cooler for storing breast milk, as it comes with a contoured freezer pack and four 5oz bottles.
RELATED: Lactation Brownies Recipe
Storage Bags
Storage bags are a must for pumping at home or away. If your pump is adaptable to pumping directly into the storage bags, that's a definite plus when on the go! If not, just pump into the bottles and transfer to the bags when you get the chance.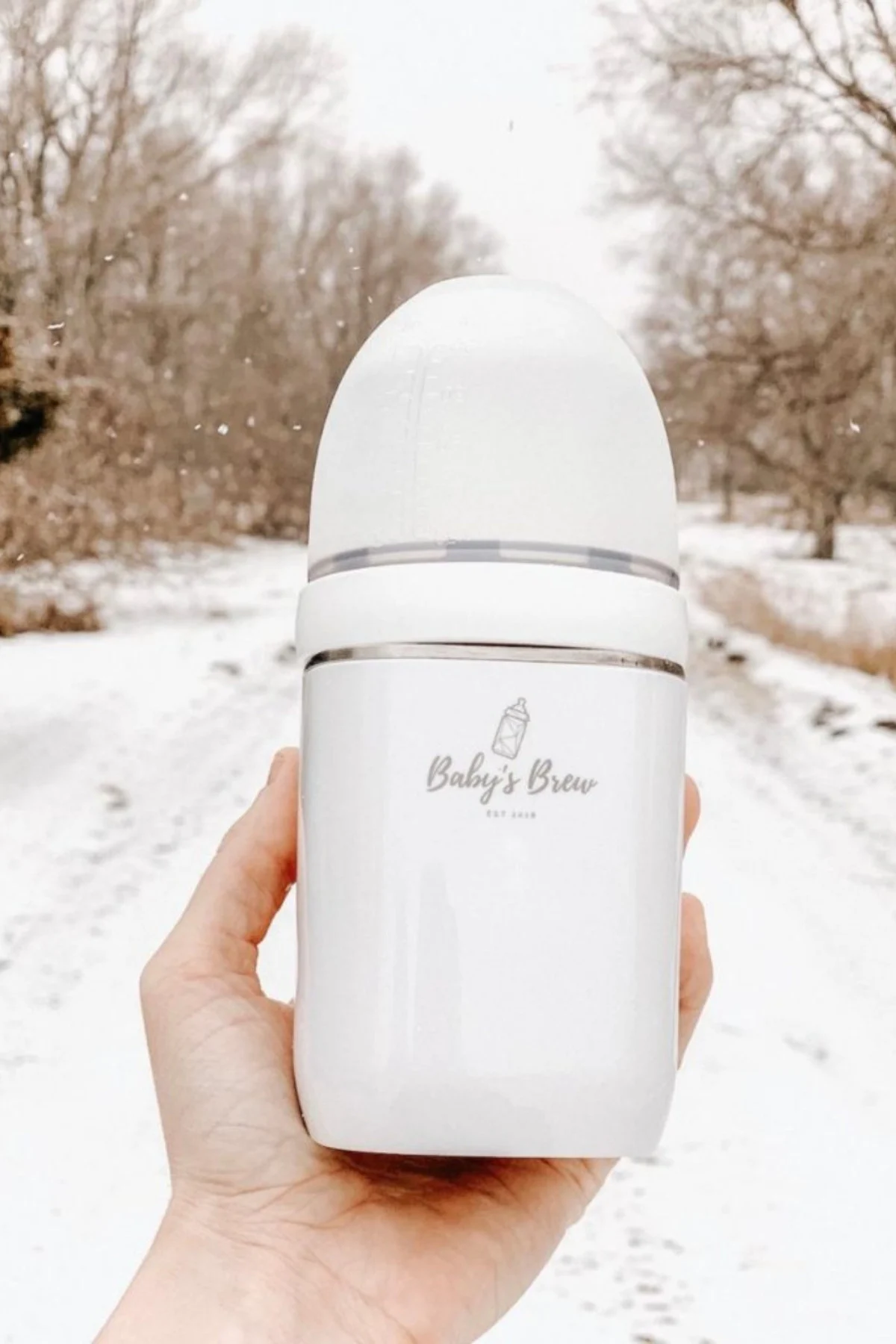 The Baby's Brew
This product is an absolute godsend when on the go. If you do not know what the baby's brew is, it is a portable bottle warmer that warms up your baby's milk for you. So no having to find hot water!
It has 4 different temperature settings. 96 degrees Fahrenheit being the perfect temperature for breast-fed babies, and 110F for infants that struggle with reflux. It uses a safe slow heat technology in order to preserve all of the nutrients in the milk, as well as ensure there are no hot spots! It takes about 5-10 minutes to warm the milk and adapts to fit most bottles!
RELATED: How to Get Support For Questions on Infant Feeding
What Did You Think of These Pumping Must-Haves?
I hope you were able to discover some new products to add to your mommy arsenal. These breast pump accessories and tools are truly a life-saver. Don't let the fear of pumping keep you from getting out there and making memories (and much-needed milk for your baby at the same time).
Let me know which of these essentials for pumping on the go is your favorite and any you'd add to the list!
Did you find this helpful? Please share this post with a friend and save it for later on Pinterest!
You may also enjoy: