Looking for a few good things to help start the week off right? I found some inspiration and am sharing it on this weekend's roundup!
This past week was packed and exhausting. Lots to do and even less time to do it in.
Meetings, articles (I write freelance in addition to the blog), catching up on reports at work, plus a very grumpy toddler during the evenings made for days that seemed to both drag on and disappear quickly, all at the same time.
Was this past week long for anyone else?
Don't get me wrong, it was also a really good week. My husband returned from a work trip so having an extra set of hands was great. We had some sunny days, I went on a fun mom date, and it was even my birthday!
We also took a trip to IKEA (how cute is this little camel?).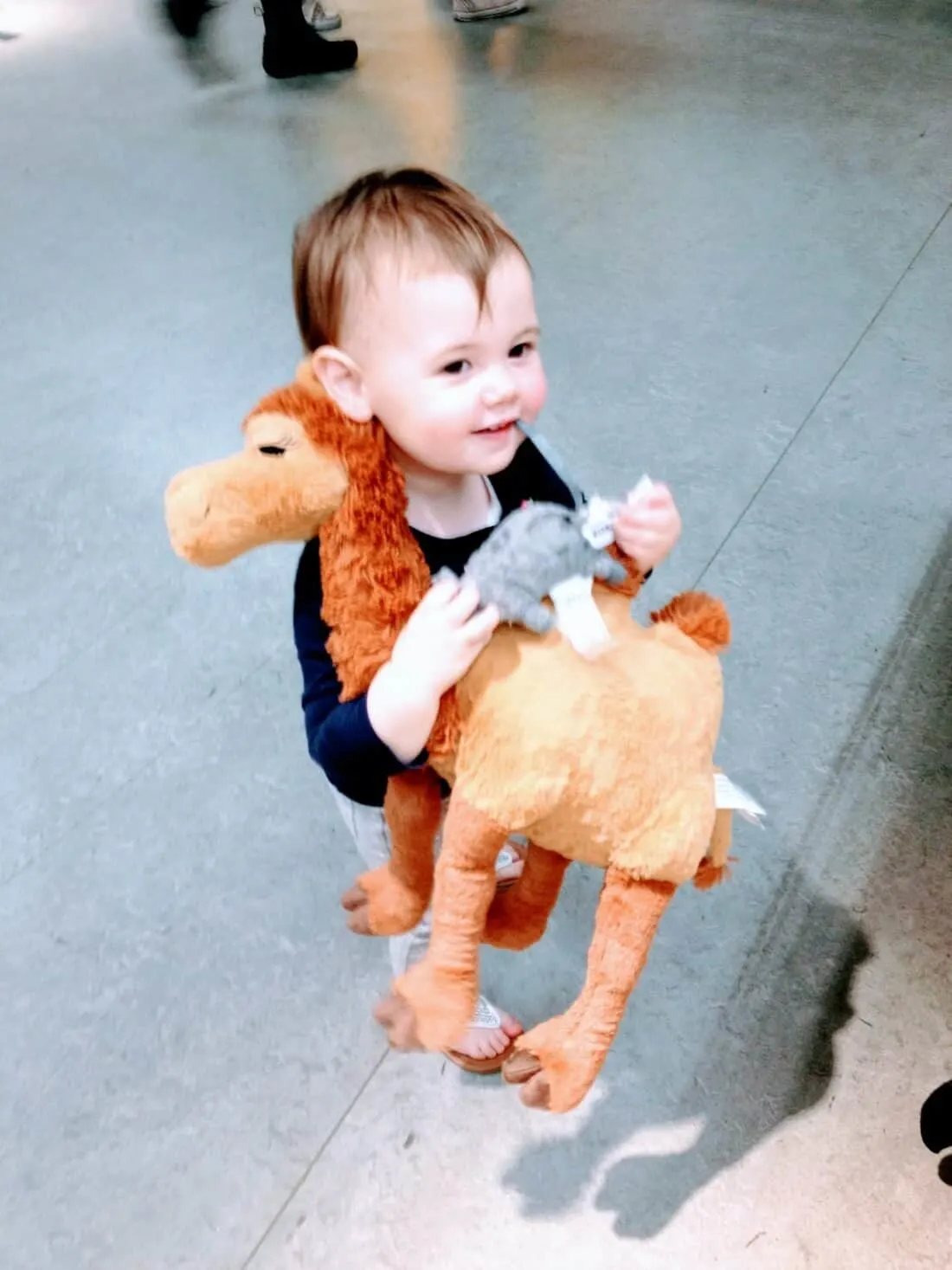 This weekend though it was nice to relax and catch up on some reading. Diving into a book or even just taking a few minutes to read an article or blog post always makes me feel energized.
Guess that is the value of taking "me time", right?
Here are some great reads that I found- hopefully one of them helps you wherever you are at in your motherhood journey right now- a little humor, some encouragement, or just another mom who just gets it!
This post contains affiliate links. Thanks for supporting the blog!
Weekend reading list:
Pregnant Mamas
11 Pregnancy Tips I Wish I Had Found When I Was Pregnant | Pregnant Chicken
I shared this on The Mom Friend's Facebook Page but wanted to share it here in case you missed it (make sure you like the FB page so you don't miss any in the future!). I totally remember #3, but #10 is so true and I wish I had written down more from that day!
Newborn Mamas
Mentally Preparing for the Witching Hour | MomBlah
The Witching Hour is no joke for new moms. Some experience it fast and furious, and some might see it pop up every so often, but it is one of those things that most moms can relate to in some way (and give a solemn nod of understanding when mentioned). I like how this post accepts that it happens, and gives a few easy and super practical tips for adjusting your attitude in preparation of it and in finding ways to ensure you are physically prepared for it too!
3 Things Your Newborn Photographer Wished You Knew | by Cathie Atwood on Baby Bo Chic
This is a good read for Mamas who are considering doing newborn photos, or for moms in general when it comes to getting in the photo! Plus it is a guest post by the wonderful photographer who did Charlie's Fresh 48 session at the hospital (taken about 12 hours after she was born)- which I definitely need to share the pictures from!
Overwhelmed Mamas
To the Mom Who Loves Motherhood, But Misses Her Freedom Too | Mother.ly
The alternate title of this article is "motherhood is one confusing wonderful jumbled bag of emotions" and I couldn't agree more. This post says that it's ok to feel all of those emotions- and sometimes all at once. Check it out for a feel good read, especially if you are feeling overwhelmed.
Moms in Need of Good Laugh
Confessions of Domestic Failure | Bunmi Laditan
On both Honest Toddler and her personal facebook page, Bunmi Laditan keeps it real, like really real. She shares all about her shortcomings as a mom and things she struggles with in a fabulously hilarious way and has a huge following from other moms who get it (like yours truly!). Her new book came out on May 2nd (my birthday) so I treated myself to a present and had it preordered. I just started it this weekend, and though only a few chapters in, I'm really enjoying it. Lots of humor packed into each sentence.
Just a short list but, hey, less to try to cram into the week right?
Did you read anything great this week? I'd love to know!
I hope you have a great week ahead!