Editor's note: I am excited to have Tammy Tilley from Parent Cabin sharing her tips for family travel on today's guest post. Thank you!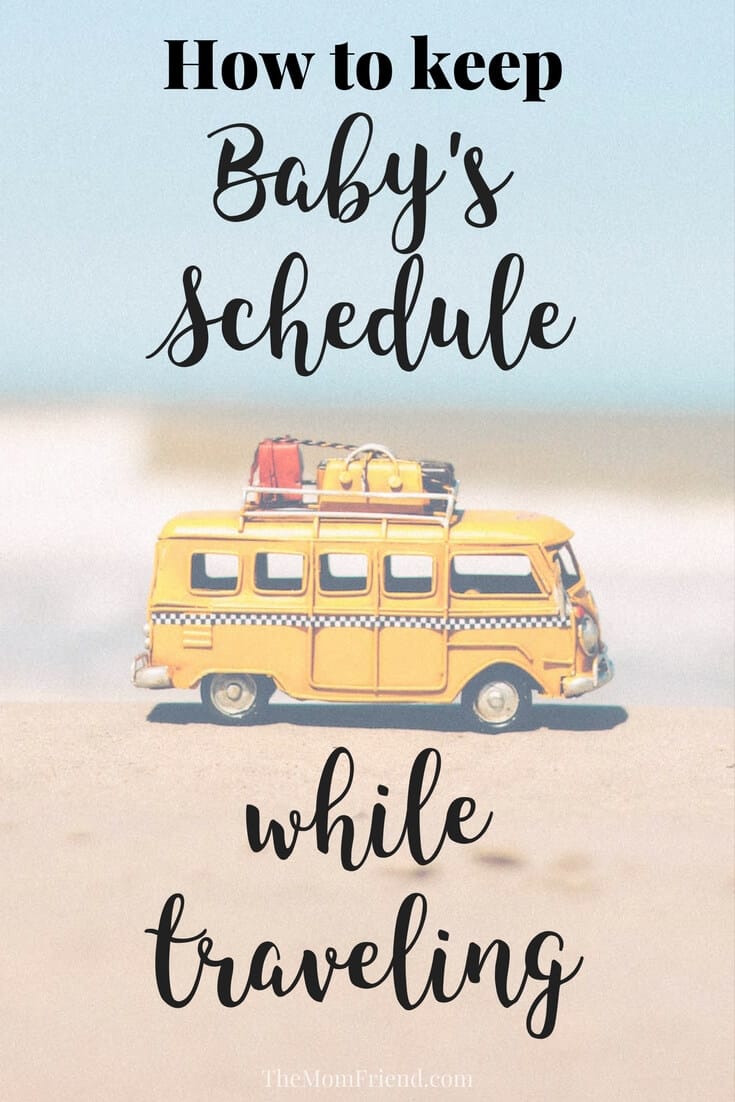 Guest Post By: Tammy Tilley
When my kids were babies and toddlers, we maintained our kids' schedules with hyper vigilant effort. Some parents thought we went overboard. We just thought we were avoiding sleepless nights and cranky babies.
This keen attention to Baby's schedule paid off for us, even more so when we traveled. Whether or not we traveled to a different time zone, we learned a few tricks of the trade that made Baby happier when traveling.
When Baby's happy, everyone's happy.
Maintain your home schedule.
Sometimes it's inconvenient when you're traveling to keep the same schedule as you do at home, but until your baby is older, make the concession to plan around Baby's schedule. We are the grown-ups, so it's easier for us to adjust than it is for our little ones. It's worth the sanity to do this one.
When we traveled to Disney World, we kept our same home schedule. If you're flying, here are some tips to packing the perfect carry-on bag. We stayed at one of the lower-priced resorts so we could leave the park and return to home base easily. We could also easily return to the park or swim in the resort's pool after naps were taken and snacks were eaten. It worked beautifully!
Related: Disney with Toddlers (Tips from 20+ Bloggers)
We also found ways to entertain ourselves while our little one slept. Basically, we worked in shifts: one person stayed in the room for a certain amount of time, and then we would switch. For example, we took turns enjoying the water, sitting outside reading a book by the pool, or taking a walk around the lake property when we stayed at our Disney resort. We both were able to enjoy some down time in this way.
Plan travel around sleep times.
Even though the timing might have been inconvenient for us parents, we knew when we traveled, whether by car or by plane, our baby would sleep. There's just something about that rocking movement and "white noise" of a jet engine that would lull them to la la land.
Take "home" with you.
I'm not talking about taking everything with you, but I am suggesting whatever those really important items are that facilitate optimal sleep time at home, try as much as possible to re-create that same atmosphere in a hotel or at a guest's home. In other words, if you block out sunlight at home, throw a sheet over the window in your room. If Baby has a special bed sheet or bunny at home, bring it on the go. If possible, take the portable crib. Baby finds comfort in her special things, and keeping her relaxed is key.
Related: Traveling with Baby—Deciding What Baby Gear to Bring
Don't suffer jet lag.
If you're traveling to a different time zone, try splitting up the difference in zones. For example, if the time change is a three-hour difference, at least for the first night, try either keeping her up 1.5 hours later, or putting her to bed 1.5 hours earlier (depending on whether you've decreased or increased the time zone). Try this for the first two days.
Plan a meal or two in the hotel room.
Having our own home base enabled us to allow Baby to roam and stretch, which was harder for her to do when we were in public places. For that reason, we chose a couple of evenings where we brought dinner into our hotel room. That way she could move freely after eating.
Don't overplan activities.
As much as you would like to be on the go, do everything, and see everything, that just isn't a realistic option when you have little ones who don't have the same energy level as you. Be sure you get to do those top two, three, or four activities, add a couple of adventures in for the little ones (such as a local playground), and then just enjoy your time away.
Be prepared to be challenged.
Unfortunately for some parents, no matter what you try, you might just be met with the challenge of getting Baby to rest well while you're gone. During these moments, stay calm but stick to the schedule as much as possible.
For some additional tips and tricks to combatting jetlag, check out this article. And if all else fails, just remember some day this moment will make for a memorable story.
Tammy Tilley is a wife, mom, and writer for Parent Cabin. Parent Cabin is a cozy little parenting blog covering everything from pregnancy, tots, teens, and family lifestyle.
You can find them on Facebook, Pinterest, Twitter, and Instagram.
Pin for later: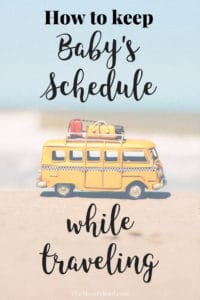 You may also enjoy: