This is a sponsored post written by me on behalf of Eight O'Clock Coffee. All opinions are 100% mine.
I love everything about the holidays.
I love hearing Christmas music play over public speakers, seeing ugly holiday sweaters in the stores, and watching lights pop up throughout my neighborhood. One of my favorite things to do after I put my toddler to bed, or early before she wakes up, is to sit and just relax in front of the Christmas tree or other spaces in my home with the soft twinkle of lights in the background.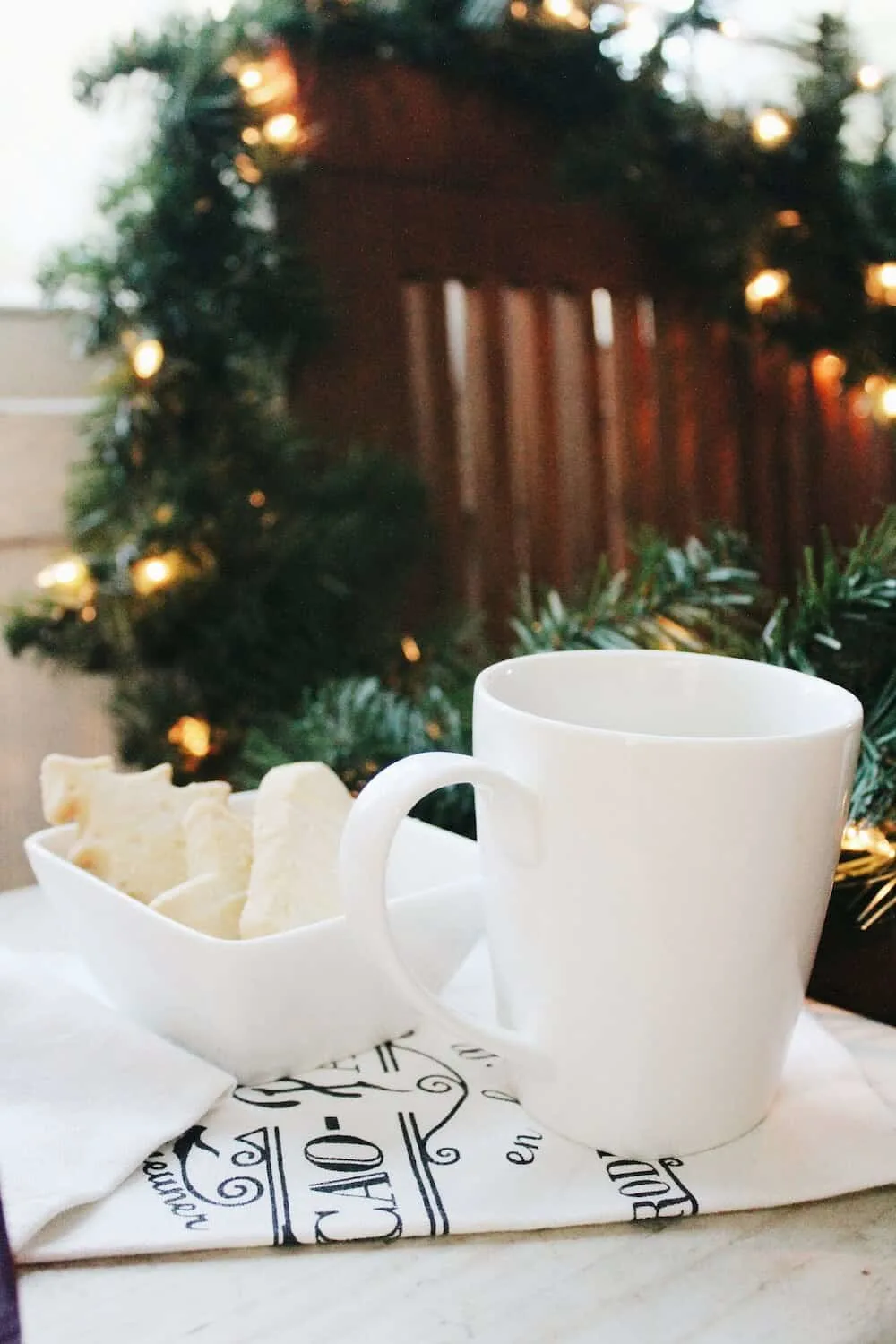 It's my way to both get ready to conquer a new day, and decompress after a long one, and that's where I like to enjoy my coffee—anytime of day.
I've always been one to drink coffee all day long—maybe it was working at a coffee shop in college, or studying abroad in Europe where every evening meal was followed by cups of espresso. It pumps through my veins and keeps me energized to chase a 2-year-old, but it is truly something that brings me great joy. I love exploring flavors and pairings, and I always keep an assortment of flavors (both regular and decaf) on hand so I can drink it no matter how late it gets.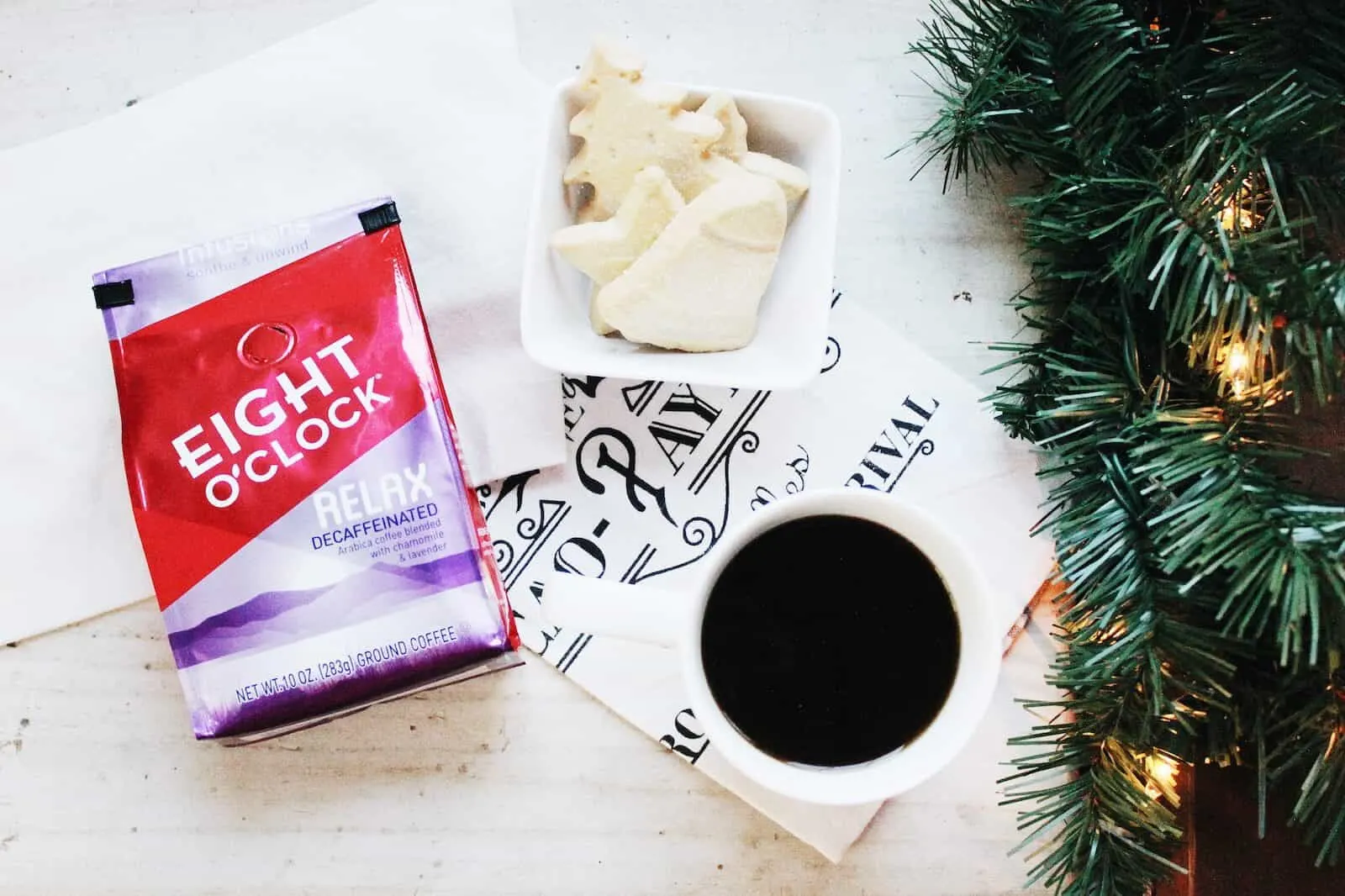 As I sat enjoying my coffee with the garland of lights around me, I realized coffee would make a great foundation for a holiday gift basket for people in my life who love it just as much as I do, and how easy it would be to tailor a gift basket to the likes and personality of the receiver. I came up with 5 different "themes" for a coffee basket that I'm sharing with you today, and I'll even show you how to quickly put one of those together!
Coffee Themed Gift Baskets
Good Morning Sunshine
For someone who works hard and is always on the go, a gift basket featuring things to help their mornings start off right would be a great gift. I would choose a strong blend coffee paired with a travel coffee mug, prepackaged morning breakfast bars, and maybe even a gift card for their favorite drive-thru breakfast stop. Good coffee on the go? How nice!
Coffee & The Paper
Maybe your intended recipient is more of a sit and read the morning paper type of person. A generously sized mug will hold their favorite cup o' joe, and a subscription to either a physical newspaper or magazine, or a digital subscription would be so thoughtful. Add in slippers for a cozy touch.
For the Mom-to-be
When I was pregnant with Charlie, I wanted to go the first trimester without caffeine. When that proved attainable, I continued with decaf coffee and non-caffeinated beverages as long as I could as a personal challenge. I made it 8 months before I just had to give in, and that was probably due to still being able to enjoy coffee (in decaf form).
How awesome would it be then to help a mama-to-be enjoy her favorite drink while still supporting her choices? A gift basket with a delicious decaf like Eight O'Clock Coffee Infusions Relax and a Mama Bear mug—or even a sassy one, something along the lines of "Does this bump make me look pregnant," is a great way to celebrate her pregnancy. Add in a pair of cozy socks (bonus if they have grippers on the bottom for the hospital), some snacks, and a season of her favorite show (for those late night nursing sessions) and the basket is complete! For a humorous touch that she will be grateful for later on, add in a bag of regular coffee—she will need it once the baby arrives!
The Fancy Coffee Mom
Know someone who makes a daily run somewhere for a coffee that is extra sweet? Create a DIY Coffee Station basket by filling it with everything needed for a fancier drink. Start off with a vibrant roast, and add in flavored syrups, chocolate sauce, cinnamon, and sprinkles for their own at-home concoction. A colorful iced or hot travel cup plus a glass mug for home use will leave her sipping her coffee in style.
The Coffee Connoisseur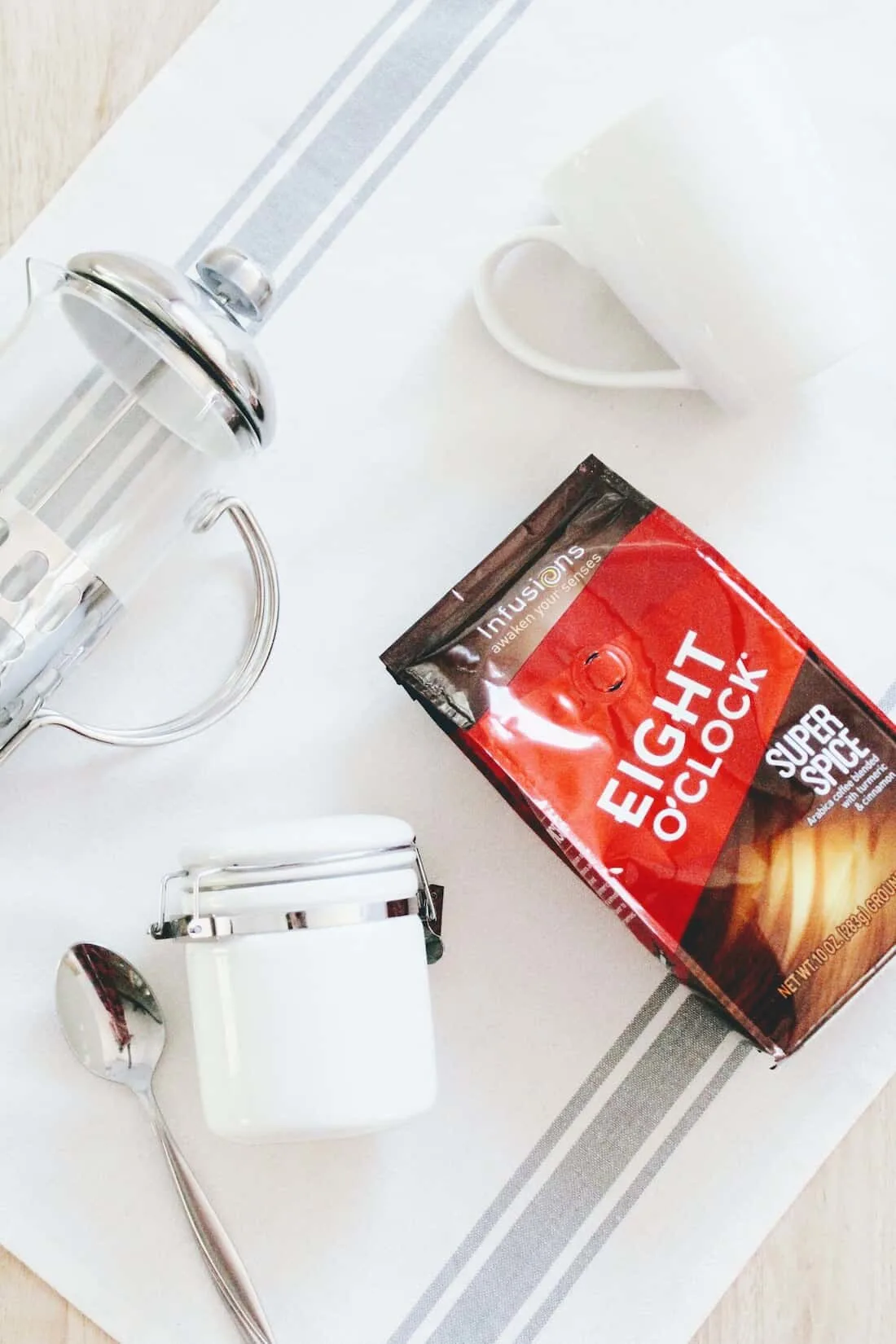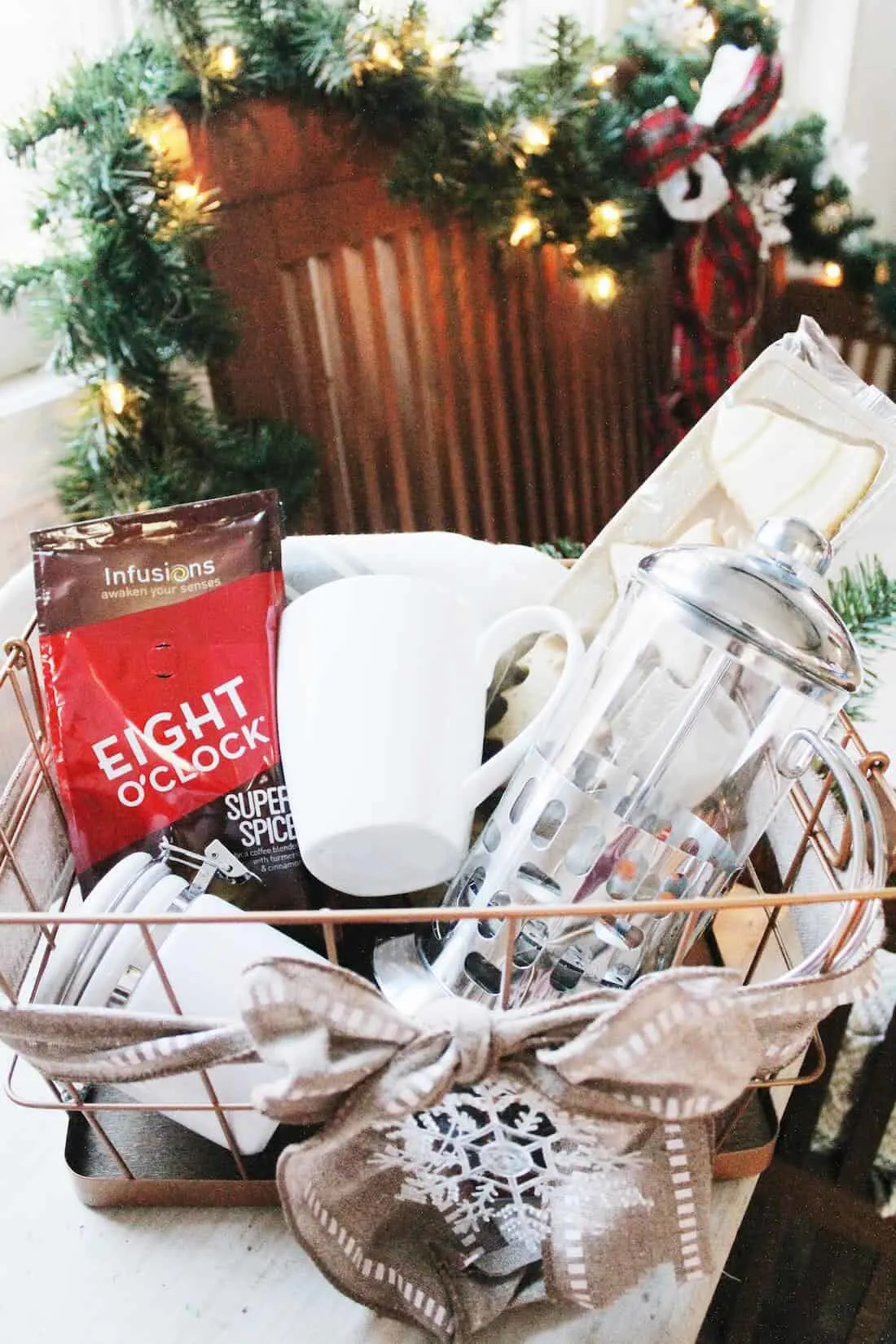 For someone who savors and enjoys coffee for its bright notes, bold flavors and enticing aromas, a spicy coffee paired with a French Press makes for an elegant and tasty gift. In this basket, I added a tea towel with old-world French decor accents, a coffee mug and some subtle treats to accompany (but not overpower) the coffee. A French country sugar canister and a spoon complete the set, and I put everything into my favorite style of basket (a simple yet classy metallic basket).
Start with the right coffee
The foundation of any of these coffee themed gift baskets is obviously a delicious cup of coffee, so I recommend picking one of the new coffee blends from the Eight O'Clock Coffee Infusions line. These unique flavors are blended with added ingredients for an enhanced taste and experience.
I used Super Spice in the Coffee Connoisseur gift above. Alert Hi-Caffeine would be perfect in the Good Morning Sunshine basket (as well as a future gift for mom-to-be when paired with the Relax Decaffeinated), while Acai Glow makes a fruity base for Fancy Coffee Mom basket. I'd pair B6 Metabolism with Coffee & The Paper, as the fruit and herbal blend is perfect to sip and savor slowly while reading.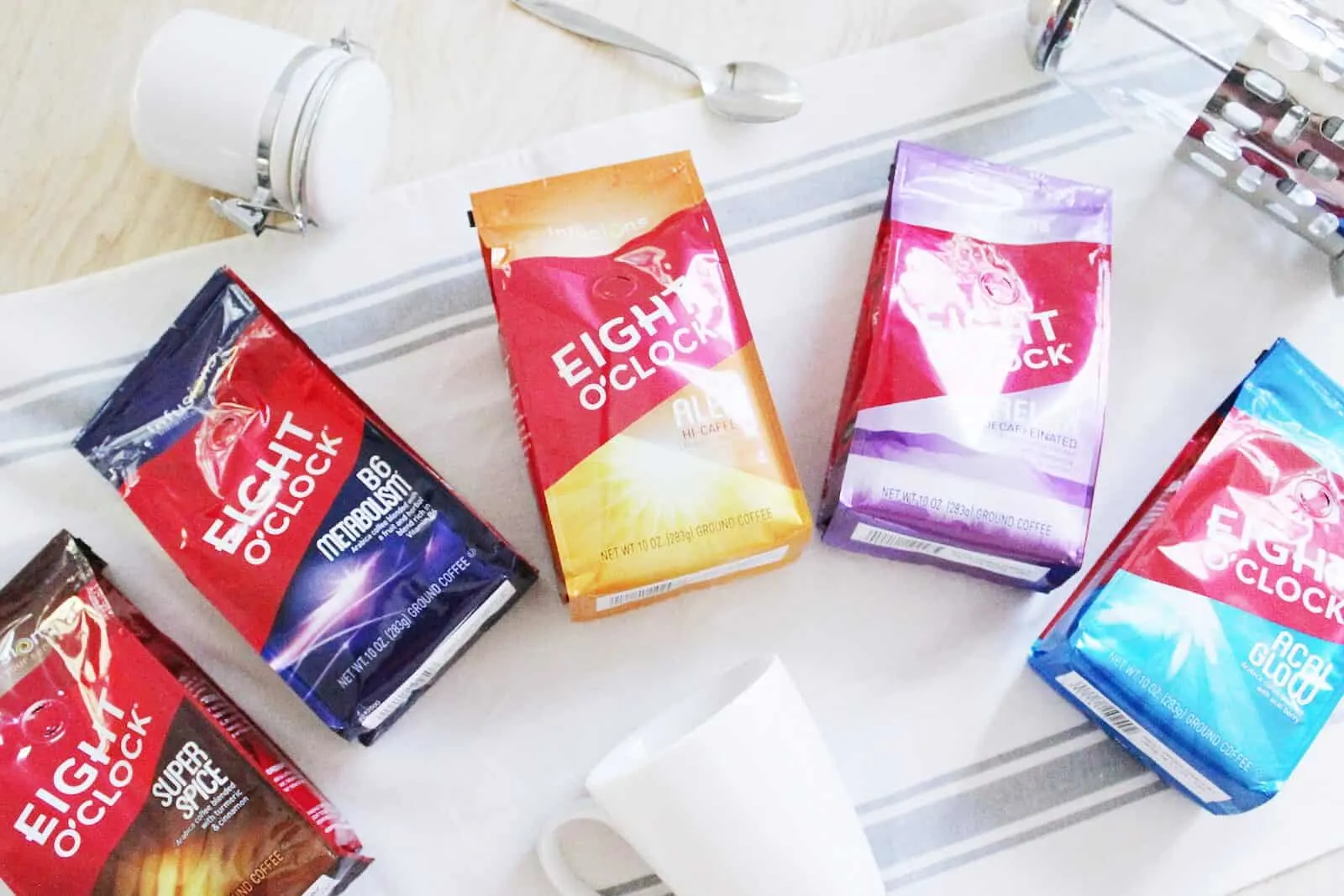 You can find Eight O'Clock Coffee Infusions in store or buy online. And be sure to download a coupon to save $1 on online purchases!
Are you a coffee fanatic? Which coffee-themed gift basket would you like to receive? Let me know by leaving a comment below!