*For this Evenflo Car Seat Review, I receive the SureRide DLX for free for testing purposes from The Parenting Pod. This post may contain affiliate links.*
It seems most families I know have a main car, which they use daily to shuttle the kids around and spend the majority of their time in, and a second car, the one that either gets pushed to the parent who does less pick-up & drop-off, or the one that sits and only gets used "sometimes". You know what I mean?
My husband's car is that second car. He commutes a really long way for work and daycare is near my work, so I do all the taking to and from on a daily basis. When we are together as a family, we prefer our primary car—a Jeep Cherokee—because it is just more spacious and more comfortable for us and all our stuff.
When it comes to kids though, car seats are a must for any cars (obviously, right?). When we used an infant bucket seat, it was easy to just install a base in both cars and switch her between cars as needed. Once she grew out of that, we've been using an affordable convertible car seat that we picked up for air travel (the Cosco Scenera Next).
While that has worked great, Charlie is very tall so I'm checking out options for a new car seat for our second car before she outgrows it. Since it is for the second car, my requirements have basically been a quality seat that is affordable and can do both rear & forward facing.
Evenflo Car Seat Review: The SureRide DLX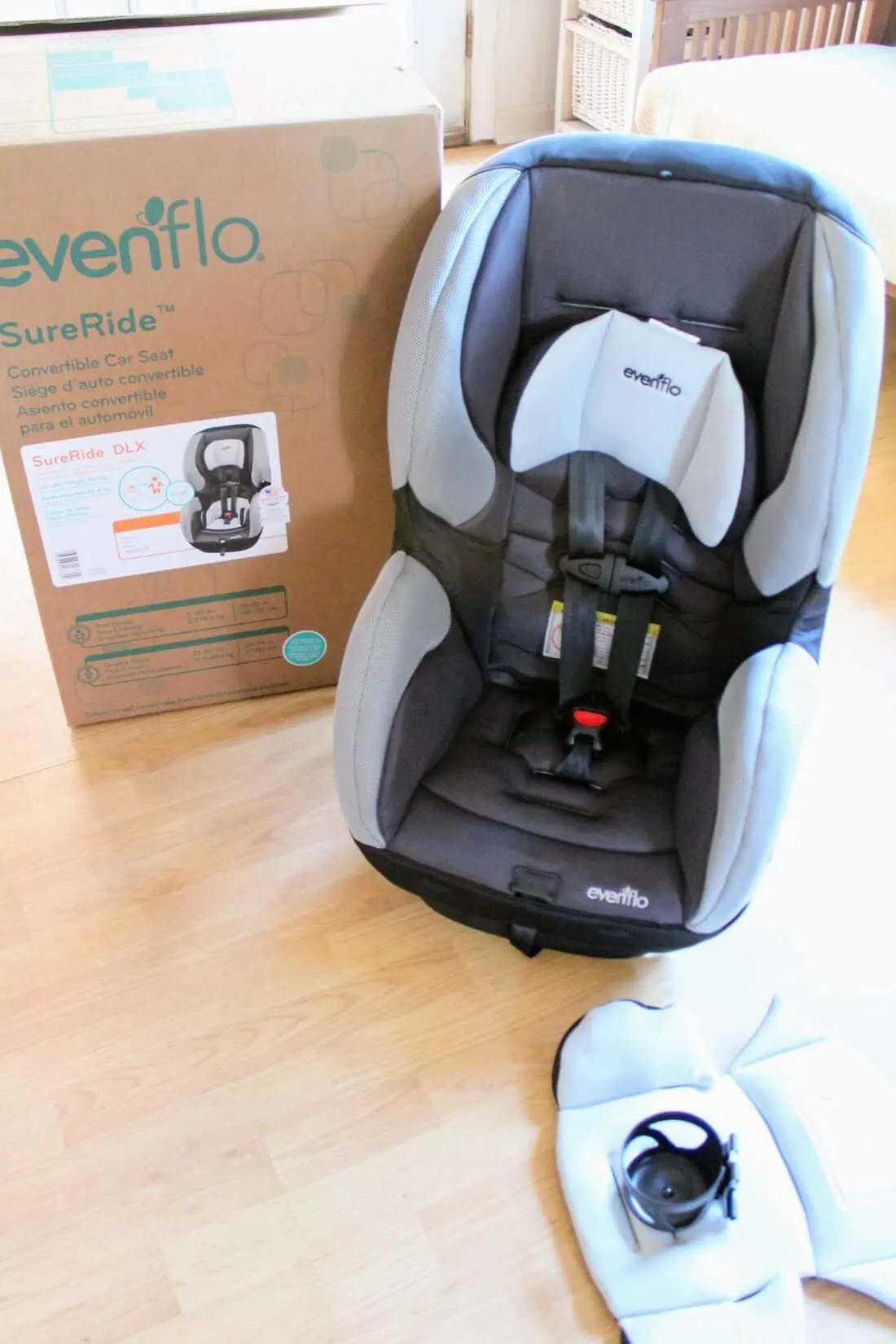 We received the Evenflo SureRide DLX for free for testing purposes from The Parenting Pod. My first thought was how light the box was as I brought it inside. It comes fully assembled, and has 6 harness slots for extended use.
Here are some of the basic features:
Rear-Facing from 5 to 40 lbs & 19-40 inches for height (child's head must be at least 1 inch below seat back)
Forward-Facing from 22 to 65 lbs & 28 to 54 inches
Lightweight ( the entire thing is just over 9 lbs!)
Includes removable head & body pillow, and attachable cup holder
Washable seat cover
Thanks to its wide range of compatible sizes, the Evenflo SureRide DLX can be used for newborns through young children. It is inexpensive, which makes it a nice, affordable option for a second car. It is a very tall seat compared to other similar options, which is nice for us since Charlie is above the 99th percentile for height (seriously!). Because of the seat height, she will be able to use it much longer than other convertible car seats.
The tall seat height, however, does create a bit of an issue for us, and might for you as well. Though Charlie just turned 2, she is still rear-facing due to personal preference. One drawback of the Evenflo SureRide DLX, however, is that there is only one recline position for rear-facing use (an no recline option for forward facing), meaning the very tall seat deeply reclines in the backseat—after all, it has to cradle a newborn.
This leads to two possible concerns:
The tall seat may not fit in the backseat of certain cars; and
An older infant or toddler may not be as comfortable in a full recline as a newborn.
There is also quite a large gap between the 3rd & 4th harness slots, which may cause issue if your child is in between sizes.
Rear-Facing: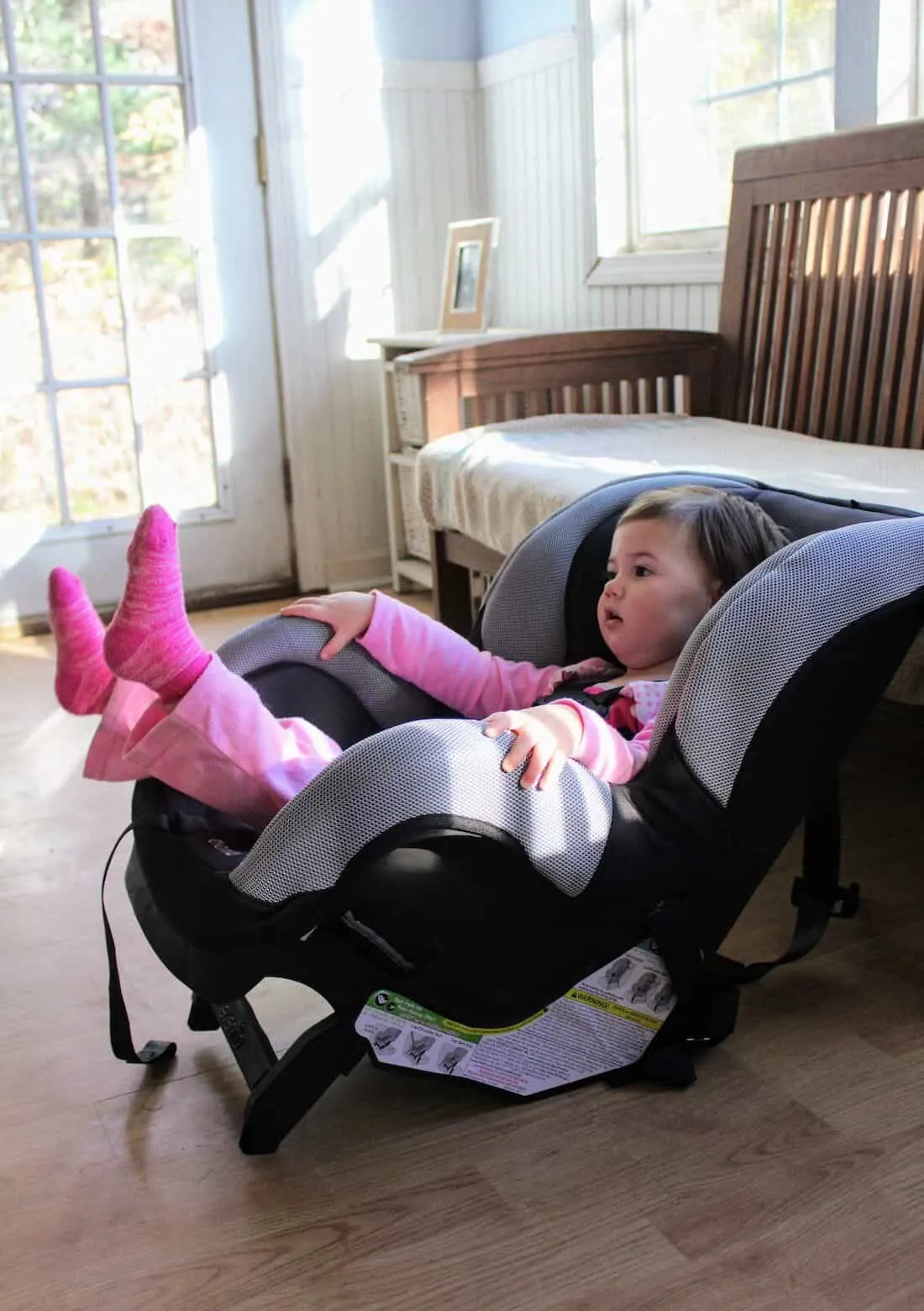 Forward-Facing: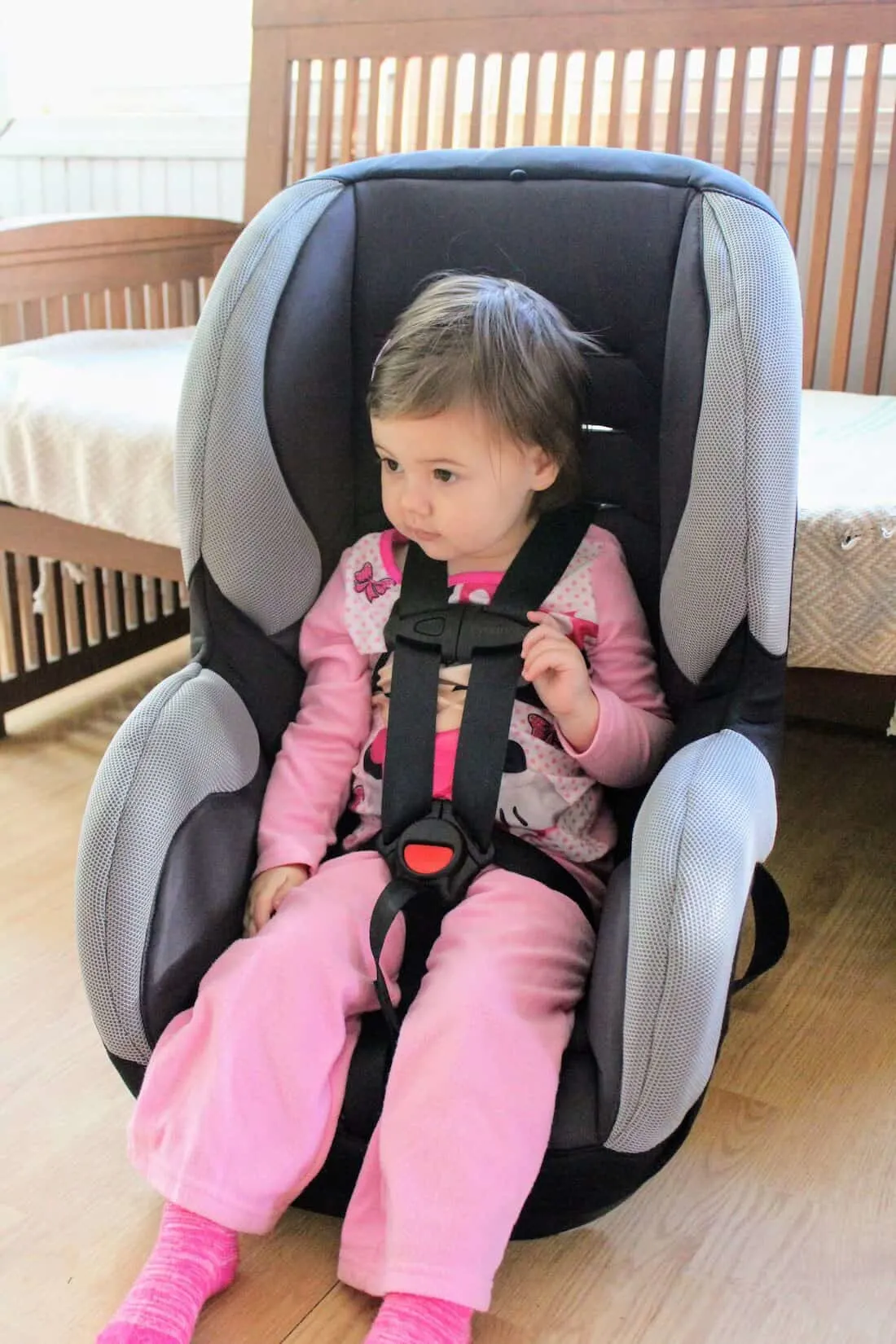 *Since this is shown on a flat floor and not installed, the seat angle will be slightly different when installed as seen in photos below.*
As it turns out, when used in rear-facing position the Evenflo SureRide DLX does not fit comfortably in our cars, meaning the front seats would need to be moved too far forward, impeding passenger comfort or the ability to drive at all.
Since our Jeep has more backseat space, I took a few photos there to show the amount of space it takes up (this is shown with the driver seat pull completely forward—which was necessary—compared to the passenger side which is on a middle setting).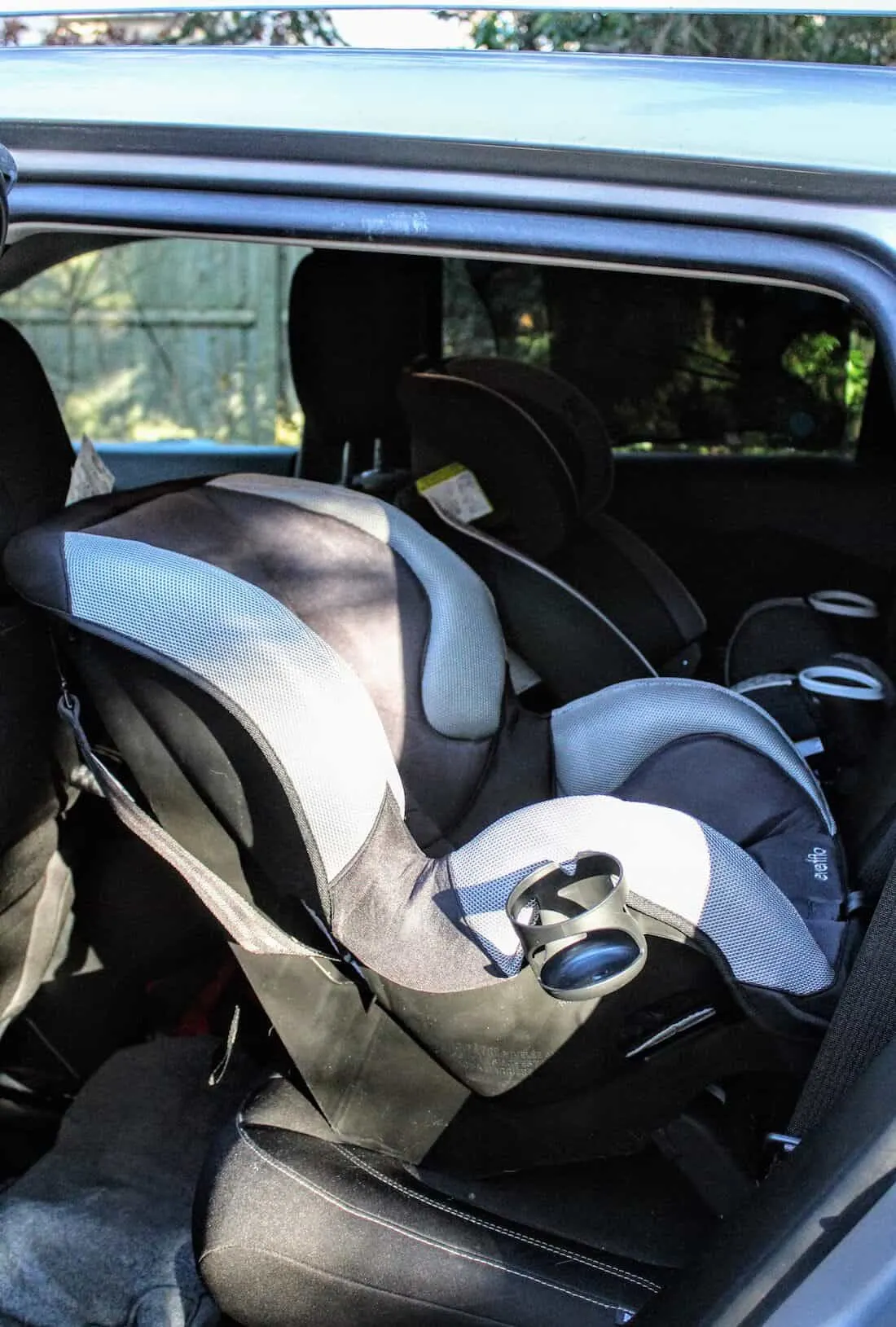 Forward-facing, the car seat fits great and was a breeze to install, which tells me it will be a great seat for our second car when the time comes to turn her around (and yes, I know I could now if needed, but again, personal preference).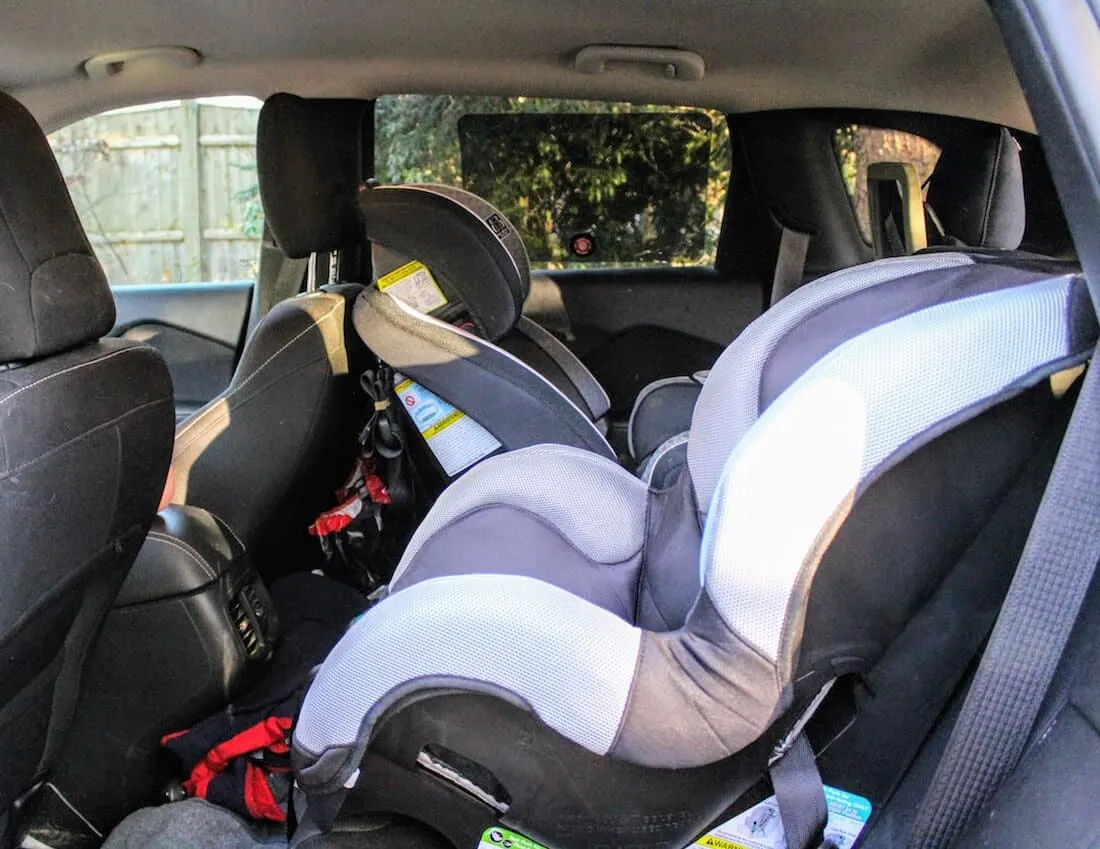 I also like that it is FAA approved for use on airplanes, so we can travel with it if needed. I would note however that having flown with car seats in the past, I don't believe it would fit rear-facing on a plane at all as shorter car seats were a tight fit, so it would need to be used forward facing most likely! Check out this great article on Air Travel with Car Seats to learn more about that!
The Evenflo SureRide DLX has lots of great features making it a good choice for families on a budget if the style and taller size meets their needs and fits their vehicles. For an in-depth look at the features, pros & cons, and safety considerations of the Evenflo SureRide DLX, be sure to check out this great review on Parenting Pod.
Do you have the Evenflo SureRide DLX? What do you think about it?