Looking for a long lasting infant bucket seat? The Chicco Fit2 fits the bill! While other infant car seats offer only limited use (usually less than a year), the innovative design of this car seat allows for longer use. In this Chicco Fit2 review you'll see how that is possible, and why it should matter to you as a parent!
September is Baby Safety Month and the last week of it is National Child Passenger Safety Week, so what better way than sharing a review on the most important way to keep our babies safe—their car seat!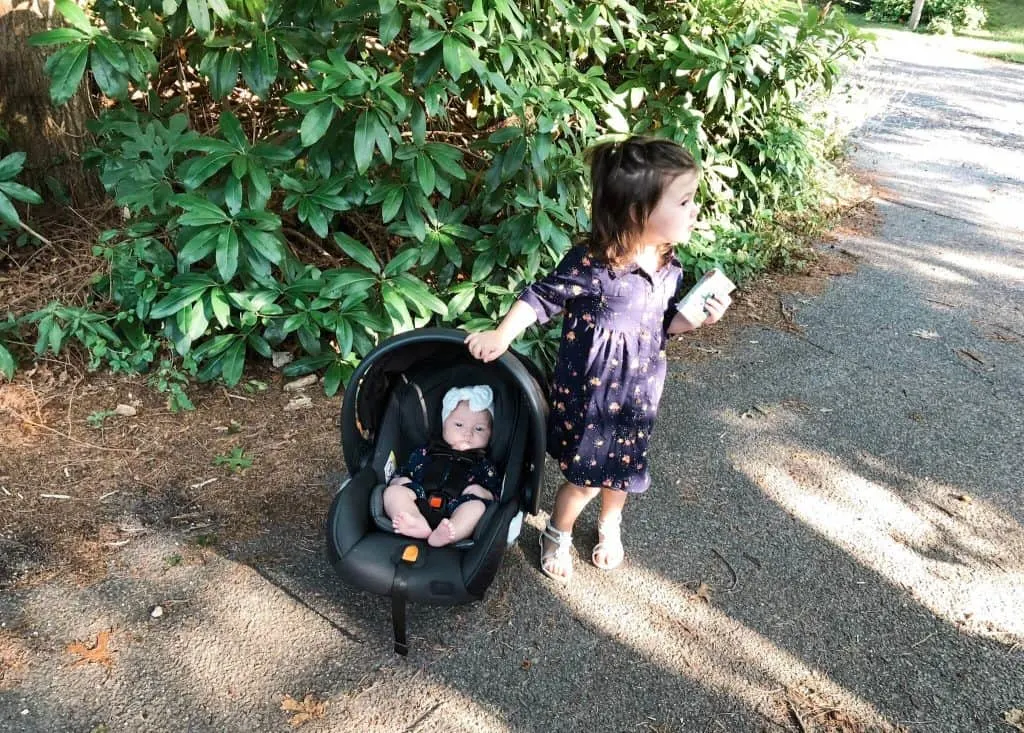 This car seat was sent to me for review purposes. All opinions are my own. This post contains commissioned affiliate links.
When you have a dad who is 6'9″ (yes, really) being tall—and all of the issues that come with it—just comes with the territory. Both of my girls are off the charts—literally—for height, and that makes baby gear difficult to shop for as they tend to outgrow things very quickly.
Charlie outgrew her infant car seat long before most of her friends, so when I heard about the Chicco Fit2, and the fact that it can be used much longer than other infant car seats, I was intrigued.
After seeing it at the New York Baby Show, I definitely wanted to take it for a spin to see if it would be a good option for parents in The Mom Friend community who were looking for the convenience of an infant car seat, but wanted to get more use out of it than the standard options available.
So is it one I recommend? Watch the video and read on to find out!
Let's take a look at the specs, and find out what makes the Chicco Fit2 so unique.
Chicco Fit2 Review Specs
Car Seat Weight (without base): 11 lbs
Assembled Dimensions: 28″ x 17″ x 16″
7 position headrest with a no-rethread harness
Use up to 35″ and 35 lbs
Did you catch that last bullet point? This car seat can be used for infants and toddler up to 35″ and 35 lbs!
Seeing as Charlie is still under 35 lbs at almost 3 years old, that is pretty impressive.
So how is that possible for an infant seat? It is thanks to a 2 Stage base setup.
With typical infant bucket seat, the base is locked into place and allows for just one setting, creating a deep recline that is necessary of a newborn car seat. However, the Chicco Fit2 offers two stages—one that is suitable for infants and toddlers 4-35 lbs (if your toddler enjoys the deep recline) and a second stage that adjusts the seat up for a more upright position for infants and toddlers 15-35 lbs (both stages go up to 35″).
Stage 2 gives older infants and toddlers (listed as 9-24 months) a chance to look around a bit more and provides more space utilizing the same car seat and space footprint.
Other great features of the Chicco Fit2
Easy Install
Car seats are notorious for having a difficult install, and companies have been taking note. Chicco has taken the struggle to heart and has designed a base that I can actually say is super simple—and quick— to install.
Install features include a ReclineSure® leveling foot that operates with a simple pull and standard bubble indicators to make sure it is at the right angle. What makes the install easy, however, is the SuperCinch® tightening system. After hooking onto to the car's latch system, a few easy pulls gets the base tight thanks to a force-multiplying system and releases with a push of a button.
This is actually one of the things I like most about the Fit2. Charlie's old bucket seat was a monster to try to get tight, so once it was installed we never moved the base.
Since this one is so easy, however, I have no problem moving the base from car to car or removing it if we need room in the back seat (obviously if not taking the baby in the car). I have probably removed it and reinstalled it upwards of 10-12 times now for various reasons, and it is easy every time.
We actually bought an extra base for our second car but since we only use that car to haul the kids every once in a while, it has been easier to just move the base rather than open the box—2 months later we are returning the unopened base!
Design & Function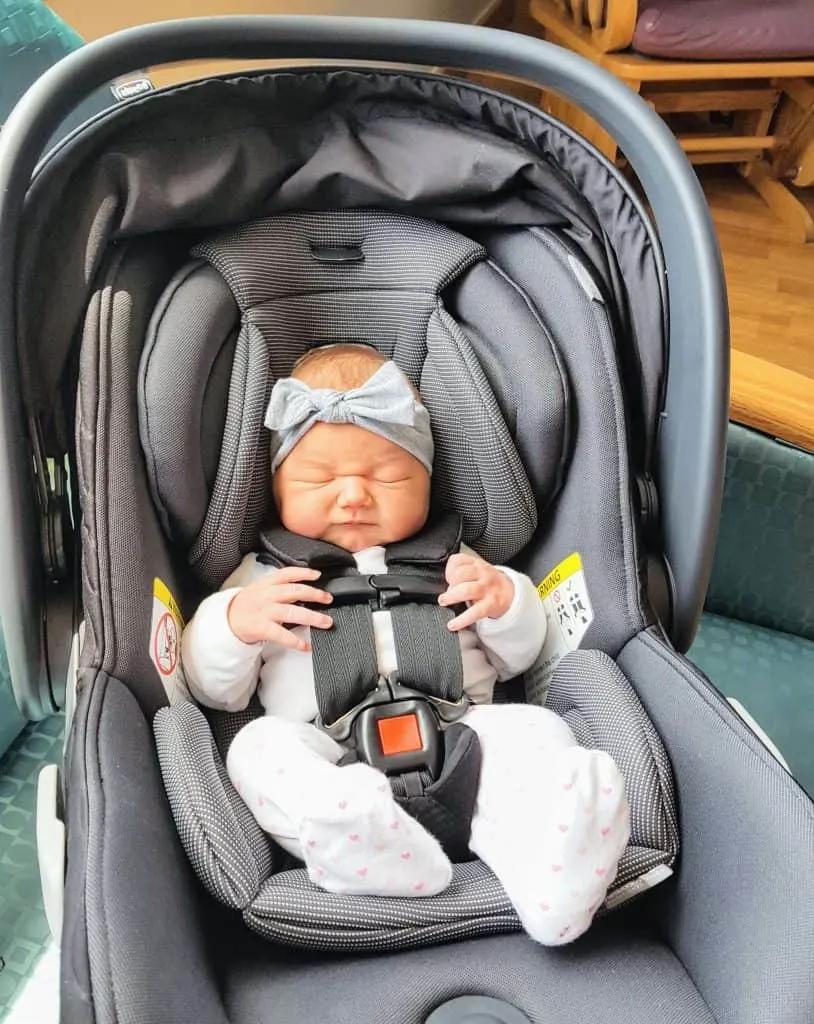 The seat itself is well-padded and comfy to the touch, with premium, modern looking Italian fabrics. The no-rethread harness and headrest make it easy to adjust as a baby grows, which Ensley is already doing at an alarming rate!
It has a good size canopy (though I do wish it would extend just a tad bit more on super sunny days) and fits into any Chicco travel system or stroller that has an adapter for the regular Chicco Keyfit car seat.
My favorite feature of the Fit2 however, is the one hand adjustment for the carrying handle. I never knew how annoying two-handed ones were until I saw how easy it was to adjust while also being otherwise occupied by a toddler, a diaper bag, or catching a falling pacifier.
Weight
The seat itself weighs 11 lbs—which is not light compared to some other available infant seats, but the design creates a sturdy seat for older babies.
The benefit of a bucket seat is that you can carry a baby around with you, making quick errands easier or being able to avoid having to wake up a sleeping baby to do a car to store transfer.
At less than 2 months Ensley is already weighing in at 14 lbs, so carrying her around in the car seat is already getting a bit heavy since the combined baby + car seat weight is nearing 25 lbs. So while you could technically carry your toddler in this seat, I'm going to go ahead and assume not many people would be able to lift that much weight!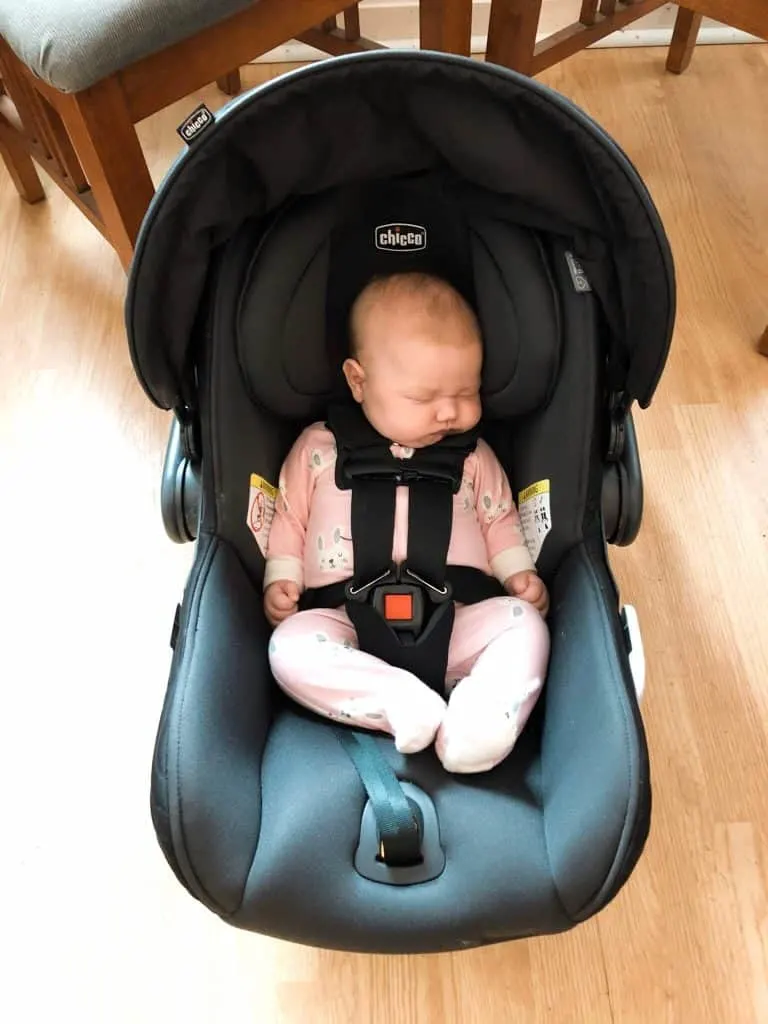 The weight of the car seat might mean you end up stopping carrying it into places a bit earlier than others, but the benefit of the higher weight and height limits and 2 Stage design is that you will still get much more longevity out of it than other infant seats.
Stay Rear-Facing Longer
I am all for products and gear that help parents keep their kids safer (with as little effort as possible), and when brands help make that possible.
The AAP just updated their guidelines for car seat safety, taking out a specific age limit and encouraging parents to keep their children rear-facing until they have outgrown the height and/or weight limits of their rear-facing car seat.
This car seat helps parents stay rear facing longer, as the temptation to go straight to forward facing once a baby outgrows their original bucket seat (usually around 9-12 months old) might be there for parents who are unaware at how much safer it is to stay rear facing.
The Fit2 has generous limits in both stages, and could easily be used well beyond 2 years of age. Chicco also offers a wide range of car seats designed to keep little ones safe at every age and stage.
And for those parents worried that their growing toddler is cramped in the back seat when rear-facing, think about how flexible your kids are and the strange positions they end up playing or sleeping in on a regular basis!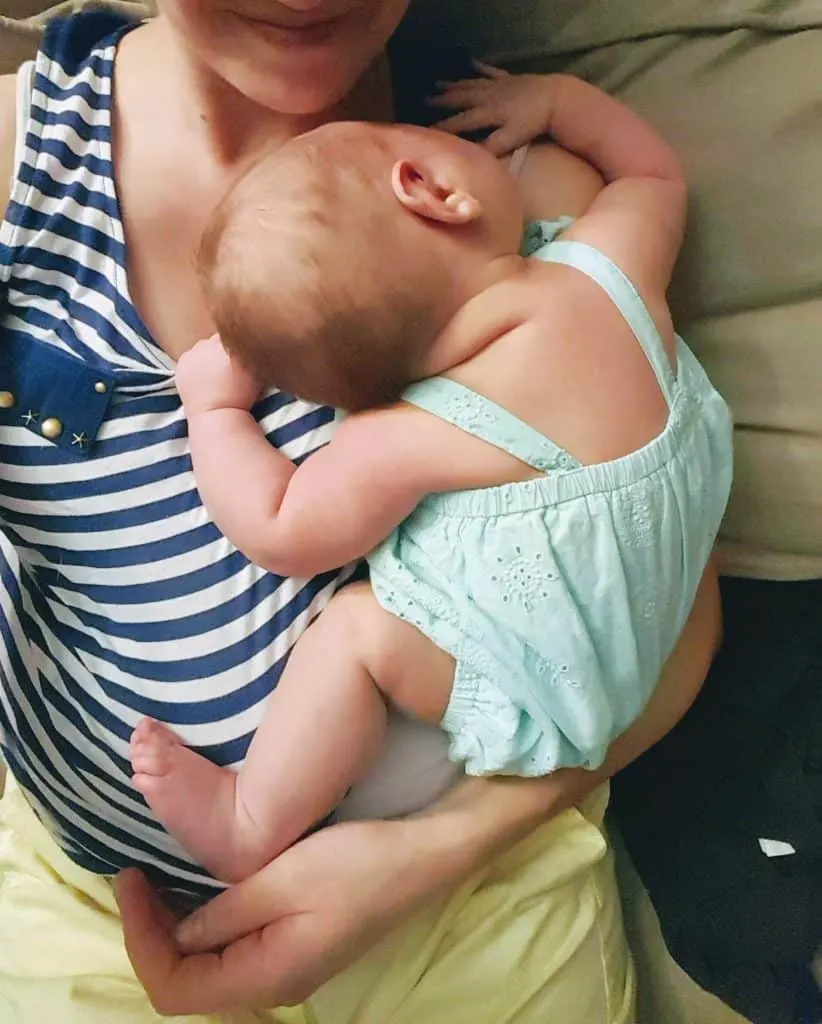 Their little bodies are much more supported in rear-facing mode, so if your seat allows it, consider leaving them facing backward as long as they can!
Side Note: And speaking of safety, remember that babies and toddlers should not be buckled into car seats while wear puffy jackets. Layers, or specially designed road coats like this one from OneKid are the way to go. See more details on keeping kids warm during winter safely here.
Overall Impression of the Chicco Fit2
The Chicco Fit2 is a great all-around infant bucket seat but becomes even more useful as it can extend into toddlerhood as well.
It provides the convenience many parents want for a portable seat in the newborn/baby stage but solves the biggest issue parents have with that type of seat—how quickly kids outgrow them before having to purchase another rear-facing car seat.
While priced higher than some other infant car seats, the value is there as it can add over a year of additional use. Parents of all children will especially love it! Charlie is almost 3 and is 38.5″ and I still plan on her rear-facing as long as I can, but the Fit2 would have work past 2 years old for her.
However, keep in mind that if you plan to do extended rear-facing past 35″, you will still need to buy a convertible car seat anyways, so while you may save money in the first year, you are likely to be purchasing another seat anyways down the road.
Tip: Make sure your next seat is an all-in-one that will take you through to the booster seat phase to get the most value once again!
Check out all the styles for the Fit 2 on Amazon!
Be sure to follow The Mom Friend on Facebook and YouTube—I'm be sharing reviews of lots of essential baby gear items on there soon!