There is something so cute about a newborn baby getting a bath. Maybe it's the rolls, or the reaction when the water hits them for the first time, but it is something both extremely adorable and a perfect memory maker. Baby's first bath can also be a bit daunting for new parents, but with a little prep it can be an enjoyable and memorable experience—especially if you get the whole family involved!
I've partnered with Baby Dove to share some tips to make it a success, and even have a coupon for you to check it out, so be sure to read on! Photos by Mary Ware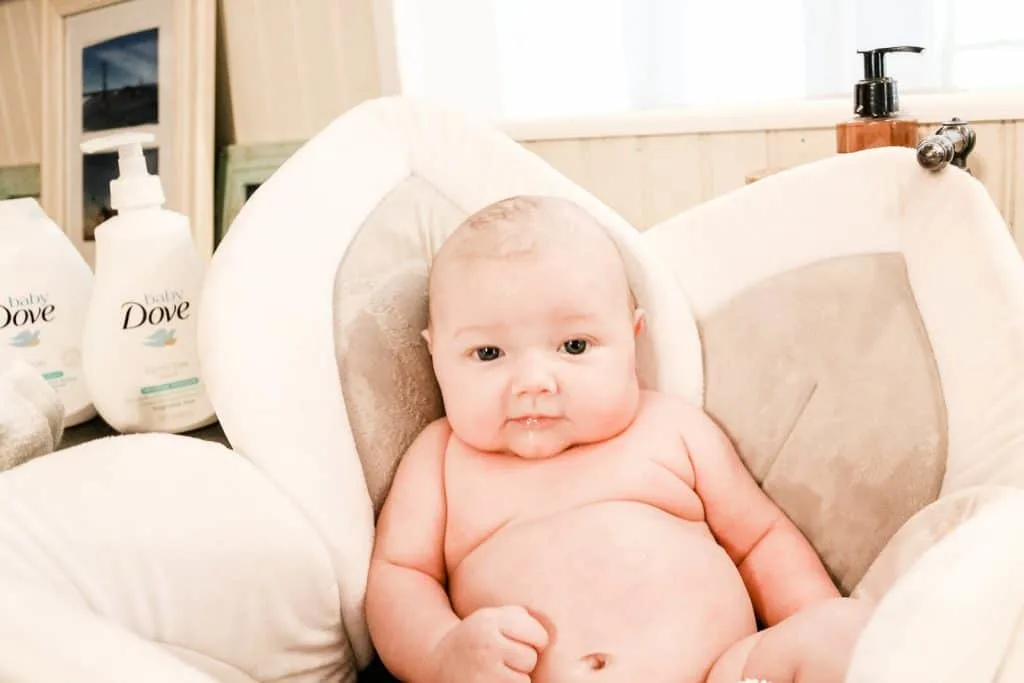 There are so many questions we ask ourselves (or google) as new parents—especially when it comes to bath time! A few I know are in my search history and/or things I wondered include:
How often should I bathe my newborn?

What temperature should the water be?

What are the best baby bath products—and what do I actually need?

How do I actually, you know, give them a bath? Is there an order, or do I need to wash/exclude certain parts?
It seems so simple, but in reality, it can be a little anxiety provoking giving that first bath!
It was also very different this time around with Ensley. I felt I "knew" how to give a baby a bath (maybe a little rusty on the whole newborn part though) but this time I also had a very eager toddler who wanted to help with everything.
So, in addition to preparing for another first bath, I also had to help prepare Charlie for it.
I envisioned adorable pictures of her daintily washing her sister with a washcloth and covering her with kisses as she was wrapped in a warm towel.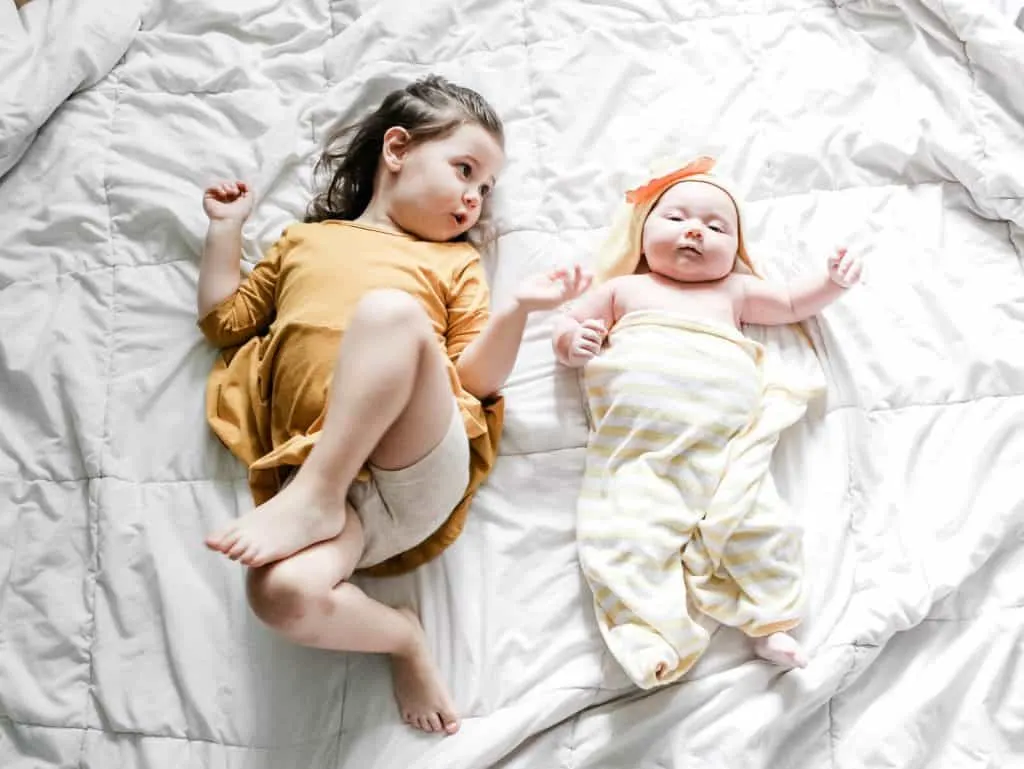 And yes, I did get that.
But I also got an excited toddler who wanted to turn the cold faucet handle on, douse her sister in water, cover her face with a cloth for a game of peekaboo, and other things that are certainly enjoyable for an almost 3-year-old at bathtime!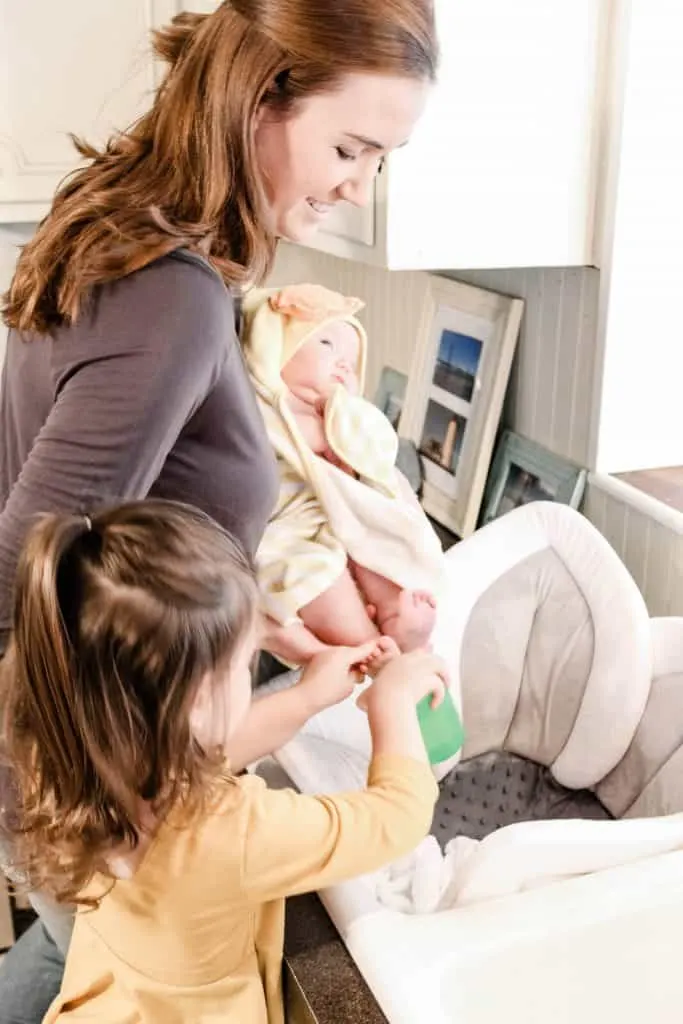 It was actually really adorable to see how much she was looking forward to bathing her little sister. She had been practicing on dolls for months, and when the time came she was, shall we say, eager.
Quite eager in fact. For Ensley's first bath, Charlie jumped up on her kitchen stool and while I was positioning Ensley in the sink, she turned on the cold faucet and moved the spout over her little belly!
If the reaction to water is a great memory, then this was something to definitely remember!
I'm actually very glad that I was prepared and comfortable with the actual bathing process because I spent more energy trying to keep big sister from "helping" too much than I expected to! But hey, that's real life for you!
So here are some tips to help prepare for baby's first bath—including how to prepare your toddler to help out!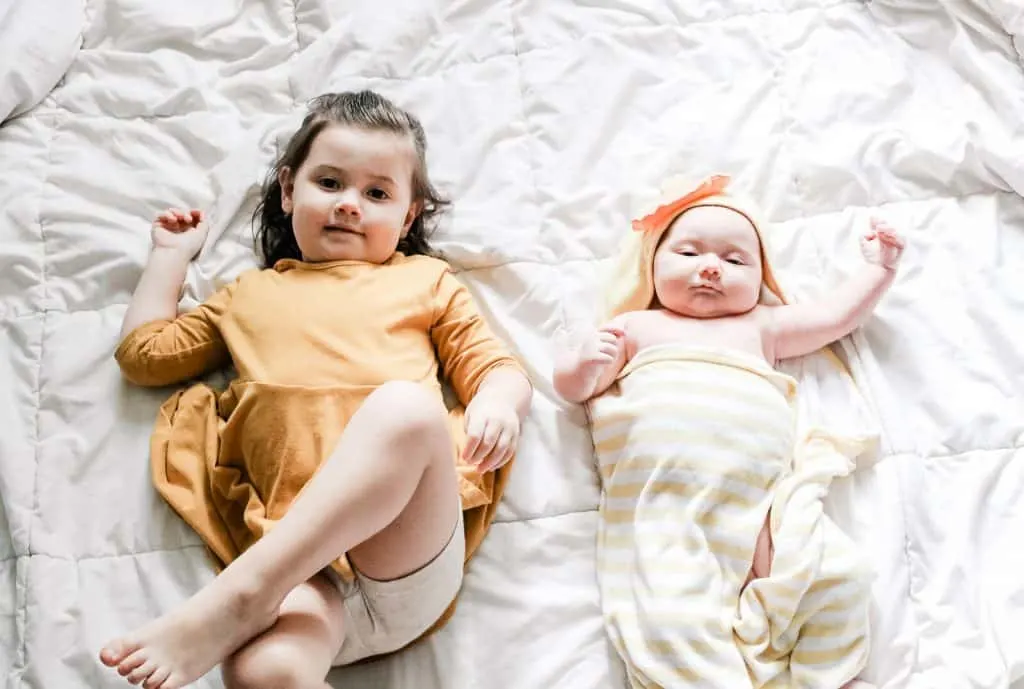 Baby's First Bath: Things to Know & Items to Have on Hand
Frequency: Despite how often we shower as adults, newborns really don't need to be bathed all that often.
In fact, too much washing can result in drying out their delicate skin of its natural oils.
Suggestions range from 1-3 times a week, but I'll be honest and say that I don't always even hit once a week now that I'm trying to wrangle two kids!
Type of Bath: Until a newborn's umbilical cord stump falls off, it is important to hold off on a full bath (despite how tempting it is to have that first full water experience!). The area around the belly button needs to be kept dry, and setting up a sponge bath station is a great way to make that happen.
Once it falls off, babies can be given a regular bath. Start by adding two inches of water at the bottom of the tub and work your way through the different parts—pay extra attention to those adorable rolls and little hands and feet! They are the perfect place for milk, spit-up and lint from PJs to hide out.
Temperature: Imagine a warm jetted tub—sounds nice right? Babies have the same likes when it comes to baths. Water temperature should be warm but not scalding (under 120 degrees Fahrenheit, around 100 F is ideal) and should always be tested before placing a baby into it or pouring it on.
Be sure to keep the actual room itself warm, as the air around them can turn a baby cold quickly!
Be Prepared & Set up First: Once your baby is in the tub, sink or other type of a baby bathtub, they should never be left alone. That means you need to have everything ready to go and within arm's reach BEFORE you get started.
Essentials for a successful bath include towels/hooded towel, baby wash, at least two washcloths (one to wet with warm water and lay over the baby to keep them warm, the other to actually wash with) and a cup for rinsing.
We want to create a calming environment to help babies prepare for sleep or to adjust to this entirely new experience, so having everything ready is an easy way to make that happen.
Choose a Gentle Baby Wash & Lotion: While a toddler helping with a bath may not be totally gentle, the baby wash you choose should be. All bath products are not made the same and knowing what is in them might mean the difference between a cozy bath and irritated skin.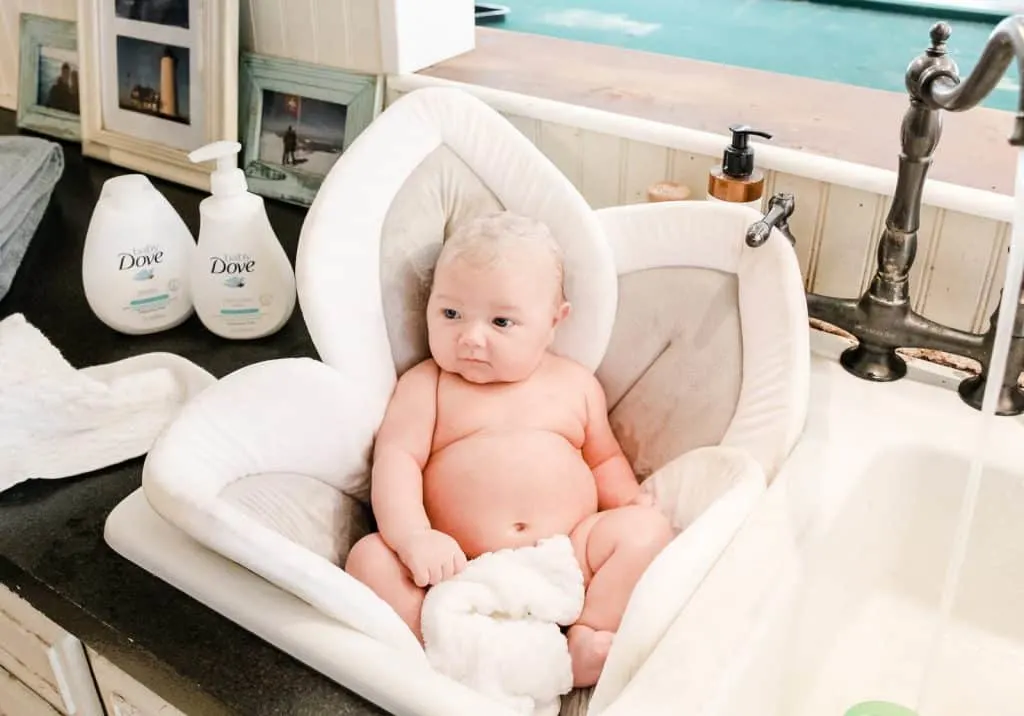 Earlier this year I shared about my love for Baby Dove products and talked about how I used them for Charlie to take care of her skin and how I planned on using them with baby #2. It was an easy choice this time around—Baby Dove is a brand I trust and have used for well over a year now.
For newborns, Baby Dove's Sensitive Moisture line is the perfect way to care for their skin. Why you might ask? It is because Baby Dove cleansers and lotions are made with 100% skin-natural nutrients and are ultra-gentle for newborn skin.
What are skin-natural nutrients? They are nutrients that are 100% identical to the ones that appear naturally in baby's skin, and therefore help replenish moisture that bathing can actually strip away.
I feel good about using Baby Dove because it checks all the boxes: it is hypoallergenic and tear-free (plus ophthalmologist, dermatologist, and pediatrician tested), made without dyes, parabens, sulfates or phthalates, and is fragrance-free—which is so essential for sensitive skin.
I always err on the side of caution for newborns and start off with sensitive skin products because I never know how my baby will react to ingredients. And Baby Dove's Tip to Toe Wash is so rich and creamy it always leaves that soft baby skin that is just so snuggly!
We follow up baths with Baby Dove Sensitive Moisture Baby Lotion, which soothes any dry spots by gently moisturizing Ensley's skin while still being hypoallergenic and pH neutral.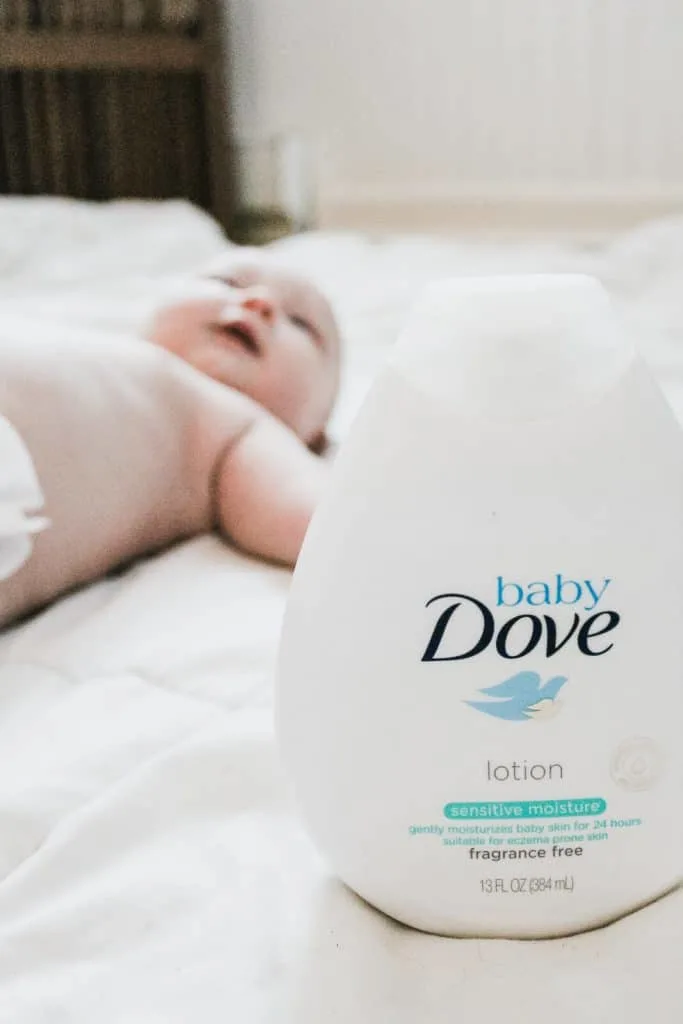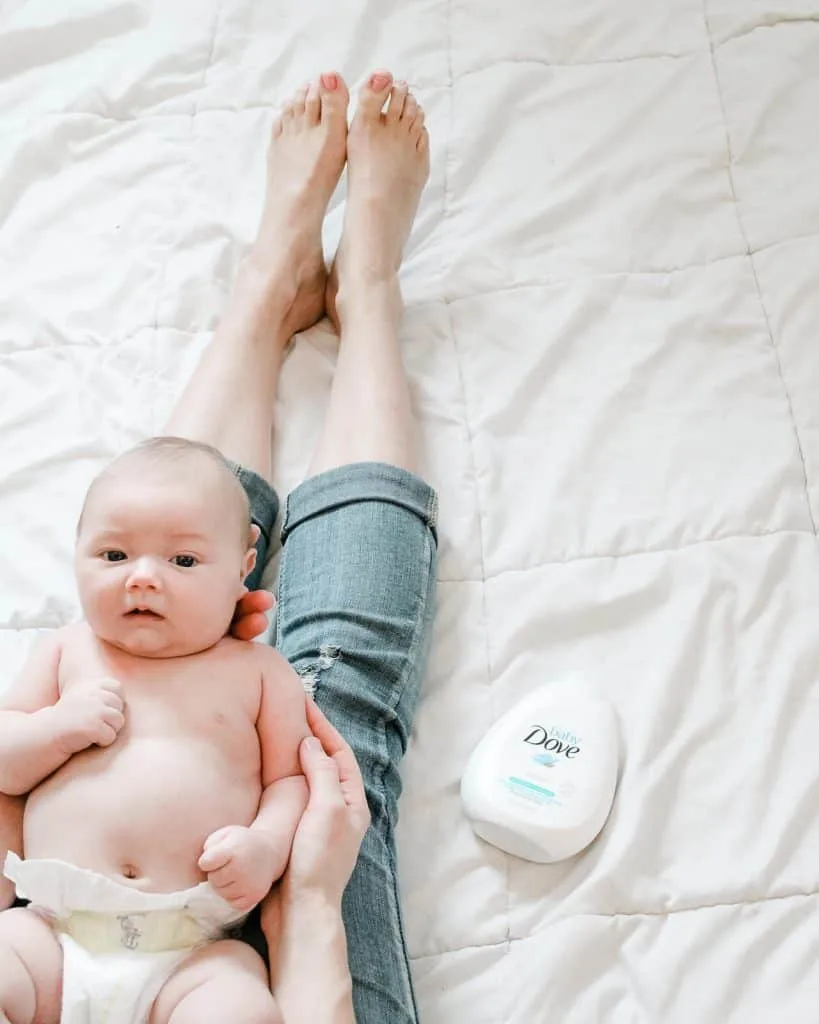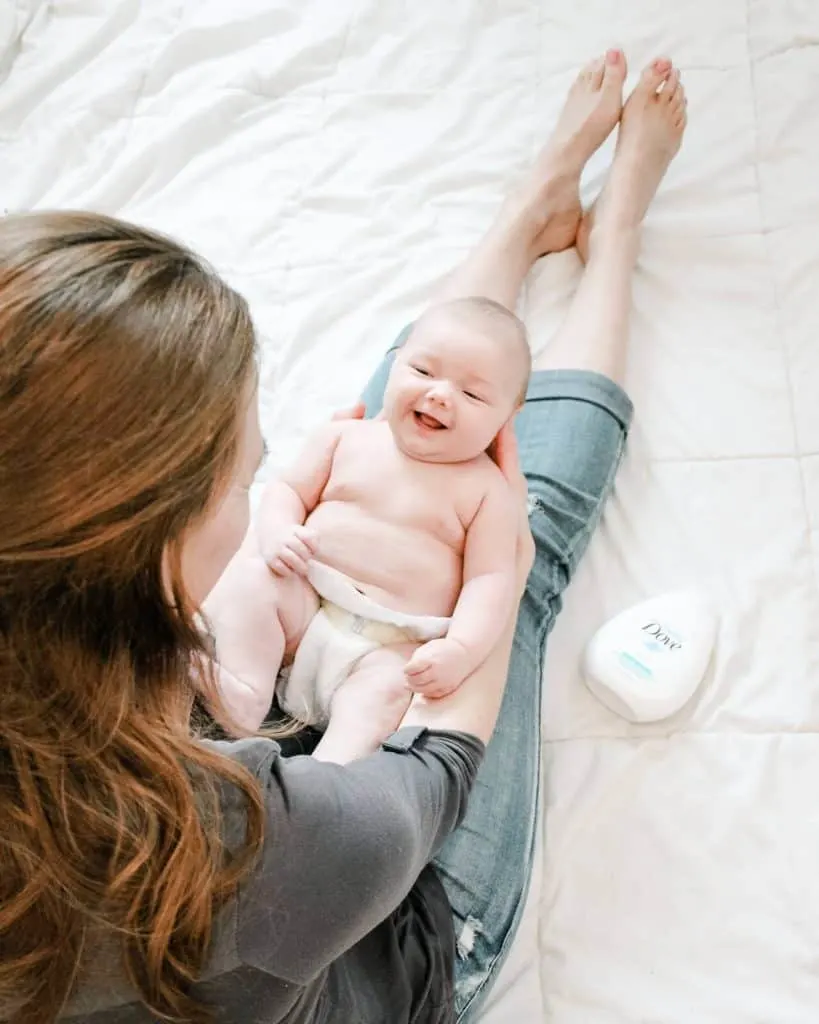 To learn more, grab a coupon to try to Baby Dove out for yourself!
Once you are prepared with everything and ready to tackle the bath, the next part is preparing your toddler to help out!
Letting older children help out with that first bath
I knew from very early on in my pregnancy that Charlie was going to be a great big sister. She likes to be involved in everything and we talked regularly about how she would help with the new baby.
Now that her "little sissy" is here, she does really well, and I think part of that is due to the steps we took to prepare her.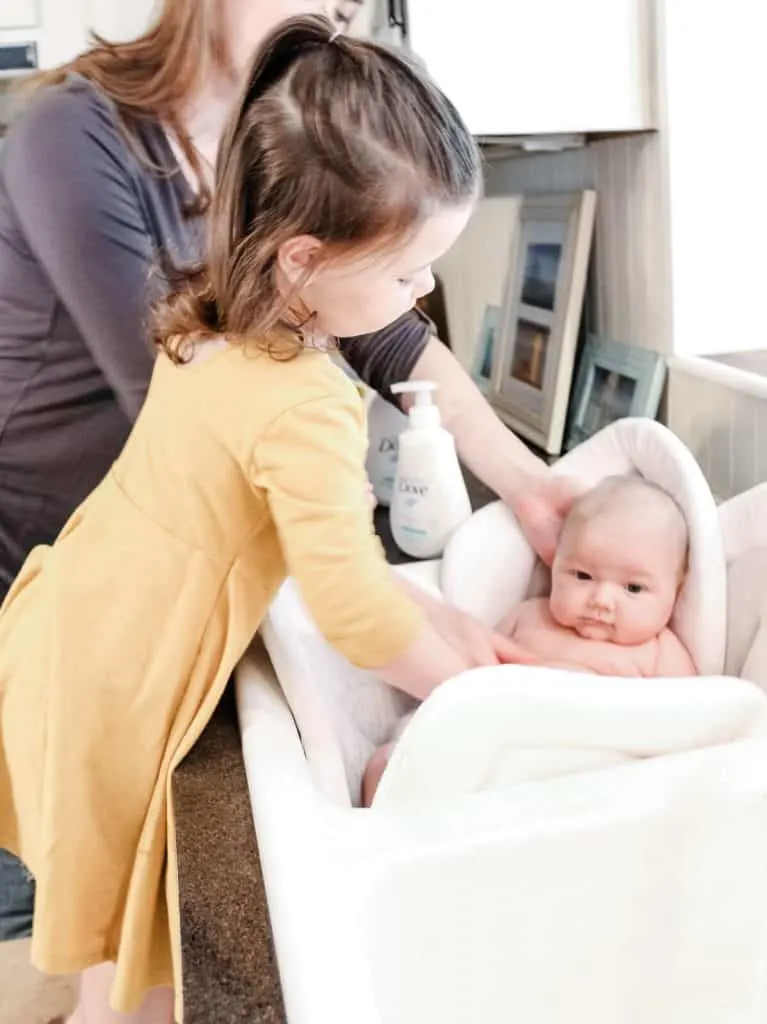 When it came to preparing her to help with bathing, there are a few things I did to encourage safe practices while keeping her interest:
We

read big sister books

that talked about ways to help with a new baby.
I made a big deal about her being big enough to help wash other babies and

encouraged her to take a baby designed for water play into the tub

with her. She loved washing her baby doll and it gave us a great opportunity to talk about safety in a fun way.
Not covering baby's face with a washcloth, not dumping water into the baby's eyes, and not leaving baby face down in the tub were just a few of the lessons we covered!
I

kept it positive

as much as possible, even when she was being a little overeager during the bath!
There definitely was a learning curve when it came to having an almost 3-year-old help out when safety is also a big concern. I highly recommend having a second person around to help reign in the toddler if they get a little too excited, that way you can keep your hands on the baby!
We also gave Charlie her own cup and washcloth to use and showed her how to clean her sister gently. She is getting much better at it after a few baths (the first time Ensley almost got a mouthful).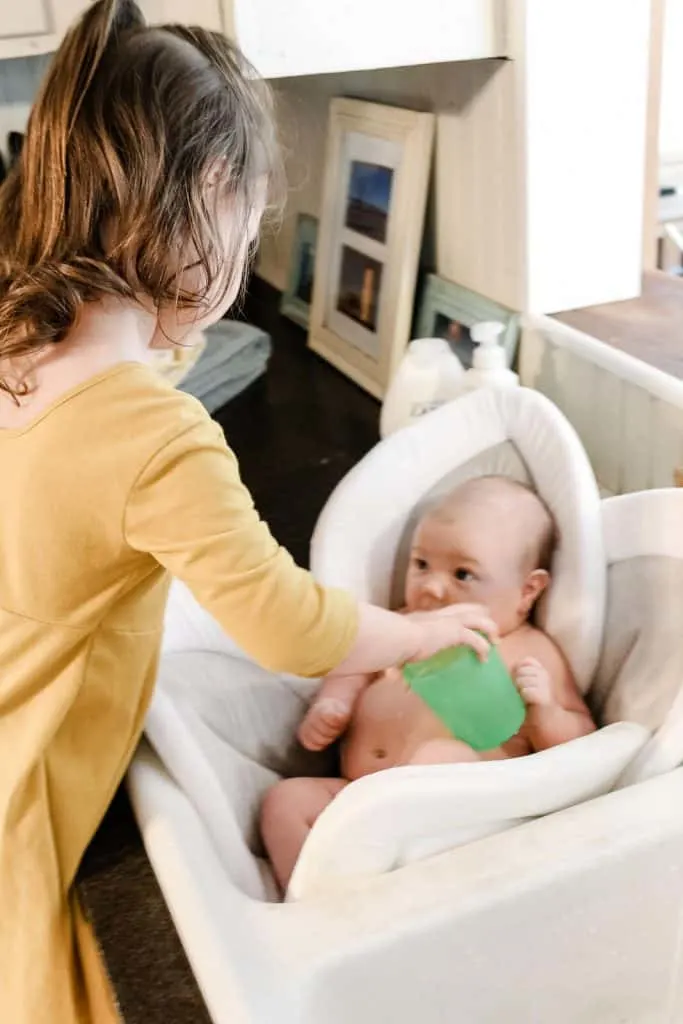 The memories we are making however as a family—watching Charlie help out and care so deeply for her sister—make it all worth it.
And finally, just enjoy it.
Being prepared and helping to prepare littles who might be helping is important. But once you have gathered the right supplies, and created your gentle and calm environment, just enjoy what comes next.
Maybe your baby ends up hating water and the family video results in everyone laughing while the baby reacts surprised to the flow of water, or maybe she ends up loving it so much that the video goes viral—either way, the experience of baby's first bath is unique to each individual and is just as special no matter the result.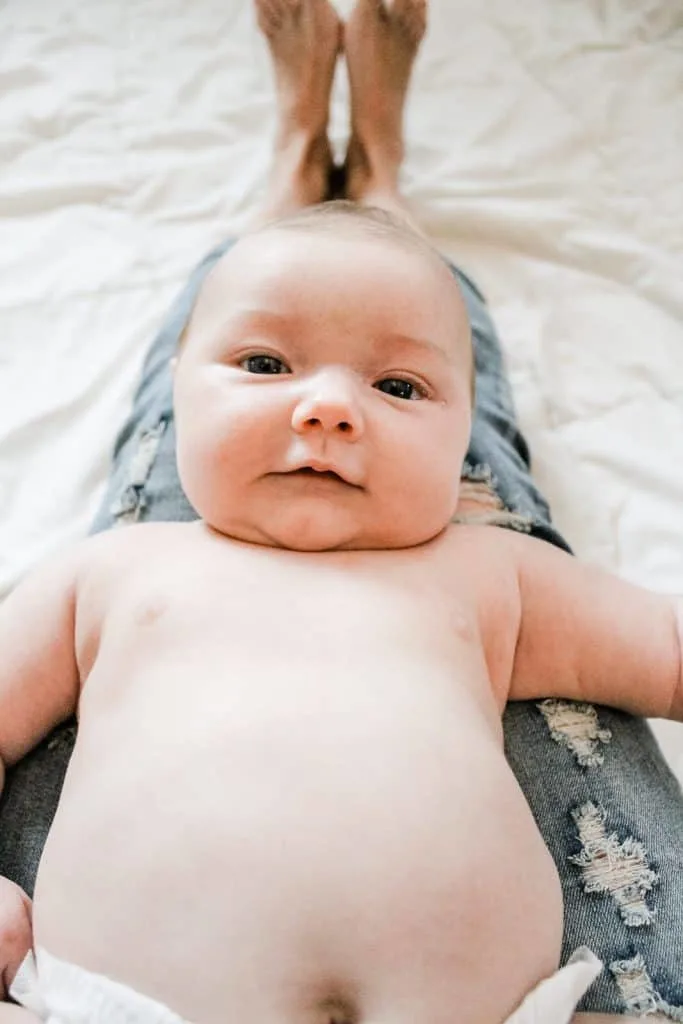 This is a sponsored post written by me on behalf of Baby Dove.