This post was sponsored by Noggin as part of an Influencer Activation for Influence Central and all opinions expressed in my post are my own.
This list of math activities has ideas for your preschoolers no matter what their math abilities are. You'll find everything from hands-on outdoor activities, easy worksheets, and fun ways to learn math with Noggin, an interactive learning platform for kids.
Kids as young as 3-4 years old can start learning basic math concepts! Here are 10 preschool math activities that are easy to set up and fun for kids to do. Some of these activities kids can even do on their own!
Whether you're doing preschool at home, getting your child ready for pre-K or kindergarten, or simply looking for fun educational activities to do with your preschool-aged child, I am sure you're going to find a few activities that are just right for your kids!
By the way, all the worksheets you'll see in the pictures below are available as a free downloadable PDF at the end of the blog post. And don't worry if you don't have a printer – these worksheets are easy to create on your own with just a piece of paper and a marker.
RELATED: Life Skills for 3 Year Olds
Flower Counting Clock
This easy math activity teaches counting up to 12. Just cut a square sticky note into thirds and draw dots on each piece. Have your child stick the pieces on to the corresponding number to create flower petals!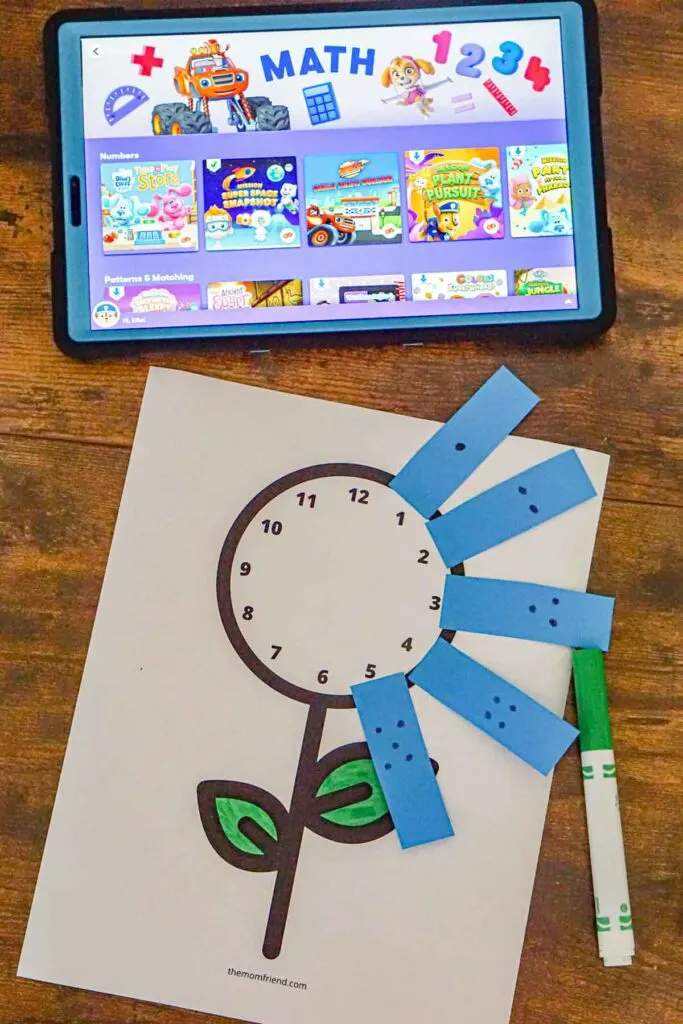 RELATED: 22 Circle Time Activities
Noggin Numbers Games
Noggin is an awesome interactive learning platform for kids that has lots of educational content, including math games! I wrote about Noggin previously and how it can help with preschool learning and gets lots of ideas for bilingual Spanish activities for preschoolers.
Aside from ebooks, Spanish TV shows, and emotional educational content, Noggin also has a whole Math section, with games in 3 different categories: Numbers, Patterns & Matching, and Shapes.
I love that all the math games have a plot in them to get my son engaged immediately, so that when the math problems come up on the screen, he doesn't even realize he is doing math activities.
Our son LOVES seeing his favorite Nick Jr. characters on the screen and being able to interact with them! The Noggin math games are almost like printable worksheets that come to life, and I absolutely love that as a mom.
Here are a few of my son's favorite games so you can see the variety of math activities on Noggin: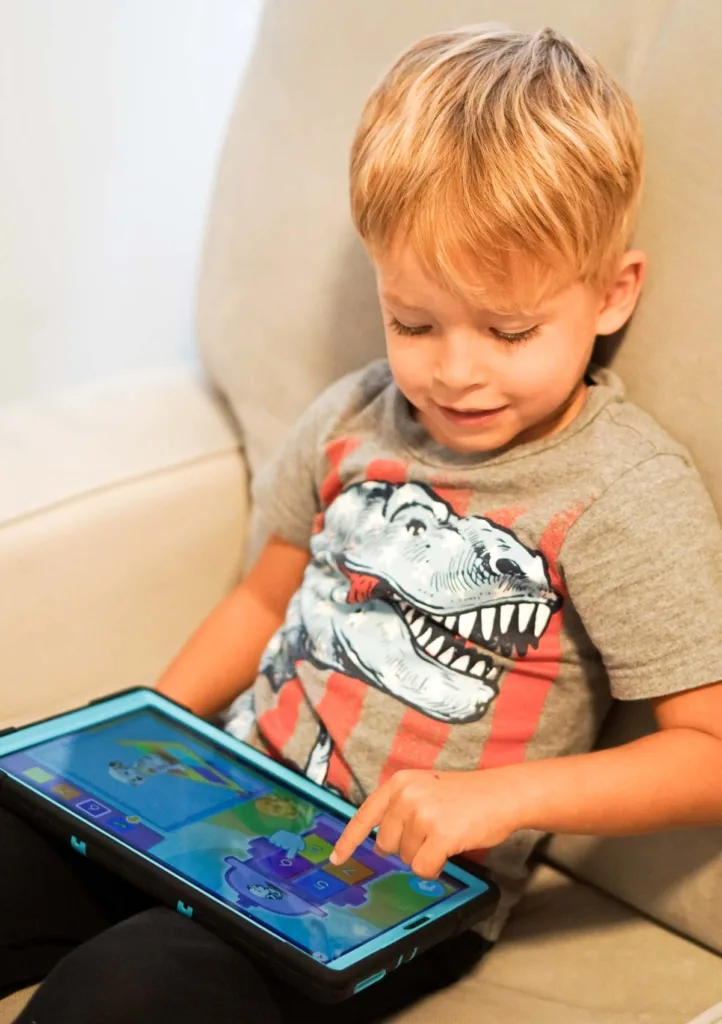 Below is an easy activity that is great for getting kids ready for school: My son is learning to count and the concept of multiple choice questions.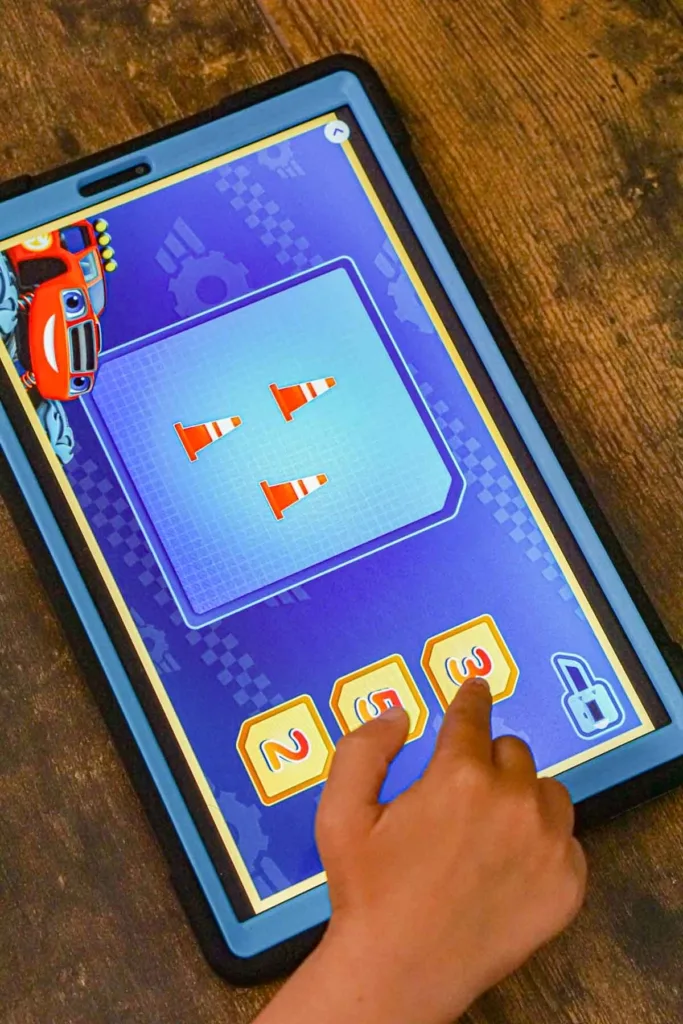 Noggin is a subscription based learning app for kids, and we've been using it regularly since we signed up for it to supplement my son's learning to make sure he is ready for pre-K in the Fall.
If you sign up for Noggin between August 16-31, 2021, you can get access to Noggin for 3 months for only 99 cents/month! That's a lot of educational content (and lots of quiet time for you, mom!) for only ONE dollar.
Dinosaur Math Activity
If your preschooler loves dinosaurs, they're going to love this printable dinosaur number activity. Your kids can practice their writing skills and fine motor skills while solidifying their numbers skills.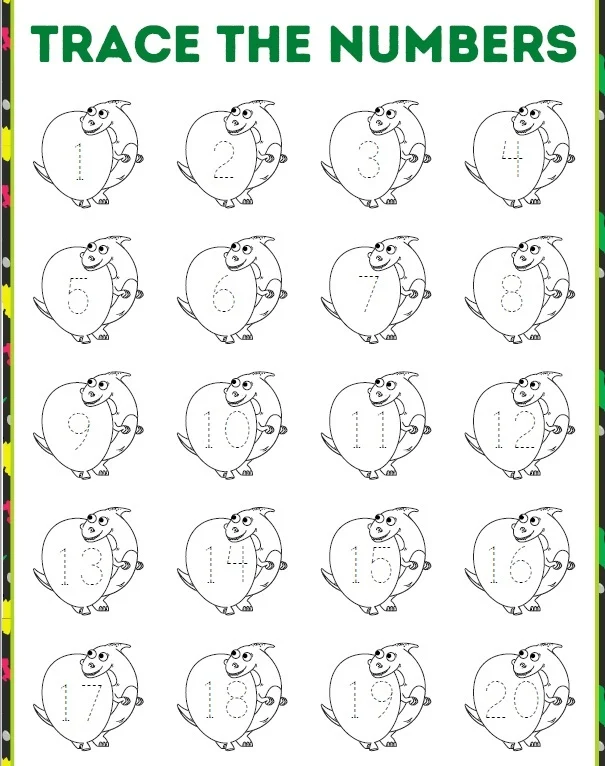 Board Games to Help with Math Skills
Family game night can be a GREAT way for preschooler to work on their math skills. Games like dominos teach counting and number recognition, and any games that involve rolling dice also helps kids learn to count. See our favorite board games for preschoolers to pick out a game your whole family will love!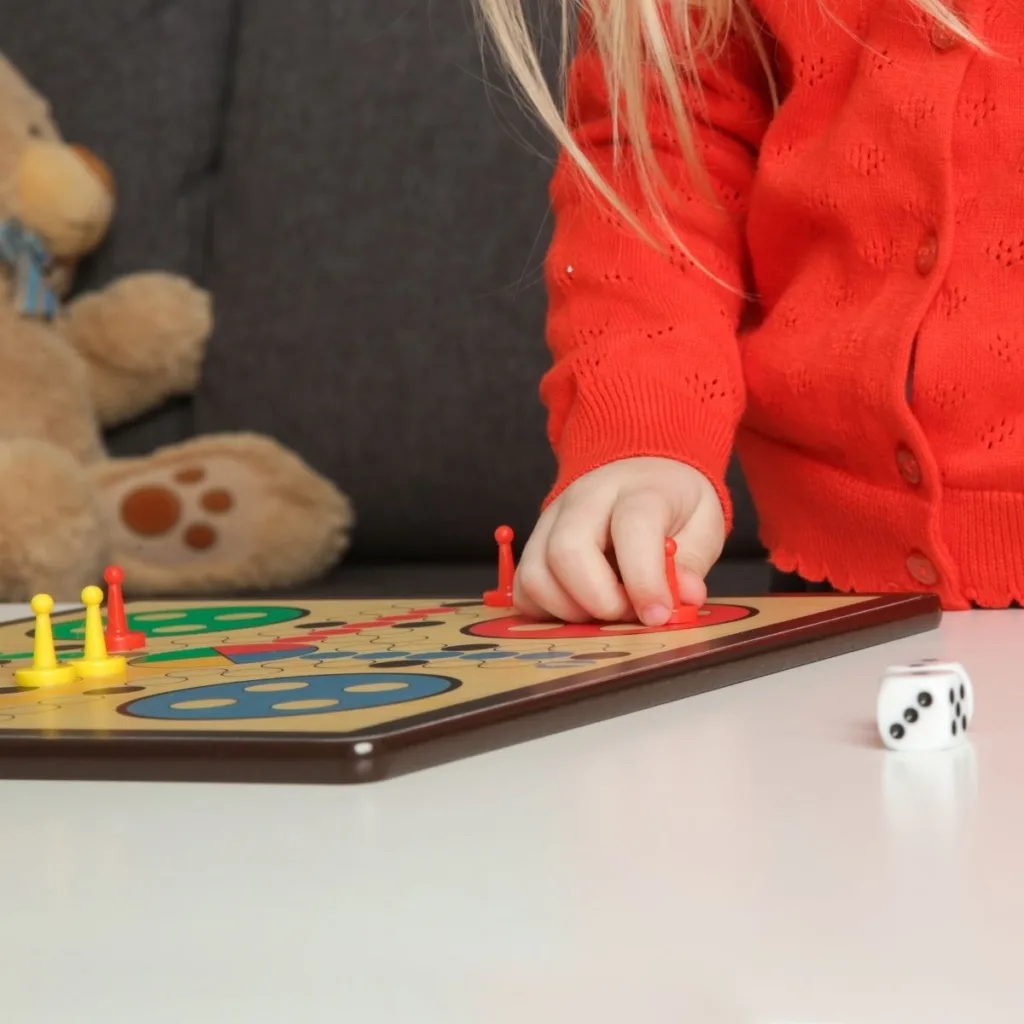 RELATED: Developmental Gift Ideas for 4 Year Olds
Build a Fence – Pattern Math Activity
For this activity, you will need to print or draw a farm on a piece of paper and get a few colorful craft sticks. Then have your child make a colorful patterned "fence" from the craft sticks.
Start easy with just two alternating colors, and over time you can work your way up to longer patterns.
You can have your child place the craft sticks onto the paper or glue them on, for a little sticky sensory fun!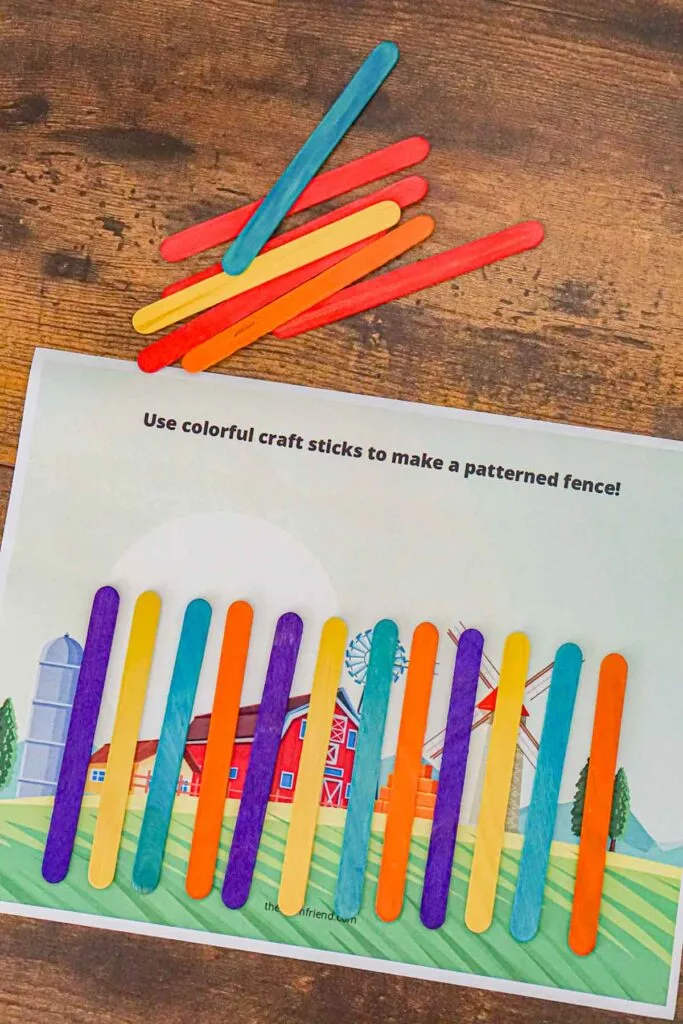 RELATED: Back to School Hacks for Busy Moms
Noggin Patterns, Matching, and Shapes Games
Another great way to practice pattern recognition, matching, and learning different shapes is using the Noggin app! Noggin has games with your kids' favorite characters, such as Blue's Clues, Dora the Explorer, and of course: Paw Patrol, which definitely keep your child engaged longer than if you were trying to get them to make patterns from sticks.
My son LOVES anything where he can match shapes and will gladly play for hours, if I let him.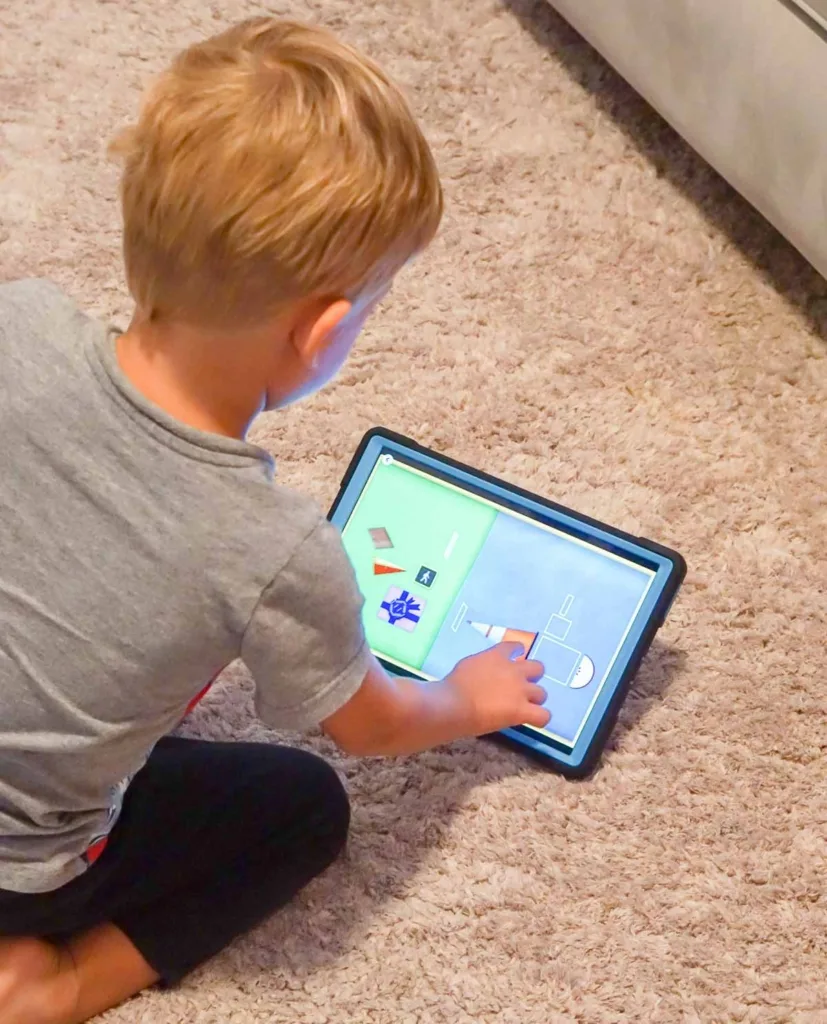 If you want to try out Noggin, the best time to do that is between August 16-31, 2021, so you can get access to the app for only $0.99/month for 3 months!
Carrot Tops Counting Activity
This is another counting activity that can be done with cut-out pieces of "carrot tops" or with a marker or crayon. Simply glue (or draw) the correct number of carrot stems to each carrot.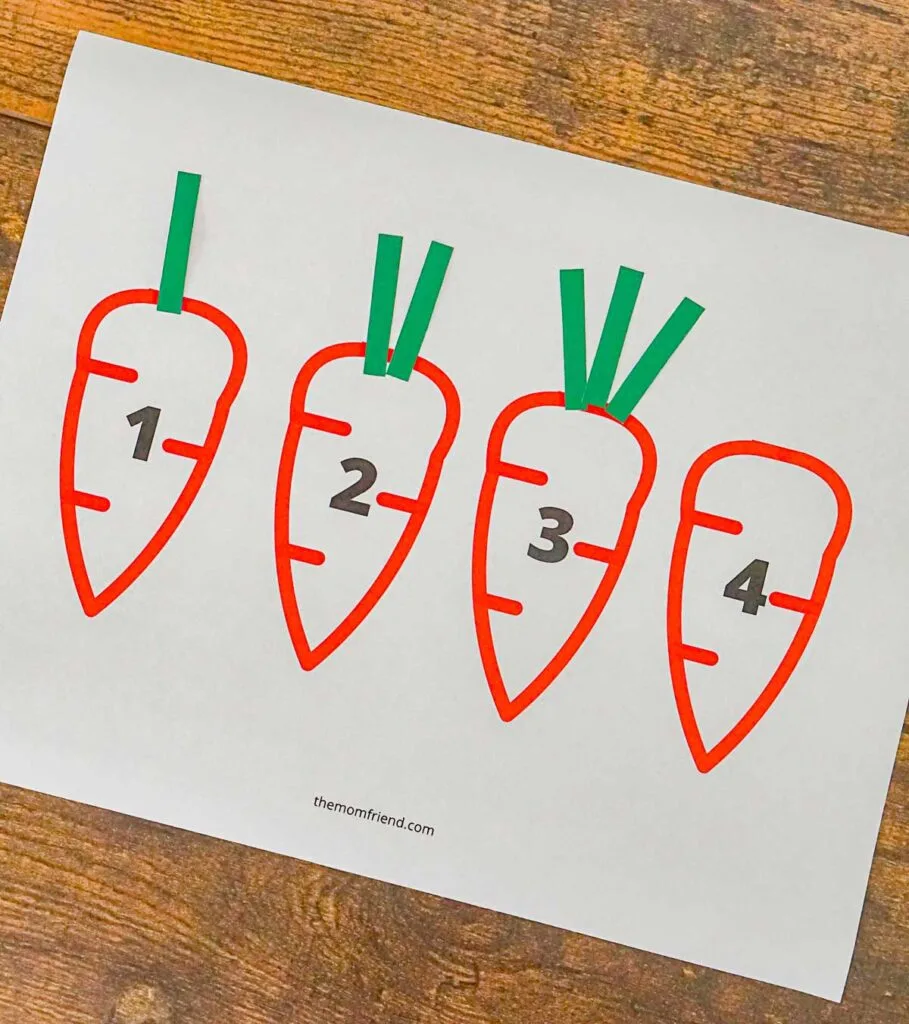 RELATED: How to Make Mornings Less Hectic
More or Less? Math Activity
You can incorporate this "More or Less?" activity into your daily life with just about anything, but this fun printout is a great way to get started and to introduce the concept to your child.
Hint: those turtles are tricky! That's not an error. 🙂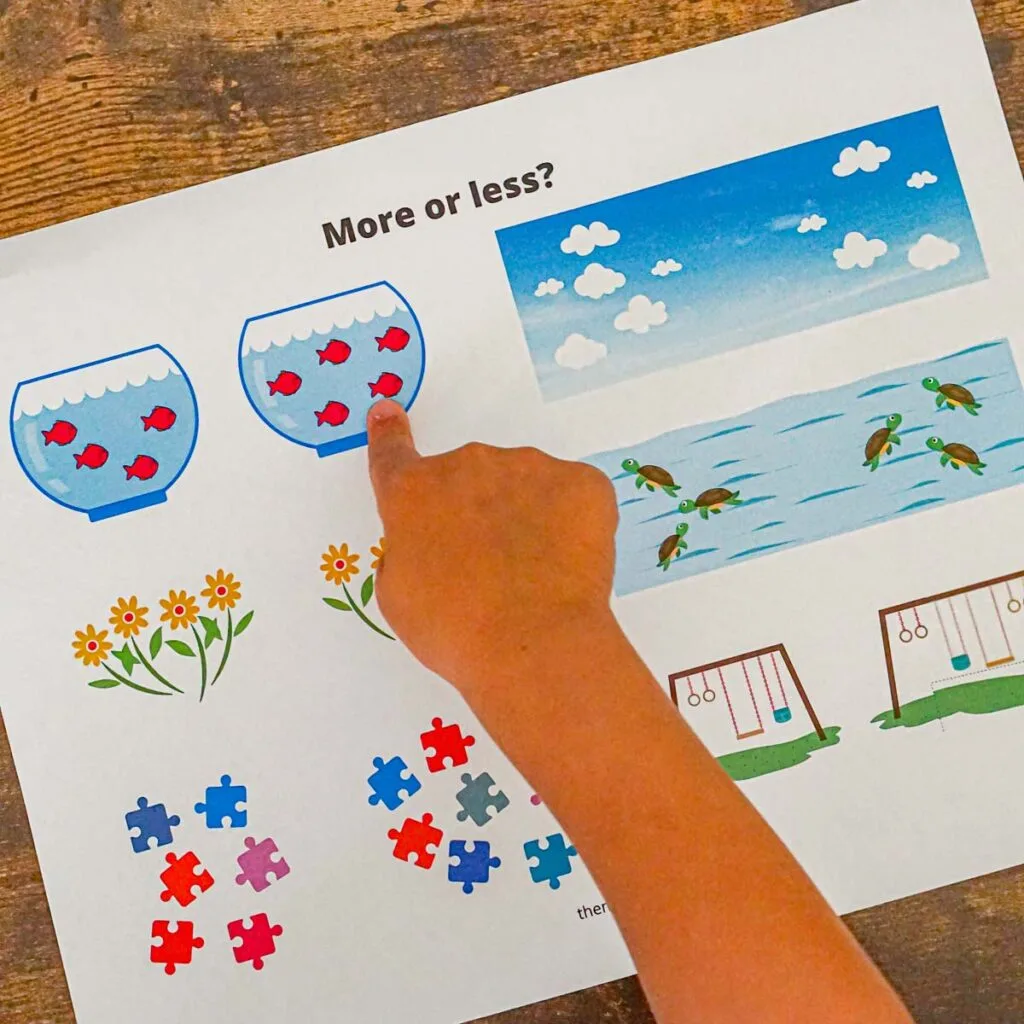 Paper Plate Addition Activity
This one is a little more advanced for when your child is ready for a little addition, and it only requires a paper plate (and your choice of props, see below). As you can see in the picture, you put the numbers you're adding in the two sections above, and work with your child to figure out the sum and add it to the bottom.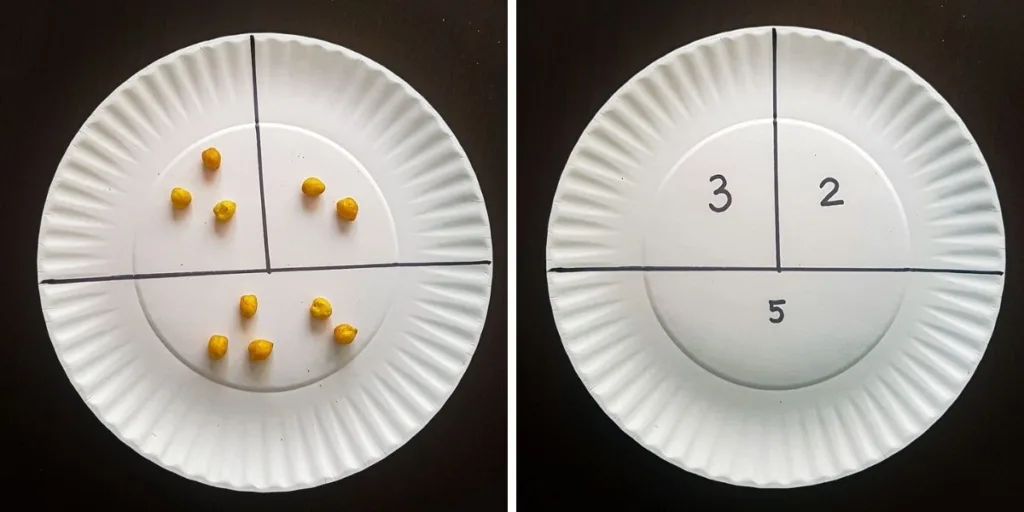 You can do this adding activity with anything – board game figurines, snacks, stickers, dots – and when your child is a little older and doesn't need the visual, you can simply write the numbers on the paper plate.
Outdoor Treasure Hunt
Get a few zipper bags (or small pouches or food containers) and go on an outdoor adventure with your child! (This adventure can be in your backyard or the local park). Ask your child to collect things into his or her baggies. For example: 3 rocks. 2 small sticks. 5 green leaves. 4 pinecones. 6 acorns.
This is a great way to learn a little more about the nature around you, get a little sensory/texture play in, and for your child to learn basic subtraction concepts. For example, if they found 2 rocks, you can ask them how many more they need to find to have 3 rocks.
Of course, your child will want to bring all their newly found treasures home. Just let it happen, don't fight it. 🙂
Get Noggin
Download the Noggin app here, and give it a try! Once you log in, you'll see a banner on top with all the different sections: Math is the first section on the list, and make sure to check out all the other educational content on Noggin, such as ebooks, Spanish books, science, words, and the Big Heart section!
Download the free printable math activities
If you want to simply print all the activities that I mention in this blog post, you can download the pdf here, no need to sign up for an email list or anything!
Share this post
Know a parent who is looking for educational activities for their kids?? Share this post with them and make sure to save it for later on Pinterest!