Baby wearing has been around for year and years, and I can definitely understand why! It makes things much easier, there is less crying, and the list goes on and on. Stick around, as I am going to go into more detail about all the benefits of baby wearing, including some unexpected ones!
Of course, there are some things to keep in consideration while baby wearing to ensure your baby is safe. After discussing why you should baby wear, I will go through a safety checklist, which will go into detail of how to baby wear safely, and explain how to pick out carriers that are better equipped than others.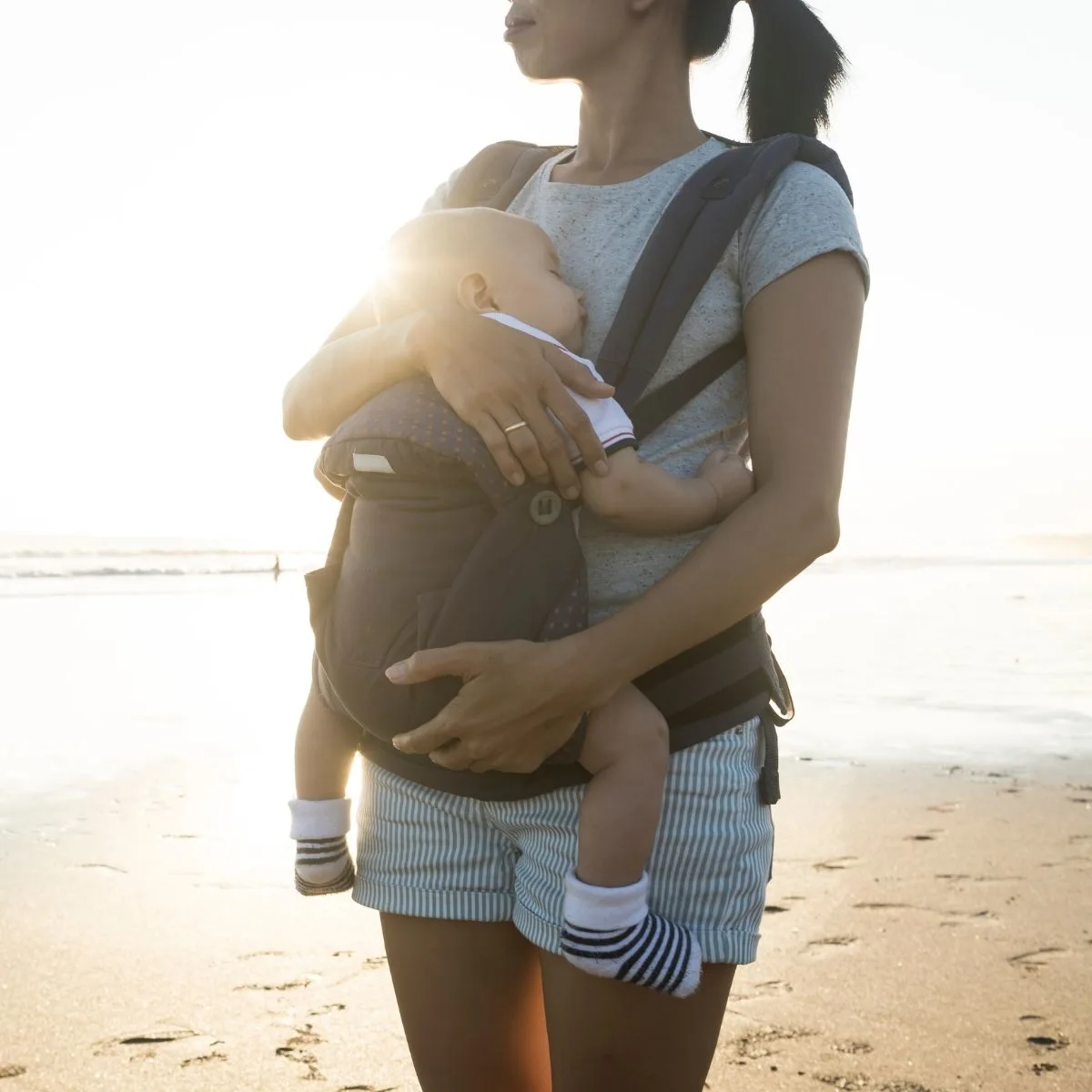 Why you should baby wear
Baby wearing provides a secure and safe environment
Your little one was just in your belly for nine months, a place where they felt safe and warm. They were also used to hearing your heartbeat and feeling your rhythm of walking and all of your movements for those nine months.
It's no wonder babies feel most comfortable in your arms, snuggled up close to you. Comfortable babies = happy babies, and happy babies = happy moms! Baby wearing is also a great way to soothe overly tired/sick infants.
It is actually proven that babies who are worn cry less. Carrying babies for 3 hours a day was shown to reduce crying and fussing by up to 51% during the evening hours.
Provide babies with the physical assurance and human contact they want!
RELATED: LILLEbaby Airflow Baby Carrier Review
Baby wearing helps with physical development and reduces flat head
Baby wearing keeps the baby's head off of surfaces such as the floor, swing, rock-n-play, etc., as these products can potentially lead to a flat head.
Baby wearing is also great for infant hip development, as long as you are choosing a baby carrier that allows healthy hip positioning, NOT narrow-seated carriers that hold babies by their crotch. I will go into further detail later on in the post about what carriers to choose.
RELATED: Lite-On-Shoulder Baby Sling Review
Baby wearing counts as tummy time
Yes, baby wearing counts as tummy time! This is great because most babies hate tummy time, and us parents most likely have to end up forcing it on them :(. Tummy time is intended to help infants build up their neck, head, and back muscles.
Baby wearing works many of the same muscles and provides the similar benefits as tummy time. As the infant has to hold their head upright, while also being able to move their head from side to side.
RELATED: Activities for 0-3 Month Old Babies
Promotes health
I'm sure all of you have heard of skin-to-skin contact, along with the benefits it can have on a baby, especially premature babies.
Studies have shown that baby wearing, particularly with a carrier that allows for skin-to-skin contact, may help regulate baby's heartbeat, temperature, and breathing patterns.
Assists with breastfeeding
Y'all, I think this has to be one of my favorite reasons for baby wearing. Breastfeeding while baby wearing—talk about a time-saver, as well as a life-saver. Additionally, you can even do it in public and no one will know.
And better yet, since you and your baby are skin to skin, you will improve your chances of increased milk supply! Yay!
RELATED: Fudgy Lactation Brownies
Hands-free
Okay, this has to be one of my favorite reasons to baby wear as well. You can do all sorts of things while baby wearing: dishes, laundry, playing with other children, cooking (carefully!), shopping, yard work, getting ready for the day, going places, and the list goes on and on.
RELATED: Baby K'Tan Review
Easier on mom/dad
Baby wearing is much easier on your shoulders, arms, and back than just carrying around your baby in your arms. Make things easier on you mama!
Keeps strangers away
Babies are just so darn cute and lovable that everyone wants a chance to tickle their feet and kiss and squeeze their cheeks. Wearing your baby right at your chest will generally help keep people from wanting to touch your infant… or at least you have time to swoop in before they reach for your infant. This keeps people and their germs away from you and your baby.
Easier to get around
If you plan on being in crowded places (airports, public transportation, shopping centers, sporting events, etc.) baby wearing is often a million times easier than pushing around a stroller. Pushing around a stroller in crowded areas is hard and sometimes impossible. When wearing your baby, they are as close as possible to you, allowing you to get through crowds safely and easily.
I continued to wear my son well after he started walking to prevent him from running around in an airport and crowded places!
RELATED: Favorite Newborn Baby Products
Enhances bonding/connection
I know how hard it can be trying to connect with a nonverbal infant. The great news is that just simply being held helps strengthen that connection/bond with your baby, even if it might not feel like you're doing anything.
Baby wearing may also make it easier on you when learning to read your baby's cues. As you will likely notice certain noises or movements that will notify you that baby is tired, hungry, or needs their diaper changed.
There are even some cultures where babies don't traditionally wear diapers because the moms can anticipate their bathroom needs thanks to always holding and wearing their baby!
RELATED: How We Potty Trained Our Strong Willed Boy
Helps with socialization and language skills
Babies who are held typically get more interaction, as it allows babies to socialize with others at eye level. Babies that are worn will learn and acknowledge stimuli faster and may establish a vocabulary quicker, as they are able to study facial expressions and become accustomed to body language.
Reduces colic and reflux
Studies have shown that baby wearing can reduce colic. This is possibly due from the human touch and the reduced crying.
Baby wearing is also great for reflux, as they are in an upright position.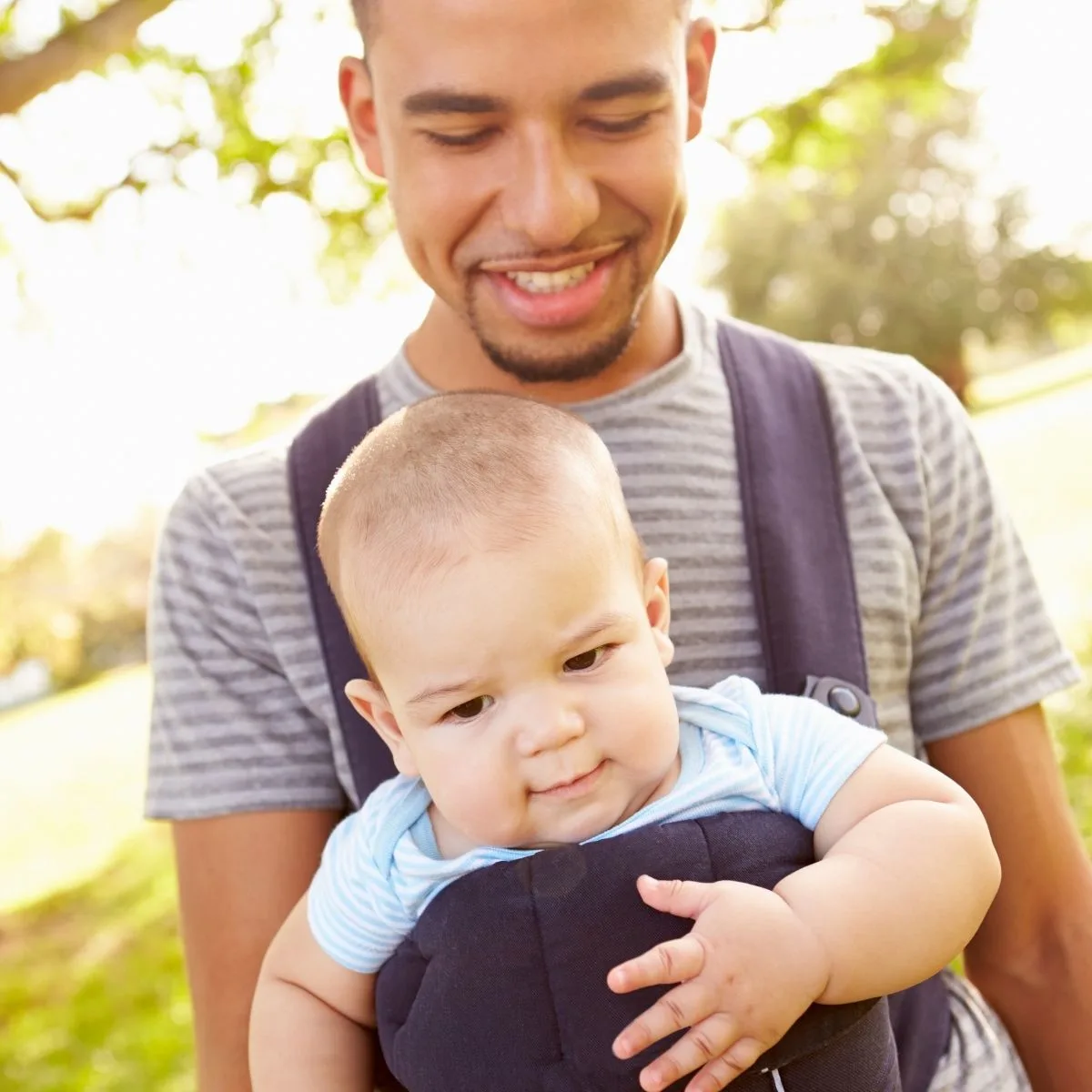 Promotes fitness
Yes mamas, baby wearing is a workout in itself! And yes, I know that sometimes it may be hard to find time to workout when you have an infant! If you learn to baby wear you can go for a walk, experience personal training, along with kangatraining all while wearing your baby!
You get to shed some of those added pounds during pregnancy and build some muscle, while also rocking your baby to sleep with all of your movements! A WIN-WIN!
Reduce postpartum depression
It is said that baby wearing reduces postpartum depression. This may be due to the fact your baby cries less (relieves stress on you), it allows you to still be able to do the things you typically do, and allows you to bond with your baby. This article goes into more detail about this concept.
Allows others to bond with baby
Baby wearing is not something just for moms to do! It is something for everyone in the family to have their turn at! From the dad, to the older siblings, to the grandparents, and the caregiver.
Affordable
There are baby wraps, carriers, and slings out their for all budgets! And most moms consider a baby carrier to be the most cost-effective and useful baby products out there. A baby carrier can even take out the cost of having to buy a stroller. Make sure to put a baby carrier on your baby registry!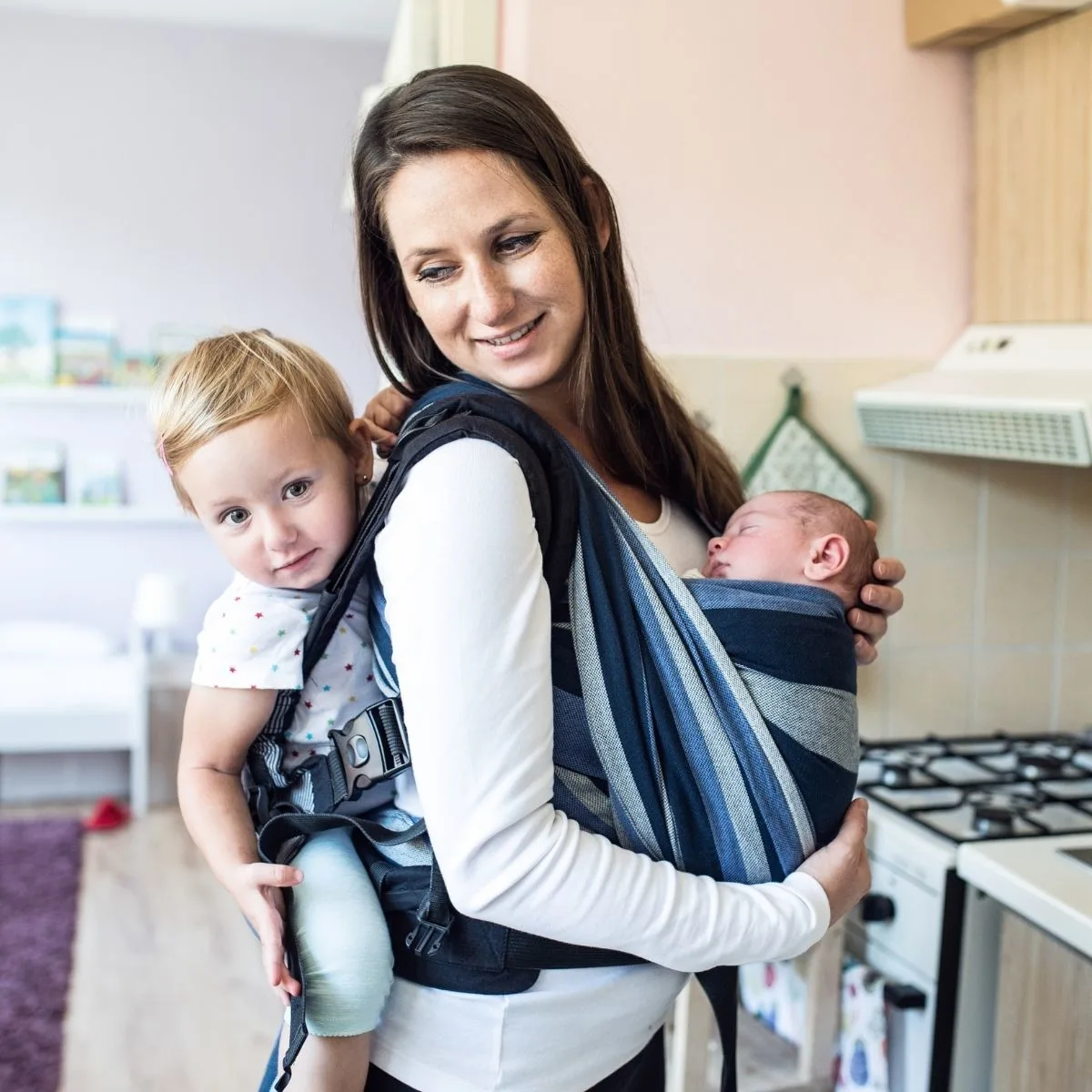 How to choose a baby carrier
There are so many types of slings and carriers out there to choose from. A good carrier mimics the way you would actually hold your baby, whether it's straddling your hip, piggy back, or cradled in your arms.
Here are some things to consider when choosing a carrier:
Leg position
The legs should be in an M-like position and always supported from knee to knee. The legs should also be higher than the bum, or to put it another way: at least pulled up to a 90 degree angle and supported behind the thigh.
Fabric
Several carriers are made out of nylon. Instead of nylon, find one that allows airflow to reach your infant. Non breathable fabric boosts the possibility of a rash on your infant's skin when carried in hot weather for a lengthy amount of time. This will also help keep you cooler too, mom!
Another consideration when it comes to fabric is looking for carriers that contain non-toxic dyes and that were not treated with flame retardants and other chemicals, as there is a high likelihood that your baby will end up sucking or chewing on the fabric.
And you can always buy a drool and teething pad to attach to your baby carrier. Highly recommended because these are easy to take off and wash, so your baby is not chewing on a dirty carrier strap.
Growth/Adjustability
Choose a sling or carrier that will grow with your child, so you do not have to spend more money when your child outgrows the last one, or if your partner is a different size and wants to carry the baby too.
Pick a carrier that can also be adjusted to you and your baby's needs. One that is able to be shortened or heightened. Tightened or loosened. Etc.
Shoulder support for parents
Carriers supported by both shoulders, instead of just one, are best to prevent back problems for parents.
Back support for baby
The back support of the carrier should support the baby's back, so that extreme amount of slouching is not taking place. When the baby is asleep and relaxed, their body should still be tightly secured to your body.
Baby hips
As mentioned above, the legs should be pulled up to at least a 90 degree angle, with the legs always straddled around your body. The knees should be higher than the bum and the thighs should be supported. When the baby is worn this way it it agrees with the baby's anatomical makeup and reinforces appropriate hip development.
Head to the International Hip Dysplasia Institute to read more about this concept. Pictures are also provided to see the correct/incorrect ways to baby wear.
Headrest for baby
The back of the carrier should extend over the back of the baby's head on all three sides, in order to support baby's head. This is a must for as long as the infant can't hold their head up by themselves.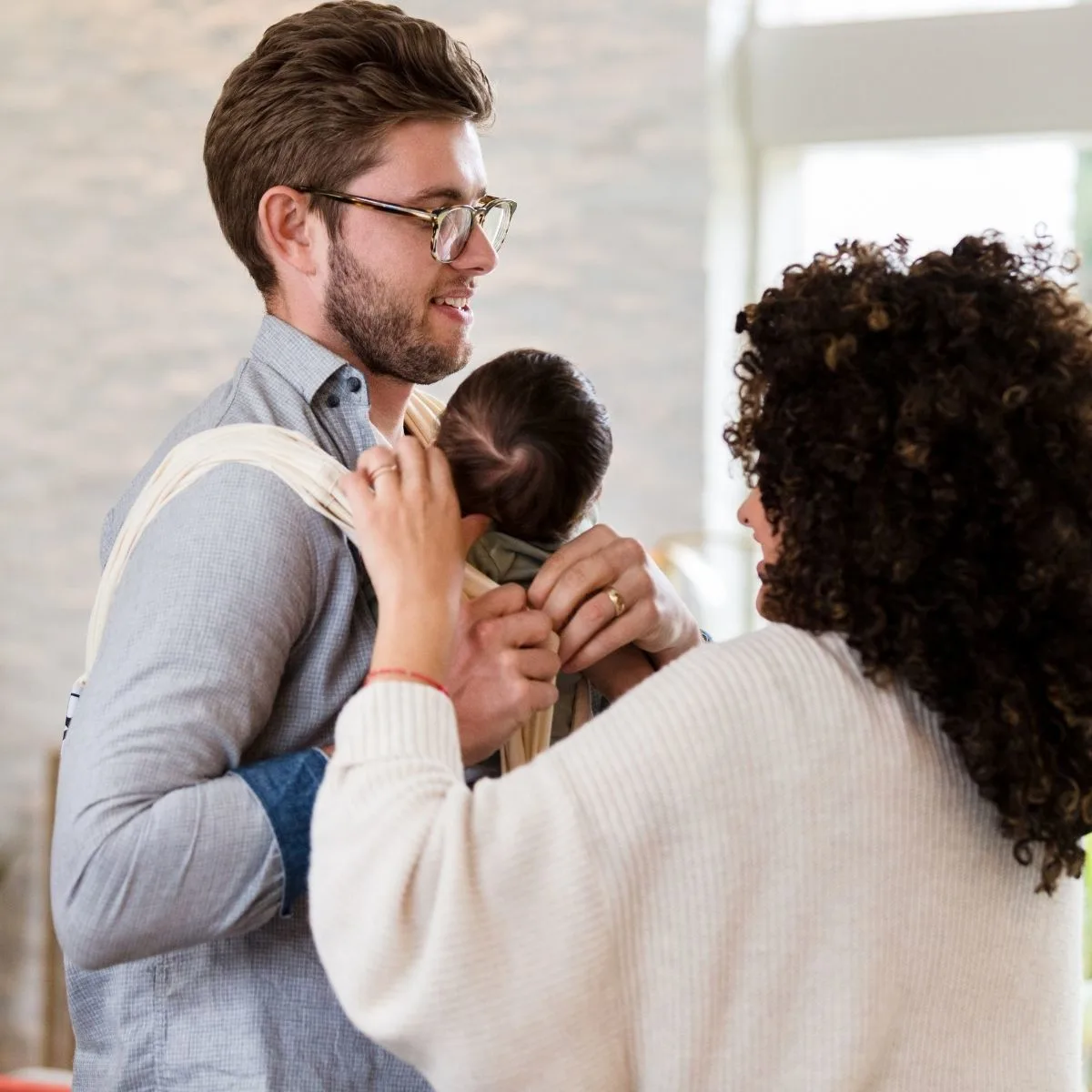 Some carriers may be dangerous
Yes mamas, some baby carriers can be dangerous, such as the ones that have narrow seats where the positioning for your child is incorrect. This can eventually cause hip dysplasia, scoliosis, or spondylolisthesis.
These narrow seat baby carriers also put your child's weight on their crotch, which can be very uncomfortable.
With these narrow seat carriers the thigh is also NOT supported to the knee joint. The forces on the hip joint can then contribute to hip dysplasia.
The most unsound position for the hips throughout infancy is when the legs are in extension with the hips. Along with the knees straight and the legs brought together, which is exactly how many narrow seat carriers hold your baby.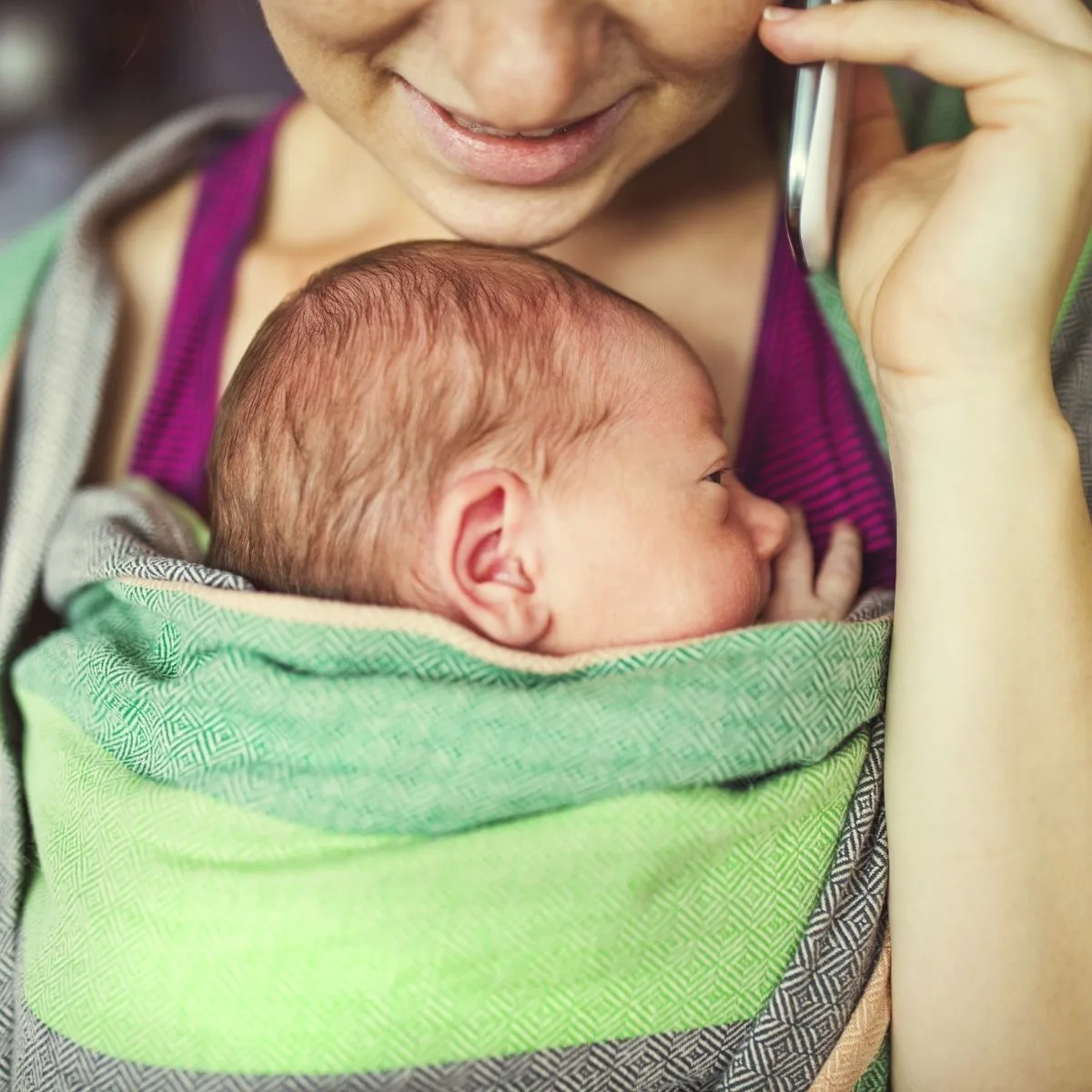 Is baby wearing SAFE? Remember T.I.C.K.S.
As with most baby activities there is a right and a wrong way to do things, and this includes baby wearing. It is important to familiarize yourself with the acronym T.I.C.K.S. (I know, not the best acronym, but it will help you remember!)
T=Tight
Your baby should be tight enough so that they are held securely against you. Any slack will allow your baby to slouch which can be a possibility to block their airway, along with pulling on mom/dad/grandmas back.
I=In View At All Times
You should be able to see your baby's face at all times, in order to check on their breathing (and so air can easily get in and out). The fabric of the carrier/sling should not be enclosed, you should not have to open it to check on them.
C=Close Enough To Kiss
Your baby's head should be as close to your chin as possible. You should be able to tip your head forward and kiss your baby's head/forehead.
K=Keep Chin Of Chest
Your baby should never be in a position where their chin is resting on their chest, as this can restrict their breathing. Always assure that their is a space of at least 1-2 fingers width under your baby's chin.
S=Supported Back
Your baby's back should be supported in its natural position and their chest and tummy should be positioned against you. With a sling too loose the back is not supported, which allows them to slump. This could lead them to having their chin against their chest.
With all of this being said, the carrier should be comfortable for you as well. And if you followed TICKS, you should be good to go!
Favorite Baby Carriers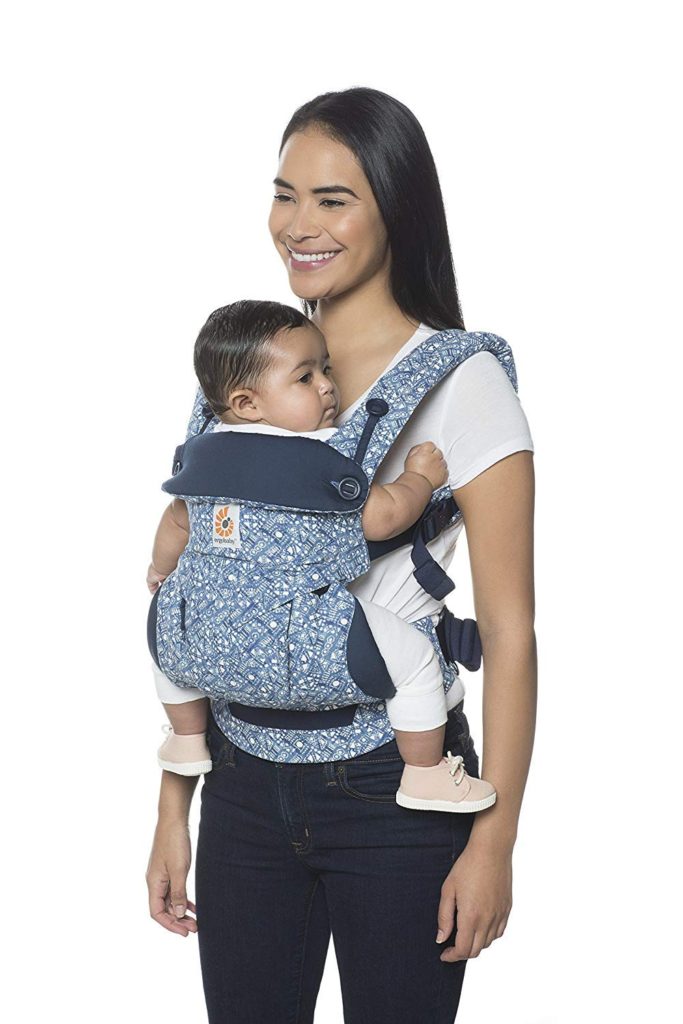 Adjustable bucket seat supports your baby in a natural "M" position (hips straddling you, thighs supported, knees at 90 degree angle) facing in or out in all carry positions as baby grows. Carrier fits babies ~4-36 months (12-33lbs) without an infant insert and 0-4 months (7-12lbs) with the insert (sold separately). Wide wrap around waistband maximizes comfort. Padded shoulder straps help evenly distribute baby's weight and adjust to fit multiple wearers. Also allows for easy breastfeeding, and includes UPF 50+ tuck away hood to protect baby from sun and wind.
Several different ways to wrap your baby up to 35 pounds. The natural M position is still in effect for this wrap. The Spandex in this wrap allows it to retain it's shape and not loosen or sag as you re-adjust to nurse or take baby out to go for a ride in the car.
The Baby K'tan baby wrap is quick and easy to wear, no rings, belts, buckles or excess fabric. This infant carrier is the no-wrap wrap! Just slip the sling over your head like a t-shirt. I adored this wrap, as I actually didn't have to take the time to wrap my infant, just slip them in and go!
Made from 100% GOTS certified cotton, this carrier allows even weight distribution, and the breathable fabric is soft against baby's skin. And the best thing yet, the wrap carrier's natural seated position is Approved Hip Healthy by the International Hip Dysplasia Institute. YAY! Here's my Baby K'Tan Review.
This baby carrier combines all essential features in one lightweight carrier with 6 ergonomic positions for 360-degree carrying: fetal, infant, outward, toddler, hip and back carry. Cool to the touch, easy to clean, and lined with soothing, breathable suede cloth. Consists of a wide seat for comfortable hip positioning.
Final thoughts
Are you convinced you need to start baby wearing? It is pretty fabulous, if I must say so myself! And for those of you that were skeptical about baby wearing, I hope you found some great reasons to baby wear, along with tips for doing it safely!
Mamas/dads if you are a baby wearer, I would love to hear about your experiences in the comments!
Thank you so much for stopping by! I greatly appreciate it! 🙂 If you found this helpful, please make sure to pin it for later on Pinterest or share it with a friend who might be looking into baby carriers!