Keeping our kids safe is one of the most important things we do as parents. It is important for me to use this platform to spread awareness about issues that can affect our children.
Today I am excited to share an interview on water safety and vital information about preventing child drownings by The Mom Friend Contributor Claire LaFrance.
Read on for common misconceptions parents make about water safety, what to look for in a swim class, and key advice for all parents in regards to swimming and safety.
---
Article by Claire LaFrance
Summer is finally here, and I cannot wait for long and warm days spent at the beach enjoying the sun, sand and ocean. I'm also looking forward to this time of year because my son just turned two and will be really able to be active and enjoy it.
It also sets my mind at ease because we have attended swim class since he was 6 weeks old!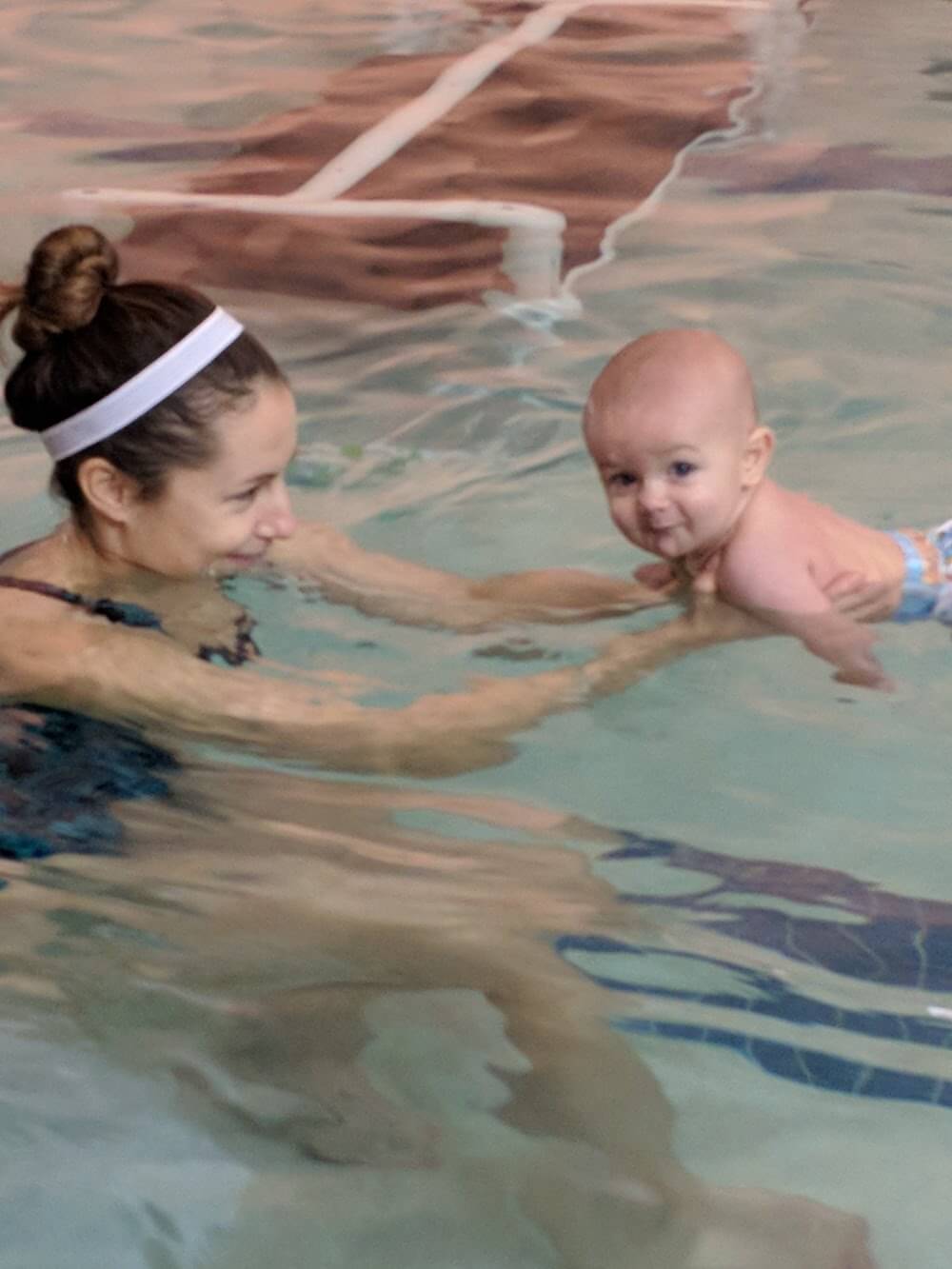 I knew my child was destined to be a fish (like his mother). I grew up on Nantucket Island off the coast of Massachusetts and, needless-to-say, I spent a lot of time in and around the water.
I also swam lap after lap while I was pregnant; feeling completely weightless and powerful pulling myself through the water. (I would strongly encourage any mommas-to-be out there to try the pool!) I swam up until the day I went into labor!
Child Drownings: It happens more than we think
The point of this blog, is of course, a little more serious. I knew that water safety was a big issue, but it wasn't until I started doing a little research that I uncovered the shocking statistics.
I was stunned to learn that drowning is the leading cause of death from unintentional injuries for children ages 1 to 4 and the 2nd ranking cause for kids ages 5-9, according to the Center for Disease Control and Prevention (CDC).
Sadly, children ages 1 to 4 have the highest drowning rates, leaving drowning responsible for more deaths among children in that age group than any other cause except birth defects. Additionally, most of these accidental drownings happen in swimming pools.
Need a dose of reality? Watch the heart-wrenching interviews currently circulating the internet. Parents like country music star Granger Smith, one of the most recent celebrities to be hit with this tragedy, and wife after losing their son to drowning: In their own pool, and while they were home! It is so unfathomable that my heart just breaks for these families.
A similar story for the Olympic Skier Bode Miller who lost his young daughter in another pool incident. Bode and his family have actually launched an anti-drowning, public education campaign in the wake of their daughter's death in hopes of preventing other tragedies.
These accidents occur every day! And it is up to us parents to arm our children with whatever we can to keep them alive.
Expert Interview on Preventing Child Drownings: Kristen Powers of Powers Aquatics
So, I thought it would be good to kick off the summer season and share with you all some empowering knowledge on water safety.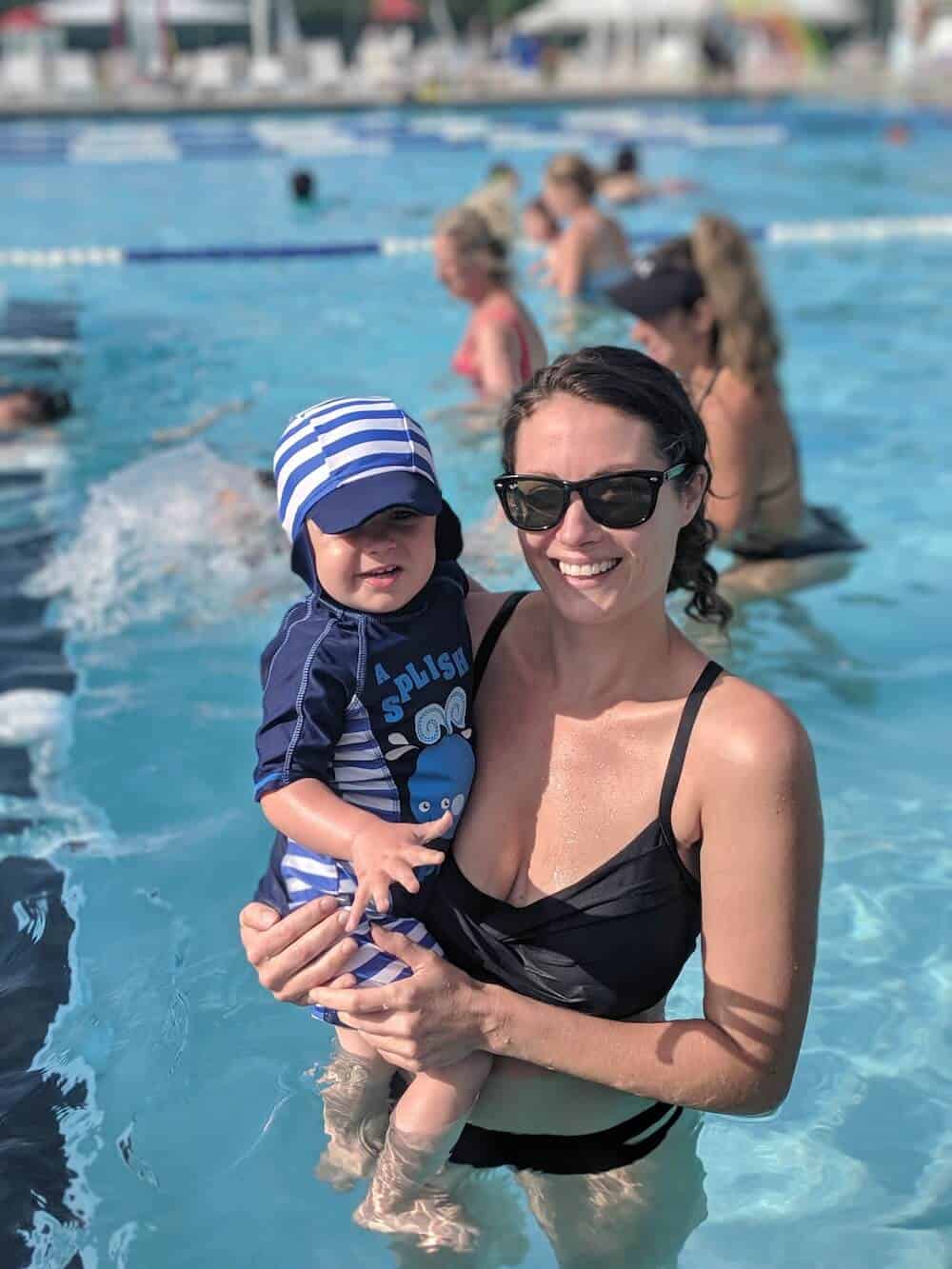 Enter my son's first swim class teacher, Kristen Powers, owner of Powers Aquatics in Weymouth, Ma. Kristen has not only welcomed us into a great journey of swim skills, but her advocacy and passion towards public education on children and water have inspired me!
I sat down with Kristen to chat about these issues and wanted to share our back and forth with you.
—
Me: Why are you so passionate about water safety?
Kristen: After I had my first daughter about 3 years ago, I realized as a parent how easily my child could slip away from me and find a body of water, especially living in a coastal town where we see water every day.
I have seen first-hand horrific pool related accidents and have been involved as a first responder in a few. I never understood why something that is 100% preventable is not prevented more. At this point, I was only teaching private lessons and only being able to reach about 80 people a week.
I thought if I could only teach each individual parent my teaching methods and curriculum, I could reach/help so many more families be able to prevent drownings and be able to educate parents on how to be able to help their children in and out of the water. In the past 2.5 years, we have grown from 8 weekly participants to 1400!
Me: In your opinion, what is the most common misconception about babies and water?
Kristen: People think their child is too young to start their learn to swim journey, that it is impossible to teach someone that young how to do something like swim.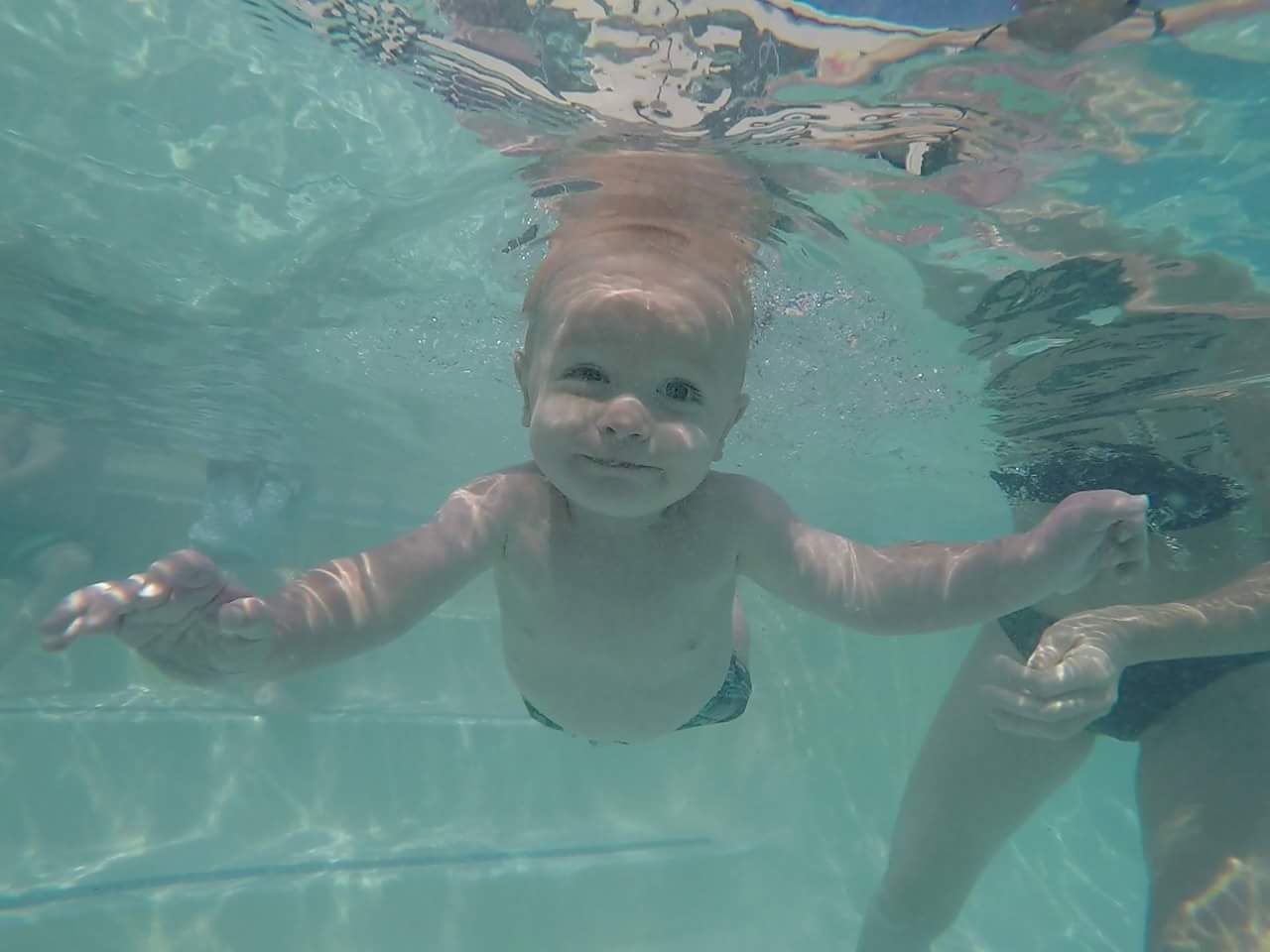 Me: How do you feel about floats?
Kristen: Our bodies, if we use them correctly, are our floats and the best part of that is that they are always with us. If we fall into a pool, off a boat, wandering into a stream behind our house, we will always have our bodies with us which means if we know how to, can always float and get to safety.
Kids who use floats think they know how to swim and will not always remember. If they have their float on or not. And if they do enter the water without their float, they will immediately go into a standing position, as that is what the floats teach them, and that is how we lose buoyancy in the water.
Me: Sounds dangerous. Like floaties around their back or on their arms give children (and parents) a false sense of security.
Kristen: Parents who also put their kids in floats 110% do not watch them like they would if they were not wearing a float. We have seen firsthand with parents swimming with their kids without floats, they are focused on them, they do not take their eyes off of them.
Me: I get it now. A child can become so accustomed to the buoyancy that the float provides, they have a false sense of confidence and may try to jump in a pool without supervision. Yikes, this is scary. Ok, if no floaties, what products do you find yourself recommending the most to moms for their young swimmers?
Kristen: For outside swimming, SwimLids. But other than that I don't recommend goggles until they can fully breathe on their own.
Me: Is it ever too late to start swim class (for your child or as an adult!)?
Kristen: Absolutely never too late to learn how to swim. But someone who learns to swim as a baby will always have a more natural feel for the water than someone who learns at age 3, 4, 5, etc.
Also, the younger you start swim lessons the easier it will be for the child/parents/adult and the faster they will be fully efficient in the water.
Me: What should a mom look for in a swim class?
Kristen: A program that enforces safety and rescue swimming techniques as their number 1 goal, especially over a learn to swim by playing games, singing songs and splashing around. A program that is going to get your child swimming under the water asap, you cannot learn to swim until you learn to be comfortable under water.
Also as we talked about before, look for a program that does not use flotation that is attached to the swimmers.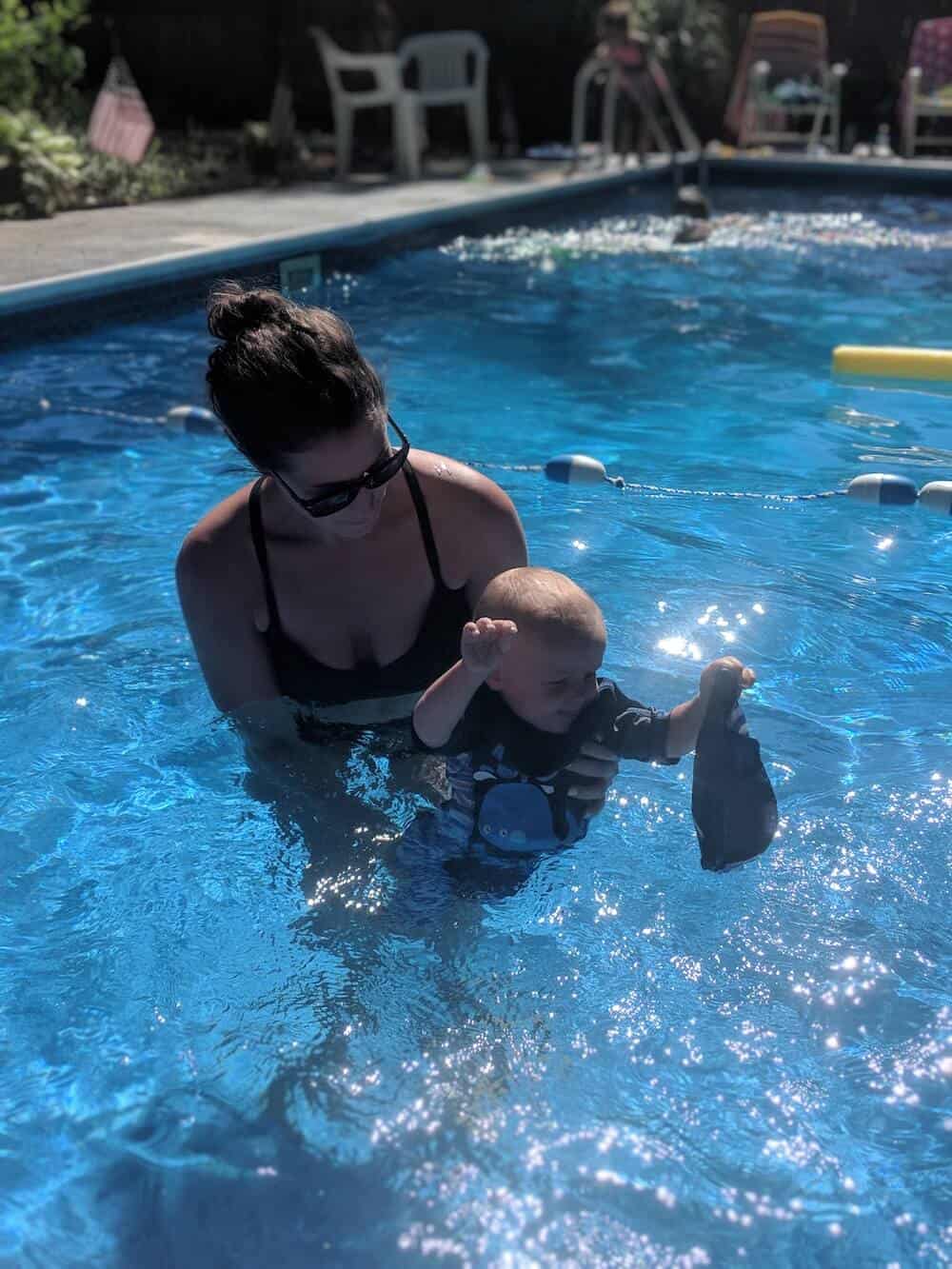 Me: Got it. Like your class where the parents or guardians are in the pools with the babies. I often introduce your class to people as "less of a swim class" and more of a "how they won't drown class".
Because we are so focused on building the skills needed to be comfortable in the water then to move and be confident. It is a winning combination! Now, if you could give moms everywhere a piece of advice on water safety and swimming, what would it be?
Kristen: If your child is mobile, they need to be in a learn to swim program. Learning to swim can be stressful and scary for both the kiddos and the parents—don't let that prevent you from teaching your children this necessary life skill.
Don't be afraid to put on a swimsuit and get in the water with your young kids it will make them safer/stronger and more confident swimmers and it will allow you to be educated in how to help your children around water.
—
So to all the parents out there reading this, I hope I have instilled in you the importance of water safety and the empowering feeling that you can help change these statistics on drownings!
You can start NOW, even if you have a newborn. Start by taking them in showers, get them used to water being on their heads. You can also make bath time fun for kids of all ages.
You can start your 3-year-old with swim lessons who may scream for the ENTIRE first class but eventually, they will get used to it. You can take your 5-year-old to the YMCA and sign up for classes. Just google "swim lessons for babies" or "swim lessons for toddlers near me".
You can teach them that swimming is a thing you do together, and never alone. And like Kristen said, you can get in the water with them. Nothing is better for nerves and trepidation than someone showing you the way.
Either way, the key is consistency. And this consistency will lead to a skill development that will not just make this summer more enjoyable, it could save a life!
---
Claire LaFrance is a mom to her first (human) child—her son Cassidy—along with her dog, Ruffy, and cat, Roo. She is a non-profit professional working as communications director for an international animal welfare organization that rescues and rehabilitates animals all over the world. Claire is based out of Boston, Massachusetts and is a part-time writer, wanderlust traveler, amateur photographer, weekend gardener, avid volunteer and fitness hobbyist.
You May Also Like: